Fri 7th Dec 2012
Argentine Open final to be played tomorrow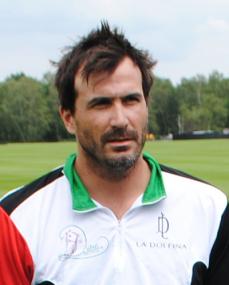 Last year's winners La Dolfina will play Ellerstina for the Argentine Open title tomorrow

THE 119TH ARGENTINE OPEN will conclude tomorrow (Saturday 8 December) at Palermo. Despite heavy rain threatening to delay play, it has been confirmed that the much-anticipated final will go ahead tomorrow.

La Dolfina and Ellerstina will go head to head for the sixth consecutive year to decide who will win the 2012 title. No other team has featured in the Argentine Open final since La Dolfina defeated La Aguada in the 2006 final.

Adolfo Cambiaso's 40-goal La Dolfina side will be hoping to defend their title and win their seventh Argentine Open. They defeated Ellerstina 16-10 in last year's final.

A full report will follow in the Jan/Feb issue of Polo Times. To ensure you receive a copy, subscribe here.
For team lists and results from the Argentine Open please click here.
Photograph: Adolfo Cambiaso, whose La Dolfina team will battle it out against Ellerstina tomorrow

Other top stories
Fri 15th Dec 2017
16th Bendura Bank Snow Polo World Cup Kitzbühel 2018
Better than ever!

Thu 14th Dec 2017
Visa Update from the HPA
Letter received on 14 December

Tue 12th Dec 2017
Magdala Claim First APP-APPL Tournament
APPL Rules in Force

Fri 8th Dec 2017
Polo Times is Out Next Week!
December/January issue of Polo Times

Wed 6th Dec 2017
Youth Wins the Day
Young, Dumb & Broke and Regal Warriors win at RCBPC
Mon 4th Dec 2017
La Dolfina Brava Win the First Women's Argentine Open
Clarkin, Cambiaso and the Araujos are a winning combination

Mon 4th Dec 2017
La Dolfina Secures a Fifth Argentine Open Victory
Nail-biting 14-13 win for Cambiaso's team
Sat 2nd Dec 2017
HPA National Club Championships
Final weekend of the 3 & 12 Goal
Fri 1st Dec 2017
124th Argentine Open Finals Await
High goal action-filled weekend to come
Thu 30th Nov 2017
Bastian Fernandez Appeal Launched
Polo Community asked to donate to the Basti Fund
Wed 29th Nov 2017
Women's Argentine Open
La Dolfina Brava and Ellerstina into the Final

Tue 28th Nov 2017
Copa Cámara de Diputados
Chapaleufú and Pilarchico La Ensenada to play in the Final
Mon 27th Nov 2017
124th Argentine Open HSBC Polo Championship Update
News from Palermo
Fri 24th Nov 2017
HPA National Club Championships 1-3 Goal
Schedule and Teams Announced
Thu 23rd Nov 2017
Women's Argentine Open
Historic tournament is underway

Tue 21st Nov 2017
Cambiaso's 100th Argentine Open Match
Busy weekend of big scores in Argentine Open