Fri 7th Dec 2012
Argentine Open final to be played tomorrow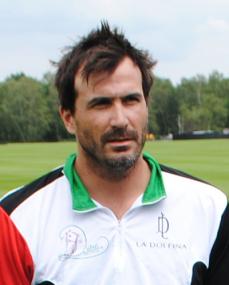 Last year's winners La Dolfina will play Ellerstina for the Argentine Open title tomorrow

THE 119TH ARGENTINE OPEN will conclude tomorrow (Saturday 8 December) at Palermo. Despite heavy rain threatening to delay play, it has been confirmed that the much-anticipated final will go ahead tomorrow.

La Dolfina and Ellerstina will go head to head for the sixth consecutive year to decide who will win the 2012 title. No other team has featured in the Argentine Open final since La Dolfina defeated La Aguada in the 2006 final.

Adolfo Cambiaso's 40-goal La Dolfina side will be hoping to defend their title and win their seventh Argentine Open. They defeated Ellerstina 16-10 in last year's final.

A full report will follow in the Jan/Feb issue of Polo Times. To ensure you receive a copy, subscribe here.
For team lists and results from the Argentine Open please click here.
Photograph: Adolfo Cambiaso, whose La Dolfina team will battle it out against Ellerstina tomorrow

Other top stories
Tue 25th Oct 2016
England Head to America
Townsend Trophy team selection 2017
Mon 24th Oct 2016
Hurlingham Open Begins
Four games in two days
Mon 24th Oct 2016
Polo Times Out This Week
Watch out for the November issue
Fri 21st Oct 2016
Rain Rain Go Away
Hurlingham Opening Games Postponed
Thu 20th Oct 2016
HPA Visa Update
Information from the Home Office
Wed 19th Oct 2016
Ready for Arena?
Entries open and rule changes

Tue 18th Oct 2016
One Down, Two to Go
Hurlingham Open Schedule
Mon 17th Oct 2016
New Arena Victor Ludorum
5-8 Goal Series Dates Announced
Mon 17th Oct 2016
La Dolfina Dominate
Ellerstina Fail to Break the Winning Streak
Fri 14th Oct 2016
Lipocast Biotech UK Heads to Argentina
Capital of Polo to Host Lipogems Veterinary Demonstration
Thu 13th Oct 2016
USA Hall of Fame Inductees Announced
Museum of Polo to Host 2017 Awards Gala
Tue 11th Oct 2016
Cría Yatay & La Irenita Confirmed For Palermo
Final Qualifications for the Hurlingham and Argentine Opens
Mon 10th Oct 2016
Ellerstina & La Dolfina Final
The Tortugas Open Nears Completion

Wed 5th Oct 2016
Hurricane Matthew Halts Polo
East Coast America Braces for Deadly Storm
Tue 4th Oct 2016
Top UK 2017 Summer Dates
Victor Ludorum and High Goal Schedule Released
Tue 4th Oct 2016
Tortugas Update Day Four
Ellerstina Hold Their Ground

Mon 3rd Oct 2016
Tortugas Open Update
Triple Crown Begins
Wed 28th Sep 2016
Day One of The Tortugas Open
Triple Crown Begins