Fri 7th Dec 2012
Argentine Open final to be played tomorrow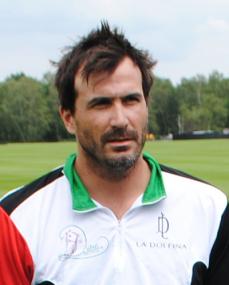 Last year's winners La Dolfina will play Ellerstina for the Argentine Open title tomorrow

THE 119TH ARGENTINE OPEN will conclude tomorrow (Saturday 8 December) at Palermo. Despite heavy rain threatening to delay play, it has been confirmed that the much-anticipated final will go ahead tomorrow.

La Dolfina and Ellerstina will go head to head for the sixth consecutive year to decide who will win the 2012 title. No other team has featured in the Argentine Open final since La Dolfina defeated La Aguada in the 2006 final.

Adolfo Cambiaso's 40-goal La Dolfina side will be hoping to defend their title and win their seventh Argentine Open. They defeated Ellerstina 16-10 in last year's final.

A full report will follow in the Jan/Feb issue of Polo Times. To ensure you receive a copy, subscribe here.
For team lists and results from the Argentine Open please click here.
Photograph: Adolfo Cambiaso, whose La Dolfina team will battle it out against Ellerstina tomorrow

Other top stories
Tue 23rd Aug 2016
Polo for Good
The Guards Ladies' Charity Trophy

Mon 22nd Aug 2016
Polo Times Out This Week
Youth Special for September

Mon 22nd Aug 2016
Sotogrande Excitement Continues
Gold Cups at Santa María Polo Club

Fri 19th Aug 2016
Arena Polo Fixtures
Some Winter Dates for your Diary
Fri 19th Aug 2016
Zones for FIP European Championship Determined
Games Begin in Berlin 28 August
Thu 18th Aug 2016
Scotland Claim Whitbread Trophy
HPA Youth Polo Continues
Tue 16th Aug 2016
Stagshead Trophy
Youth Polo at HPC
Mon 15th Aug 2016
Tally Ho Farm Polo Festival Concludes
Fun in the Sun at RCBPC

Fri 12th Aug 2016
SKY TV coverage of the 2016 Jaeger-LeCoultre Gold Cup
Polo Hits the Screens at Home on Sky Sports
Fri 12th Aug 2016
Sotogrande Action
The latest from Santa María Polo Club
Thu 11th Aug 2016
Staggering Stagshead
Youth action continues at Ham Polo Club
Wed 10th Aug 2016
Trucks and Tribulations
Are all your Licences and Passports Legal?
Mon 8th Aug 2016
Pony Club Polo Championships
188 Players Complete the Tournament
Mon 8th Aug 2016
Sotogrande Weekend Update
45th INDI International Polo Tournament

Fri 5th Aug 2016
Tally Ho Farm Polo Festival Ticket Offer
Plenty of Polo in Berkshire to Watch
Fri 5th Aug 2016
Olympics Set to Start
Dressage & Eventing Update

Thu 4th Aug 2016
Get Our Girls to Zambia
Sponsorship Search is on for England Ladies
Wed 3rd Aug 2016
England Team for Manipur
Fancy a Trip to Play on the Oldest Polo Grounds?
Mon 1st Aug 2016
Polo Times Out Now
Subscribe Now for the August Issue

Mon 1st Aug 2016
A Trio of Triumphs
Harrison, Holden White and Challenge Cup Finals

Fri 29th Jul 2016
The Polo Magazine Out Now!
Subscribe to get your hands on a copy
Wed 27th Jul 2016
Join our editorial team (Full or Part Time)
Working on Polo Times and The Polo Magazine
Mon 25th Jul 2016
The Commonwealth Claim The Royal Salute Coronation Cup
A Trio of Games to Celebrate Coronation Cup Day