Mon 27th Jun 2016
The First Norwegian Polo Open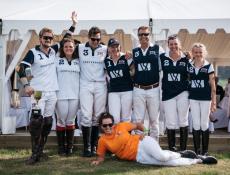 Finding Funds for Norwegian Cancer Research

On Saturday 18 June 2016 The Norwegian Polo Club, based at Stall Kubberød near Moss in southern Norway, hosted Norway's first ever polo tournament. The Norwegian Polo Open, organized and run by founders and owners Thea and Nick May, aimed to bring the excitement and passion of polo to Norway. But it wasn't all about polo. Inspired by their longtime friend and the Captain of the Australian polo team Glen Gilmore, a two-time cancer survivor, the couple also wanted to use the event to raise money for the Norwegian cancer research charity Kreftforeningen.
After a final week of frantic preparations whilst being glued to weather predictions, Thea and Nick delivered an event that saw international players join their Norwegian counterparts to play some fast, open and exciting polo on the Club's newly opened full sized ground at Norway's first and only Polo Club. It was a day of historical firsts as Norwegian players Thea May and Johan Backe were joined by international players Casimir and Tiva Gross from Kenya and Ross Ainsley and Chloe Warren from Australia to show a crowd of over 200 VIPs and general public why they are so passionate about polo.
Although played on a full sized pitch, the match was played three a side as the Norwegian Polo Club continues to build a solid foundation of Club ponies.
The result saw Team Sprekenhus run out the winners 7 goals to 4, but the scoreline did not match the action. Team Varsity Headgear captained by Ross Ainsley fought hard, but with a number of shots on goal by Thea May just creeping wide. Team Sprekenhus saw Casimir and Tiva Gross show their experience of playing together their whole lives anticipating each other with deadly effect with a great end to end goal by Johan Backe.
Chloe Warren played homebreds DB9 and Dangermouse in the first competitive chukkas of their careers and they did superbly. It was also fantastic to see the Club's new additions Prince from Esther Hunt at Full Swing Polo and Gato from Mark Tomlinson fit right in to their new Norwegian home.
"With such a successful event we are already looking to take the battle against cancer in to next year" said Nick. "We are already planning to run the next Norwegian Polo Open on 17 June 2017. We can't wait!"
The Norwegian Polo Open teams:
Team Varsity Headwear (4): Thea May (-1), Chloe Warren (0) & Ross Ainsley (5)
Team Spekenhus (4): Johan Backe (-1), Tiva Gross (2) & Casimir Gross (3)
Photograph 1: Girl power on show at the first Norwegian Polo Open. By Krafftwork Photo + Film
Photograph 2: Two happy teams celebrate the event regardless of whether they won or lost. By Krafftwork Photo + Film
---
Mon 27th Jun 2016
Going for Gold Days 4 & 5
Wins for Clarke & Green, Apes Hill, HB Polo and Cowdray Vikings

A weekend of action at Cowdray Park Polo Club saw four matches take place as eight teams battled the weather and each other for the Jaeger-LeCoultre Gold Cup for the British Open.
On Saturday 25 June the first match took place between Clarke & Green and Ben Soleimani's RH Polo. An exciting match went to an extra chukka as neither team could quite press home an advantage big enough to pull away. Luke Tomlinson's on point attacking was matched by a fired-up Rodrigo de Andrade and regulation time ended with 7 goals apiece. The overtime chukka was brief, with Zavaleta breaking free and scoring the winning goal for Clarke & Green for their second consecutive win and a perfect 2-0 record. The loss was the second for RH Polo in as many outings leaving them with a disappointing 0-2 record.
In a surprising turn of events, which proves that there are no guarantees in high goal polo, Apes Hill harnessed the 'tropical' wind and rain that greeted them at Cowdray for their match against Talandracas to run out the winners 9-6. An even first half was turned around in the fifth chukka as Eduardo Novillo Astrada scored twice to put Apes Hill in the lead. Alec White furthered the gap with a third goal and Talandracas could not reply, leaving them with an unhappy 2-0 record while Apes Hill even it up with one win and one loss so far.
The action continued on Sunday with wins from HB Polo and Cowdray Vikings. Two more tight matches are a testament to the closeness of the competition this year as one goal wins seem to be the order of the day.
Tied at half-time at 3-3, HB Polo worked hard in the fourth chukka to assert their dominance. This they did, continuing the offensive plays in to the fifth chukka. A last chukka comeback from La Bamba de Areco and some messy errors from HB Polo forced the match in to overtime. Following a brief intermission both teams returned to the field with La Bamba de Areco offering the opening offensive assault. HB Polo, however, reversed the field on them with Toccalino scoring on a long pass from Stirling for the win in the opening minute of overtime, 11-10.
In their debut match of The Gold Cup, Murus Sanctus put up a tough fight against Cowdray Vikings, but were unable to overcome them. With Cowdray Vikings leading 9-5 in the fifth chukka, it looked to be a done deal, but a last minute rallying of the troops from Murus Sanctus saw Capella score back to back goals to bring Murus Sanctus back into the game and force Cowdray Vikings to fight for their first win of the tournament. This they did admirably holding on to their lead to win 10-9.
For all the action from the previous days:
Click here for Day 1
Click here for Day 2
Click here for Day 3
And click here for the full list of teams, results and fixtures.
Photograph: Young guns Alec White and Tommy Beresford in a horse race. By ©www.imagesofpolo.com
---
Mon 27th Jun 2016
Update on Zone Play-Offs
The FIP XI World Championships

The play-offs will take place in the five zones that FIP has divided its member Associations. The five zones are:
Zone A – Bruce Colley, Steve Orthwein's Deputy Director for Zone A has done a great job of securing the play-offs at Casa de Campo hopefully in late April 2017. Currently confirmed for the Zone are USA, Canada, Mexico and Dominican Republic and the FIP are waiting to hear confirmation from Guatemala.
Zone B – FIP World Championship play-offs for Zone B have now been confirmed by the President of the Uruguayan Polo Association German Pena to be played in Punta del Este in late January and early February 2017 a couple of weeks after the Uruguayan Open. With teams participating from Argentina, Brazil, Peru and Uruguay.
Zone C – Piero Dillier, the Zone Director of the Polo Club du Domaine
de Chantilly, will be hosting the Zone C play-offs with participating teams from
France, Spain, Italy, Ireland, Germany and United Kingdom, probably Germany and possibly the Netherlands. Two teams from this zone will qualify for the World Championships.
Zone D – With regards to the Zone D play-offs, they will be hosted by the Royal Malaysian Polo Association whose proposal has been accepted by FIP who are extremely grateful to HRH Prince Abdullah and his committee for this. The play-offs will take place late January and early February 2017 at the Thai Polo & Equestrian Club, hosted and organized by the Royal Malaysian Polo Association.
Zone E – Interest has been expressed from the Lahore Polo Club in Pakistan and there is also the possibility of running the play-offs in China at the Metropolitan Polo Club courtesy of our Vice President, Mr. Pan Sutton, but there may be other bids from one of the other playing nations. Potential participants are South Africa, Pakistan, India, Nigeria and Zimbabwe.
Congratulations to Polo Club Ebreichsdorf of Austria which celebrated their 25th Anniversary on 18 June 2016.
The 90th FIP Ambassador's Cup, which is being held to coincide with the 90th Anniversary of HPC the London Polo Club in London, is now fully subscribed with six teams. The teams will be named after polo clubs which existed in the UK 90 years ago with the exception of Billingbear which will be hosting the preliminary matches at their beautiful high goal grounds. The teams are named Ranelagh, Rugby, Roehampton, Ham, Cowdray Park and Billingbear.
The XI FIP European Championships will be played at 6-8 goal level in Berlin at the end of August and early September with nine teams representing France, United Kingdom, Germany, Austria, Ireland, Italy, Netherlands, Poland and Slovakia.
Photograph: Chile won last year's FIP Championship Final against USA. By Felipe Goga
---

Other top stories
Fri 24th Jun 2016
Going for Gold Day 3
Wins for La Indiana and King Power in The Jaeger-LeCoultre Gold Cup
Thu 23rd Jun 2016
Going for Gold Day 2
Wins for Zacara and Clarke & Green in The Jaeger-LeCoultre Gold Cup for The British Open
Wed 22nd Jun 2016
Going for Gold Day 1
Wins for HB Polo and Valiente in The Jaeger-LeCoultre Gold Cup for The British Open
Tue 21st Jun 2016
The Kings Head Women's International
England Ladies Defeat Argentina at Cirencester Park Polo Club
Mon 20th Jun 2016
Polo Times Out This Week
Jumbo July Issue in the Post This Week
Mon 20th Jun 2016
Ireland Invade the Beaufort International
Maserati Lay Claim to The Maserati Charity Polo Trophy
Mon 20th Jun 2016
Guards La Aguada Youth Tournament
Youth Polo at Guards Polo Club
Fri 17th Jun 2016
What's On This Weekend
June Hosts a Plethora of Polo
Fri 17th Jun 2016
4th Arena Polo World Cup Azerbaijan Date Set
World Polo Descends on Baku From 9-11 September 2016
Thu 16th Jun 2016
Rock 'n' Horsepower
Superstars, Supercars and Supercharged Polo Action
Mon 13th Jun 2016
Soggy SUPAs
The SUPA University Nationals at Dallas Burston Polo Club
Mon 13th Jun 2016
Dubai Have Done It Again
Cambiaso's Team Crowned Cartier Queen's Cup Winners
Thu 9th Jun 2016
On the Money
Polo Times and The Polo Magazine Spotlighting Top Level Players
Thu 9th Jun 2016
Underdogs Defeat the Foxes
Dubai and La Indiana Through to Final After Shock Semi Finals
Tue 7th Jun 2016
Draw Announced
The Jaeger-LeCoultre Gold Cup for the British Open Polo Championship
Mon 6th Jun 2016
Cartier Queen's Cup Day 12 and 13
The Semi Finals are Set and the Action is Heating Up
Mon 6th Jun 2016
Oceania Wash Up a Trophy
Inaugural BMW Singapore Beach Polo Championships Ends
Sun 5th Jun 2016
BMW Singapore Beach Polo Championships Finals Set
Asia Will Play Oceania in the Final of the Inaugural Event
Fri 3rd Jun 2016
Gloucestershire Festival of Polo
Teams Released for the Jockeys vs Olympic Legends Polo Match
Thu 2nd Jun 2016
Cartier Queen's Cup Day Ten and Eleven
The Quarter Finals Set with Wins from HB, RH, Sifani and La Bamba de Areco
Wed 1st Jun 2016
The 11th Annual Polo Awards
Celebrating Polo Excellence in Style
Tue 31st May 2016
Heroes at Heroes Day
Tidworth Polo Club Hosts a Fantastic Day of Polo for a Great Cause
Mon 30th May 2016
Cartier Queen's Cup Day Eight and Nine
The Quarter Finals Set After Zacara Win Penalty Shootout
Sat 28th May 2016
Cartier Queen's Cup Day Seven
Wins for Dubai and Britannia El Remanso