Wed 22nd May 2013
Zacara, El Remanso and Emlor off to good start in Queen's Cup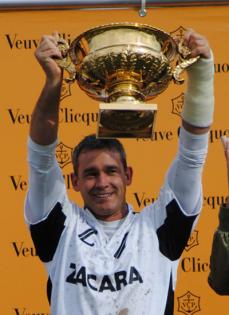 The Queen's Cup league games begin at Guards

THE CARTIER QUEEN'S CUP got underway today at Guards Polo Club with wins for El Remanso, Zacara and Emlor.

Defending champions Dubai suffered a surprise defeat to El Remanso in the opening match of the tournament. The El Remanso team of Ali Paterson, George Hanbury, David "Pelon" Stirling and Guillermo Terrera came back from a 3-goal deficit at half-time to beat Rashid Albwardy's Dubai, which also featured Alec White, Nico Pieres and Adolfo Cambiaso.

Zacara began their Queen's Cup campaign at the same time and the team of Lyndon Lea, Facundo Pieres, Rodrigo Ribero de Andrade and Matt Perry defeated Stefan Marsaglia's Twelve Oaks 13-8.

Spencer McCarthy's Emlor side took on Enigma in the final match of the day, and triumphed 12-10.

The Queen's Cup will continue tomorrow, with UAE Polo taking on Salkeld at 12pm and Cortium playing Sumaya at 3pm.

To view teams, fixtures and results please click here.
Photograph: 2011 Gold Cup winner Lyndon Lea starts strongly in this year's Queen's Cup. By James Mullan

Other top stories
Wed 22nd May 2013
Zacara, El Remanso and Emlor off to good start in Queen's Cup
The Queen's Cup league games begin at Guards

Wed 22nd May 2013
Argentina defeats England in Gaucho International
Argentina got their revenge on England with victory at the O2 Arena
Tue 21st May 2013
Players honoured at Audi Polo Awards
Adrian Kirby, Adolfo Cambiaso and Luke Tomlinson are among the big winners of the "oscars of polo"
Mon 20th May 2013
Nacho Figueras ruled out of Gaucho International
A fall early in the Cowdray Test Match leaves Figueras out of action
Mon 20th May 2013
England defeated by South America at Cowdray
The first Test Match of the English season ends with victory for South America

Fri 17th May 2013
England to play South America at Cowdray tomorrow
The first international Test Match of the English season will take place tomorrow
Thu 16th May 2013
Prince Harry scores winning goal in Greenwich
Over $1m is raised for the Prince's Sentebale charity