Mon 6th Jan 2020
The 18th Bendura Bank Snow Polo World Cup Kitzbühel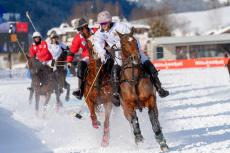 Just a week and a half to go!

It is just over a week until all eyes will be turning to the Austrian Alps for the first European snow polo extravaganza of 2020. Eight teams will be participating in this year's 18th Bendura Bank Snow Polo World Cup Kitzbühel between 16 – 19 January, with famous polo names gathering from across the world. What's more, the tournament hosts one of the best VIP experiences available, with delicious refreshments and pitchside seats on offer, to ensure you're at the very heart of the action.
Polo Times
and our sister publication
The Polo Magazine
will be on hand as Official Media Partners, keeping you in the know on all our social media platforms. Why not come and join us? There are the last few tickets available
here
now, so strap on your best snowshoes and enjoy Austria's world famous hospitality.
The 18th Bendura Bank Snow Polo World Cup Kitzbühel 2020 Teams:
Bendura Bank (12): Melissa Ganzi (1 – Captain), Alejandro Novillo Astrada (8) & Tito Gaudenzi (3)
Engel & Völkers (12): Ana Escobedo (1 – Captain), Segundo Darritchon (3) & Jonny Good (8)
World Polo League (13): Marc Ganzi (2 – Captain), Juan Bautista Peluso (3) & Nic Roldan (8)
Corum (10): Eckhardt Juls (1 – Captain), Patrick Maleitzke (5) & Juan Ruiz-Guiñazú (4)
Bernd Gruber (11): Helmet Wieser (0 – Captain), Pato Bolanterio (4) & Santiago Marambio (7)
GP Mobility (10): Henrique Schalldach (2), Marcus Schalldach (2 – Captain) & Guilhermo Lins (6)
Intocast (12): Matthias Normann (1 – Captain), Micky Duggan (5) & Martin Juaregui (6)
Laurent-Perrier (11): Sebastian Schneberger (2), Phillip de Groot (2) & Valentin Novillo Astrada (7)
Photograph: The 18th Bendura Bank Snow Polo World Cup is just a week and a half away. By Cymon Skinner Photography

Other top stories
Wed 27th May 2020
New Government Announcement
Advice for Elite Sports
Fri 22nd May 2020
HPA 2020 Fixtures List
Amended dates released
Thu 21st May 2020
HPA Update No.7
More guidance given & updated procedures

Fri 15th May 2020
USPA Lifts Tournament & Events Suspension
Clubs must abide by state and local laws

Thu 14th May 2020
Marjory Williams Passes Away
19 September 1921 – 12 May 2020
Wed 13th May 2020
Next Steps for English Polo
Stick & Balling can resume from tomorrow with correct procedures in place
Tue 12th May 2020
HPA's Covid-19 Steering Group Meeting Today
Light at the end of the tunnel for 2020 season?
Thu 7th May 2020
Guards Offer Once in a Lifetime Opportunity
Be the first person to stick & ball on Club's new ground
Tue 5th May 2020
USPA Announce Handicap Changes
Both Castagnola brothers have handicaps raised
Mon 4th May 2020
Polo Times May Issue Out This Week!
Latest issue will be hitting your doorsteps this week