Wed 22nd May 2019
Cartier Queen's Cup Underway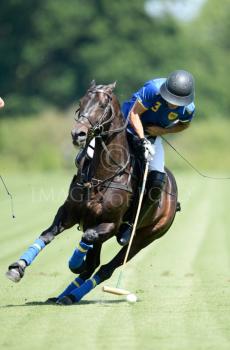 Park Place secure first win

The 2019 Cartier Queen's Cup began yesterday, Tuesday 21 May, with the first match between Park Place and Monterosso Polo Team.
Park Place lost out on The Queen's Cup title in 2018 after being defeated in the Final by La Indiana, and this year they seem set on once again reaching the Final, and no doubt are aiming to take the top title. Monterosso, winners of the 2018 Prince of Wales Trophy and 2019 Prince of Wales subsidiary finalists, were very much in with a chance in the first half, and thanks to the skill of Ignacio Toccalino and Joaquin Pittaluga, they were leading 2-1 at the end of the first chukka.
However, the second half saw a change in momentum as the powerful combination of Juan Britos and Hilario Ulloa applied the pressure and increased Park Place's lead to 7-4 and a goal apiece from Ulloa and Britos in the fifth chukka saw Park Place steaming ahead. Monterosso came back fighting and managed to lock down Park Place in the sixth chukka, which resulted in a goal less seven minutes for the boys in blue, whereas Monterosso secured three. The match teetered on the edge of over-time, but Pittaluga's final shot on goal went wide, and with it Park Place secured the first win of The 2019 Cartier Queen's Cup, 9-8.
The second match of the day was between UAE Polo and Casa La Vista Ibiza and was a much more clear-cut match, with UAE Polo clearly dominating the action and the scores. By the end of the final chukka, UAE Polo held a convincing score of 14-7.
The Queen's Cup action continues for the next few weeks, with matches most days, until the Final on Sunday 16.
Photograph: Park Place secured their first win of The Cartier Queen's Cup yesterday. by ©www.imagesofpolo.com

Other top stories

Thu 19th Sep 2019
End of Season Handicap Changes
HPA releases handicap list
Mon 16th Sep 2019
The 55th Jockey Club Open
Play continues this week

Wed 11th Sep 2019
Vision for Polo
A realistic goal or rose-tinted glasses?
Tue 10th Sep 2019
RoR Racing to Polo Challenge
Winners at RCBPC
Mon 9th Sep 2019
La Dolfina Victorious
Father & son secure 52nd San Jorge Open

Wed 4th Sep 2019
22 Goal and Victor Ludorum Handicaps
HPA Releases End of Season List
Tue 3rd Sep 2019
Polo Times Out Now
September Issue of Polo Times
Mon 2nd Sep 2019
Sotogrande Gold Cups
Wins for Brunei, MB Polo & Rhone Hill
Fri 30th Aug 2019
55th Jockey Club Open
Teams announced
Thu 29th Aug 2019
48 Torneo Internacional de Polo
LG Signature Gold Cup Medium Goal Final set
Tue 27th Aug 2019
Sotogrande Semi Finalists
The LG Signature Gold Cup continues