Mon 11th Mar 2019
UAE Undefeated in Dubai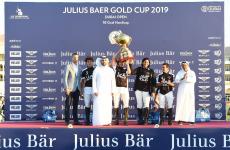 The Julius Bär Gold Cup 2019

The UAE Polo Team's undefeated streak continued in Dubai, as they lifted The Julius Bär Gold Cup 2019 trophy on Friday 8 March in front of a crowd of spectators and fans at Al Habtoor Polo Resort & Club.
Prior to the highly anticipated Final, between Habtoor Polo and UAE Polo Team, Abu Dhabi Polo Team defeated Zedan 9-8 in the Subsidiary Final, which was followed by a display from the Dubai Police Marching band and the UAE National Anthem.
Both teams came out evenly in the first chukka, which ended 3-2 in UAE Polo Team's favour, and as the teams headed towards half-time, UAE still held the lead 8-3. Habtoor Polo came back in the fourth chukka, ending the play 9-6, but despite valiant attempts to even the scoreboard by Facundo Sola and Tommy Beresford, the UAE Polo team left the field the victors 10-8. Alejandro Muzzio was named the Most Valuable Player, whilst his pony Milly was awarded the Best Playing Pony rug.
The Dubai Polo Gold Cup Series continues with the 18 goal Dubai Challenge Cup, which begins on Saturday 16 March.
The Julius Bär Gold Cup Final Teams:
UAE Polo Team (18): HH Sheika Maitha (0), Vizcacha Benoit (6), Tomás Panelo (4) & Alejandro Muzzio (8)
Habtoor (18): Mohammed Al Habtoor (0), Hugo Lewis (3), Facundo Sola (9) & Tommy Beresford (6)
Photograph: UAE Polo Team secured The Julius Bär Gold Cup title on Friday 8 March. Courtesy of Dubai Gold Cup Series

Other top stories

Fri 22nd Mar 2019
Susan G. Komen US Women's Open Continues
Finalists decided with Brits leading the charge

Thu 21st Mar 2019
USPA Gold Cup Semi Finals
Rain postpones play

Wed 20th Mar 2019
Action from Dubai
The Dubai Challenge Cup, Amity Polo Cup & AHPRC League

Mon 18th Mar 2019
U.S. Women's Open
Excitement began on Saturday

Sun 17th Mar 2019
USPA Gold Cup Quarter Finals
American Update

Sat 16th Mar 2019
UK Arena Handicap Changes
2018/19 End of Season

Fri 15th Mar 2019
World Polo League
Palm Beach Open

Fri 15th Mar 2019
U.S. Women's Open
Matches begin on Saturday
Mon 11th Mar 2019
UAE Undefeated in Dubai
The Julius Bär Gold Cup 2019
Tue 5th Mar 2019
Junior Westchester U18 Team Head to USA
Flannels England to take on Team USA

Mon 4th Mar 2019
Flannels England Rule the Arena
Playnation International Test Match for The Bryan Morrison Trophy
Thu 28th Feb 2019
Flannels England Women Head to Australia
HPA announce ladies International Test Match team

Wed 27th Feb 2019
Polo Times Out This Week!
March Issue packed with exciting features

Tue 26th Feb 2019
C.V. Whitney Cup Final
Pilot secure pole position