Thu 7th Jun 2018
HACKETT Army Welcomes First Female Player for Rundle Cup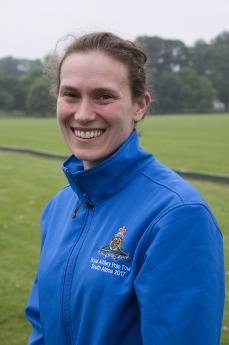 Captain Jess Wood to start at Tidworth

On Saturday 14 July, British Army and Royal Navy players from across the country will gather at Tidworth Polo Club for their annual battle for The HACKETT Rundle Cup.
This morning, the British Army Polo Association announced the line-up for this year's HACKETT Army team, which will include a woman for the first time in history. The team is as follows:
HACKETT Army (1): Capt Jess Wood RHA (0), Capt Moss Hamilton IG (0), Lt Rishi Ahluwalia LD (0) & Capt Paddy Selfe KRH (1)
Captain Jess Wood will be the first woman to play for the British Army in The Rundle Cup's 100 year history. Throughout her time in the Army, Capt Wood has reached a 0 goal handicap and has played for Army teams in numerous smaller tournaments.
The HACKETT Rundle Cup day will commence with a celebrity match in aid of INSPIRE, which will be followed by a free-fall parachute display by the REME Parachute Team. The local Pony Club will also be on hand to showcase their talents in a youth exhibition match. The HACKETT Rundle Cup will commence at 4.30pm, accompanied by The Royal Marines Band of Collingwood, whilst there will be the usual Champagne and Pimm's bar, as well as caterers and an overflowing trade village, with spectators welcome to bring picnics along. British Polo Gin will be on hand, operating their cocktail bar pitch-side and their bar in the Clubhouse. Tickets start at £5 and can be purchased
here
.
Photograph: Captain Jess Wood will be the first woman to start for HACKETT Army in The HACKETT Rundle Cup at Tidworth Polo Club. By Peter Meade

Other top stories
Mon 13th Aug 2018
The Flannels Pony Club Polo Championships
Rain didn't dampen anyone's spirits
Sat 11th Aug 2018
British HPA Junior Polo Championships
Rocksavage and Hipwood come to an end

Fri 10th Aug 2018
Thai Polo Club Wins in Malaysia
The Royal Selangor Polo Club Open 2018
Wed 8th Aug 2018
What's On This Week?
Polo this Week
Tue 7th Aug 2018
Play Underway in Sotogrande
47th annual Torneo Internacional de Polo

Wed 1st Aug 2018
HPA Handicap Changes
HPA Announce 22 Goal and Victor Ludorum Changes
Tue 31st Jul 2018
Polo Times is Out Now!
August Issue of Polo Times
Mon 30th Jul 2018
USA Lift The Junior Westchester Cup
Visitors conquer the Flannels England Team in the final second
Mon 30th Jul 2018
Flannels England Rule The International Day
Two wins for the home team at RCBPC
Tue 24th Jul 2018
The HPA Announce The International Day Teams
The Westchester and Thai Polo Club Ladies teams are announced
Mon 23rd Jul 2018
All-Brit El Remanso Champion The British Open
The King Power Gold Cup Comes Home at Cowdray