Thu 7th Jun 2018
HACKETT Army Welcomes First Female Player for Rundle Cup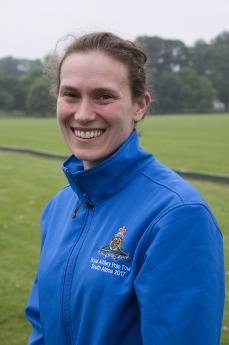 Captain Jess Wood to start at Tidworth

On Saturday 14 July, British Army and Royal Navy players from across the country will gather at Tidworth Polo Club for their annual battle for The HACKETT Rundle Cup.
This morning, the British Army Polo Association announced the line-up for this year's HACKETT Army team, which will include a woman for the first time in history. The team is as follows:
HACKETT Army (1): Capt Jess Wood RHA (0), Capt Moss Hamilton IG (0), Lt Rishi Ahluwalia LD (0) & Capt Paddy Selfe KRH (1)
Captain Jess Wood will be the first woman to play for the British Army in The Rundle Cup's 100 year history. Throughout her time in the Army, Capt Wood has reached a 0 goal handicap and has played for Army teams in numerous smaller tournaments.
The HACKETT Rundle Cup day will commence with a celebrity match in aid of INSPIRE, which will be followed by a free-fall parachute display by the REME Parachute Team. The local Pony Club will also be on hand to showcase their talents in a youth exhibition match. The HACKETT Rundle Cup will commence at 4.30pm, accompanied by The Royal Marines Band of Collingwood, whilst there will be the usual Champagne and Pimm's bar, as well as caterers and an overflowing trade village, with spectators welcome to bring picnics along. British Polo Gin will be on hand, operating their cocktail bar pitch-side and their bar in the Clubhouse. Tickets start at £5 and can be purchased
here
.
Photograph: Captain Jess Wood will be the first woman to start for HACKETT Army in The HACKETT Rundle Cup at Tidworth Polo Club. By Peter Meade

Other top stories

Mon 15th Oct 2018
Hurlingham Open Underway
Few surprises in the league stages
Tue 9th Oct 2018
La Dolfina Secure First 2018 Title
The Tortugas Open Final

Thu 4th Oct 2018
2018 End of Season Ladies' Handicaps
HPA announce changes

Tue 2nd Oct 2018
HPA Response to Handicap Changes
Information released by HPA
Mon 1st Oct 2018
FIP Ladies European Polo Championship
Germany defeat Italy to win title

Mon 1st Oct 2018
Italy Triumph at FIP European Championships
2018 FIP European Championships come to an end

Thu 27th Sep 2018
Tortugas Open and Argentine Youth Open
Argentine Update
Wed 26th Sep 2018
October Issue of Polo Times Out This Week
Addressing the handicap rumours
Tue 25th Sep 2018
FIP European Championships Underway
Italy, Azerbaijan and Ireland off to a flying start

Fri 21st Sep 2018
End of Season Handicap Changes
HPA releases handicap list
Thu 20th Sep 2018
The 54th Jockey Club Open
Second Semi Final cancelled
Tue 18th Sep 2018
Sainte Mesme Secure The Paprec French Open
Play ends in the French high goal