Wed 9th Aug 2017
Youth Polo Update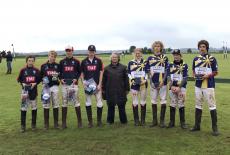 The Rocksavage and Jorrocks Finals

The British Junior Polo Championships Rocksavage Series Final took place at Cirencester Park Polo Club today, with the Lutheridge team managing to overcome Longdole Polo Club in a nail-biting game to win the match in the pouring rain. Aleksander Horvat's pony Tosquita won the Polo Times Best Playing Pony Award.
The Pony Club Championship's youngest series came to a head today at Hurtwood Park Polo Club. The Jorrocks series saw nine teams, 11-years-old and under, take part in the annual tournament for a plethora of prizes and awards.
The Jorrocks name derives from the editor, novelist and sporting writer Robert Smith Surtees who wrote his contributed to the comic paper Jorrocks', Jaunts and Jolities, published in 1838. The character Jorrocks was a sporting cockney grocer known for his good-natured artfulness.
The results of the Jorrocks tournament are as follows:
Division One
1st – Grafton
2nd – Cotswold
3rd – Cowdray
Division Two
1st – Crawley & Horsham 1
2nd – Royal Artillery
3rd – Hampshire Hunt
Division Three
1st – Cotswold Vale Farmers
2nd – Beaufort
3rd – Crawley & Horsham 2
The Best Turned Out Prize – The Hampshire Hunt, for their matching hats, bandages and tape!
The Best Girl Player – Ava Greenlands from Cowdray
The Rupert Thorneloe Award for the Best Boy Player – Billy Barlow
Tik-Tak Trophy – Lucas Murphy from Cotswold Vale Farmers
The Polo Times Best Playing Pony – Ginja Ninja, owned and played by Rosie Talbot-Rice
Photograph: The Lutheridge team win the Rocksavage Final in the British Junior Polo Championships

Other top stories

Tue 21st Nov 2017
Cambiaso's 100th Argentine Open Match
Busy weekend of big scores in Argentine Open
Wed 15th Nov 2017
SUPA AGM Confirms 2018 Schedule
Dates and locations for 2018 events
Tue 14th Nov 2017
Argentine Open Match Updates
Results from the third and fourth days of the competition
Mon 13th Nov 2017
Coronation Cup Venue Change
RCBPC will be the new home of the prestigious trophy
Fri 10th Nov 2017
King Power to Sponsor The Gold Cup
New sponsor for key UK tournament
Thu 9th Nov 2017
AAP Educate the Masses
Palermo welcomes local students
Mon 6th Nov 2017
124th Argentine Open HSBC Polo Championship Begins
Alegría lead the Zone B rankings

Fri 3rd Nov 2017
124th Argentine Open HSBC Polo Championship
Presentation of the teams

Wed 1st Nov 2017
Argentine Update
What's been happening in Argentina?
Mon 30th Oct 2017
Hurlingham Open Final
Ellerstina snatch victory from the jaws of defeat

Sun 29th Oct 2017
FIP Championships Finale
Argentina snatch victory from Chile in seventh chukka cliffhanger
Sat 28th Oct 2017
Chile and Argentina in Main Final
XI FIP World Polo Championships
Fri 27th Oct 2017
Argentine Update
Action from La Aguada and Pilar
Thu 26th Oct 2017
Chile and New Zealand Progress
XI FIP World Polo Championships
Wed 25th Oct 2017
Argentina Move Closer Towards the Final
XI FIP World Polo Championship

Tue 24th Oct 2017
Hurlingham Open Finalists Decided
Unexpected results in the Semi Finals