Wed 9th Aug 2017
Youth Polo Update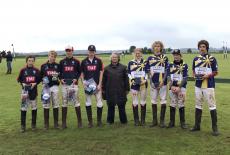 The Rocksavage and Jorrocks Finals

The British Junior Polo Championships Rocksavage Series Final took place at Cirencester Park Polo Club today, with the Lutheridge team managing to overcome Longdole Polo Club in a nail-biting game to win the match in the pouring rain. Aleksander Horvat's pony Tosquita won the Polo Times Best Playing Pony Award.
The Pony Club Championship's youngest series came to a head today at Hurtwood Park Polo Club. The Jorrocks series saw nine teams, 11-years-old and under, take part in the annual tournament for a plethora of prizes and awards.
The Jorrocks name derives from the editor, novelist and sporting writer Robert Smith Surtees who wrote his contributed to the comic paper Jorrocks', Jaunts and Jolities, published in 1838. The character Jorrocks was a sporting cockney grocer known for his good-natured artfulness.
The results of the Jorrocks tournament are as follows:
Division One
1st – Grafton
2nd – Cotswold
3rd – Cowdray
Division Two
1st – Crawley & Horsham 1
2nd – Royal Artillery
3rd – Hampshire Hunt
Division Three
1st – Cotswold Vale Farmers
2nd – Beaufort
3rd – Crawley & Horsham 2
The Best Turned Out Prize – The Hampshire Hunt, for their matching hats, bandages and tape!
The Best Girl Player – Ava Greenlands from Cowdray
The Rupert Thorneloe Award for the Best Boy Player – Billy Barlow
Tik-Tak Trophy – Lucas Murphy from Cotswold Vale Farmers
The Polo Times Best Playing Pony – Ginja Ninja, owned and played by Rosie Talbot-Rice
Photograph: The Lutheridge team win the Rocksavage Final in the British Junior Polo Championships

Other top stories

Sat 23rd Sep 2017
Polo Times Is Out Now!
October issue of Polo Times

Fri 22nd Sep 2017
What's On This Weekend
Polo near you
Wed 20th Sep 2017
The Armis Polo Helmet
The next generation of polo technology
Tue 19th Sep 2017
End of Season Handicaps
HPA announces changes
Mon 18th Sep 2017
Argentine Update
Jockey Club Ends and Tortugas Begins
Fri 15th Sep 2017
What's On This Weekend
Polo near you
Thu 14th Sep 2017
John Tylor and Willie Hancock Memorials
Details of events
Wed 13th Sep 2017
CBC Sport Arena Polo World Cup Azerbaijan
Home team win the Gold
Tue 12th Sep 2017
Polo Legends John Tylor and Willie Hancock have passed away
Mon 11th Sep 2017
East Coast Open Final
Father and son duo secure title
Fri 8th Sep 2017
5th CBC Sport Arena Polo World Cup Azerbaijan
Teams presented to the world's press
Thu 7th Sep 2017
San Jorge Open Final
Valiente La Dolfina beat La Natividad
Tue 5th Sep 2017
National Youth Tournament Series Championship
Reigning champions take home the Cecil Smith Cup
Mon 4th Sep 2017
Have Your Say!
Your views on the big issues
Fri 1st Sep 2017
What's On
Polo near you this weekend
Thu 31st Aug 2017
2018 Helmet Regulations
The HPA releases new information
Tue 29th Aug 2017
Triple Crown About to Begin
Argentine Season Dates
Sat 26th Aug 2017
Polo Times Is Out Now!
September issue of Polo Times
Fri 25th Aug 2017
What's On
Polo this weekend