Wed 9th Aug 2017
Youth Polo Update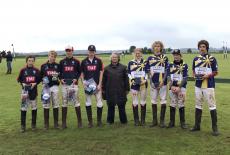 The Rocksavage and Jorrocks Finals

The British Junior Polo Championships Rocksavage Series Final took place at Cirencester Park Polo Club today, with the Lutheridge team managing to overcome Longdole Polo Club in a nail-biting game to win the match in the pouring rain. Aleksander Horvat's pony Tosquita won the Polo Times Best Playing Pony Award.
The Pony Club Championship's youngest series came to a head today at Hurtwood Park Polo Club. The Jorrocks series saw nine teams, 11-years-old and under, take part in the annual tournament for a plethora of prizes and awards.
The Jorrocks name derives from the editor, novelist and sporting writer Robert Smith Surtees who wrote his contributed to the comic paper Jorrocks', Jaunts and Jolities, published in 1838. The character Jorrocks was a sporting cockney grocer known for his good-natured artfulness.
The results of the Jorrocks tournament are as follows:
Division One
1st – Grafton
2nd – Cotswold
3rd – Cowdray
Division Two
1st – Crawley & Horsham 1
2nd – Royal Artillery
3rd – Hampshire Hunt
Division Three
1st – Cotswold Vale Farmers
2nd – Beaufort
3rd – Crawley & Horsham 2
The Best Turned Out Prize – The Hampshire Hunt, for their matching hats, bandages and tape!
The Best Girl Player – Ava Greenlands from Cowdray
The Rupert Thorneloe Award for the Best Boy Player – Billy Barlow
Tik-Tak Trophy – Lucas Murphy from Cotswold Vale Farmers
The Polo Times Best Playing Pony – Ginja Ninja, owned and played by Rosie Talbot-Rice
Photograph: The Lutheridge team win the Rocksavage Final in the British Junior Polo Championships

Other top stories

Fri 23rd Feb 2018
Polo Times is Out Now!
March issue of Polo Times
Wed 21st Feb 2018
2018 Arena Gold Cup Update
Regal Warriors, Ojo Caliente, SAPA Docklands Polo & HB Polo through to the Semi Finals
Tue 20th Feb 2018
Valiente, Colorado, Tonkawa and GSA secure Semi Final positions in the Ylvisaker Cup
Update from the International Polo Club
Mon 19th Feb 2018
PTF International Cup
Argentina, USA and England young guns compete in Florida

Fri 16th Feb 2018
Dubai Masters Cup
UAE beat Habtoor Polo to take the win
Wed 14th Feb 2018
Polo Memorabilia Auction
Florida based Leslie Hindman Auctioneers
Thu 8th Feb 2018
The Bryan Morrison Trophy
The teams are announced
Wed 7th Feb 2018
Arena Gold Cup Final
The 2018 schedule is announced
Mon 5th Feb 2018
Cartier Dubai Series
Cartier International Dubai Polo Challenge
Mon 29th Jan 2018
Joe Barry Cup Final
Tonkawa take home gold in Florida
Sun 28th Jan 2018
The Red Shirts of Cartier Win Again!
Three days of thrilling action comes to a head in St. Moritz
Sat 27th Jan 2018
Action from the Cradle of Snow Polo
2017 champions Cartier and Maserati to compete in the Final
Fri 26th Jan 2018
Snow Polo World Cup St. Moritz Starts
Cartier and Maserati champion first matches