Wed 10th Apr 2013
England lose to South Africa in Copa de las Naciones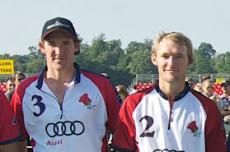 A strong South Africa side gets the better of England at Palermo

ENGLAND WAS DEFEATED by South Africa on the opening day of the 22-goal Copa de las Naciones.

The England team of Luke and Mark Tomlinson, Ollie Cudmore and Matt Perry faced a South Africa side of Jean and Nachi du Plessis, Dirk van Reenen and Chris Mackenzie, who defeated them 14-10 at Palermo, Buenos Aires.

England took an early lead and were 4-2 up going into the third chukka. But South Africa turned up the heat, pulling the score back to 6-6 by half-time and taking control in the second half of the match.

Three teams are taking part in the round-robin tournament. England will play Argentina – Diego Cavanagh, Peter Falabella, Martin Joaquin and Manuel Plaza de Ayala – on Thursday (11 April). Argentina will then play South Africa on Saturday 13 April, to decide the winner.

England will be looking for revenge when they take on South Africa on home ground in the first Audi international Test Match of the season, at Beaufort Polo Club on 15 June.
Photograph: Luke and Mark Tomlinson. Courtesy of Audi


Other top stories
Fri 5th Feb 2016
Dates For Your Diary
The HPA Have Released the 2016 Summer Season Fixtures
Fri 5th Feb 2016
Record Breaking Rugby
SUPA National University Arena Championships Hit Highest Entries

Fri 5th Feb 2016
Itís All Go In Palm Beach
Ylvisaker Cup Gets Going with World Ranking Players
Wed 3rd Feb 2016
Finally Finalists at the International Polo Club
The Joe Barry Action Resumes with Semi Finals
Wed 3rd Feb 2016
The McLaren Cup Semi Finals Concluded
Zedan and Bin Drai Polo will Play the Final
Tue 2nd Feb 2016
Victory for Vargas
The Conclusion of the First Tournament of the Dominican Republic Polo Challenge
Sun 31st Jan 2016
Mighty Maserati
Defending Champions Cartier Miss Out In St Moritz Final

Sun 31st Jan 2016
Finalists Decided in the Snow Polo World Cup St Moritz
Day Two Wins for Cartier and Badruttís Palace Hotel

Sat 30th Jan 2016
Snow Polo World Cup St Moritz 2016
Day One Wins for Cartier and Maserati
Mon 25th Jan 2016
Four Quarters and Tchogan Win
The HPA New Year National Club Championships Finals
Fri 22nd Jan 2016
HPA Arena Nationals Update
Finals Decided for 3 and 12 Goal
Fri 22nd Jan 2016
The Thai Polo Open
The Finalists Have Been Decided
Fri 22nd Jan 2016
FIP Snow Polo World Cup Imminent
Tianjin Goldin Metropolitan Polo Club to Host 14-16 Goal Snow Polo Tournament

Tue 19th Jan 2016
Safety First
Artificial Snowmaking on the Frozen Lake in St Moritz
Tue 19th Jan 2016
Dubai Polo Gold Cup Series (Dubai Open)
2016 Tournament Dates Announced at Live Draw
Tue 19th Jan 2016
Polo Challenge
High Goal Gets Underway in the Dominican Republic
Tue 19th Jan 2016
Home Win
Thailand Victorious in the All Asia Cup
Mon 18th Jan 2016
Polo Times Out This Week!
Look Out For The January/February Issue 2016
Mon 18th Jan 2016
HPA New Year Nationals Update
Semi Finalists Decided For 3 Goal
Mon 18th Jan 2016
Brits Boss It In Austria
14th Valartis Bank Snow Polo World Cup
Fri 15th Jan 2016
More Action in Palm Beach
The Joe Barry Cup Continues at the International Polo Club
Fri 15th Jan 2016
2016 Triple Crown Dates Set In Argentina
Official Autumn and Spring Tournament Dates
Fri 15th Jan 2016
Back To Hong Kong
Arena Polo Demonstration at Longines Hong Kong Masters
Wed 13th Jan 2016
New World Polo Tour Rankings
The Sotogrande Gold Cup Becomes a Grand Slam Title
Mon 11th Jan 2016
The Joe Barry Cup Begins
Wins For Coca-Cola And Enigma
Mon 11th Jan 2016
HPA New Year Nationals Begin
3 And 12 Goal Teams And Draws Announced