Wed 10th Apr 2013
England lose to South Africa in Copa de las Naciones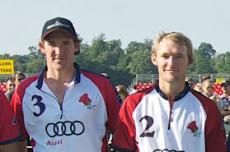 A strong South Africa side gets the better of England at Palermo

ENGLAND WAS DEFEATED by South Africa on the opening day of the 22-goal Copa de las Naciones.

The England team of Luke and Mark Tomlinson, Ollie Cudmore and Matt Perry faced a South Africa side of Jean and Nachi du Plessis, Dirk van Reenen and Chris Mackenzie, who defeated them 14-10 at Palermo, Buenos Aires.

England took an early lead and were 4-2 up going into the third chukka. But South Africa turned up the heat, pulling the score back to 6-6 by half-time and taking control in the second half of the match.

Three teams are taking part in the round-robin tournament. England will play Argentina – Diego Cavanagh, Peter Falabella, Martin Joaquin and Manuel Plaza de Ayala – on Thursday (11 April). Argentina will then play South Africa on Saturday 13 April, to decide the winner.

England will be looking for revenge when they take on South Africa on home ground in the first Audi international Test Match of the season, at Beaufort Polo Club on 15 June.
Photograph: Luke and Mark Tomlinson. Courtesy of Audi


Other top stories
Mon 21st Aug 2017
HPA Handicap News
22 goal 2018 handicaps announced

Sat 19th Aug 2017
What's On This Weekend
Polo near you

Fri 18th Aug 2017
AAP Triple Crown
Rule Changes for the 2017-2018 season

Tue 15th Aug 2017
The Sun Shines on Pony Club
Children from across the UK gather at Cowdray Park Polo Club
Mon 14th Aug 2017
Tally Ho Farm Polo Festival Finale
Fun in the sun at RCBPC
Fri 11th Aug 2017
What's On This Weekend
Polo near you

Wed 9th Aug 2017
Youth Polo Update
The Rocksavage and Jorrocks Finals
Tue 8th Aug 2017
22 Goal 2018 Handicaps
HPA Plans to Introduce Separate Handicaps at 22 Goal Level

Mon 7th Aug 2017
Sotogrande Silver Cups Well Underway
Action across high, medium and low goal
Thu 3rd Aug 2017
The Thai Polo Club Ladies International for The Diamond Jubilee Trophy
Swarovski England Ladies beat Llangollen USA Ladies at Guards Polo Club
Mon 31st Jul 2017
The Royal Salute Coronation Cup
Flannels England secure success
Fri 28th Jul 2017
What's On
The weekend's fixtures

Thu 27th Jul 2017
Polo Times Is Out This Week!
August issue of Polo Times
Wed 26th Jul 2017
Royal Salute Coronation Cup
Ticket Update With Three Days to Go

Tue 25th Jul 2017
RoR Racing Challenge
Retrained ponies take the limelight

Mon 24th Jul 2017
Thrice the Champions
King Power wins The Jaeger-LeCoultre Gold Cup for The British Open