Wed 10th Apr 2013
England lose to South Africa in Copa de las Naciones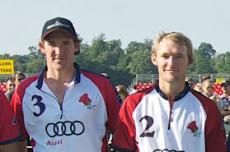 A strong South Africa side gets the better of England at Palermo

ENGLAND WAS DEFEATED by South Africa on the opening day of the 22-goal Copa de las Naciones.

The England team of Luke and Mark Tomlinson, Ollie Cudmore and Matt Perry faced a South Africa side of Jean and Nachi du Plessis, Dirk van Reenen and Chris Mackenzie, who defeated them 14-10 at Palermo, Buenos Aires.

England took an early lead and were 4-2 up going into the third chukka. But South Africa turned up the heat, pulling the score back to 6-6 by half-time and taking control in the second half of the match.

Three teams are taking part in the round-robin tournament. England will play Argentina – Diego Cavanagh, Peter Falabella, Martin Joaquin and Manuel Plaza de Ayala – on Thursday (11 April). Argentina will then play South Africa on Saturday 13 April, to decide the winner.

England will be looking for revenge when they take on South Africa on home ground in the first Audi international Test Match of the season, at Beaufort Polo Club on 15 June.
Photograph: Luke and Mark Tomlinson. Courtesy of Audi


Other top stories
Thu 8th Oct 2015
The HPA Arena Polo 'Green Book' Is Out Now
The 2015/16 UK Winter Arena Season Polo 'bible' Released
Wed 7th Oct 2015
Winning Start for Head Hunters and Mahi-Mahi
Brits Victorious in First Matches of Malaysian Ladies Polo Championships
Mon 5th Oct 2015
Tournament Played at Ellerston Ahead of Sale
Matches Commenced Over the Weekend at Australian Club
Fri 2nd Oct 2015
Equine Infectious Anaemia Outbreak in Argentina
Disease May Affect Opening Stages of The Triple Crown
Fri 2nd Oct 2015
The Opening Matches Of The Triple Crown Are In Full Swing
The First Games Of The Tortugas Open Get Underway in Argentina
Thu 1st Oct 2015
October Issue of Polo Times Out Now!
Sotogrande Special – Women's Handicap Debate – Victor Ludorum Update
Mon 28th Sep 2015
All Eyes on Argentina
Argentine Season Underway with the Jockey Club Open
Thu 24th Sep 2015
BMW International Polo Series Won by South Africa
New Zealand Left Disappointed Despite a Win
Tue 22nd Sep 2015
British Ladies Victorious in French Tournament
Open de France Polo sees win for Marquard Media
Thu 17th Sep 2015
What's on this winter?
Time to dig out the bobble hats and tweed for the arena season
Tue 15th Sep 2015
Atypical Myopathy awareness this Autumn
Sycamore trees are shedding are now
Mon 14th Sep 2015
Chantilly Open de France Polo is well underway
Brits abroad in both Open De France tournaments

Fri 11th Sep 2015
Non-EEA Players and Grooms immigration talks
The HPA and Polopermits in discussion with the Home Office