Wed 10th Apr 2013
England lose to South Africa in Copa de las Naciones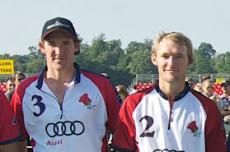 A strong South Africa side gets the better of England at Palermo

ENGLAND WAS DEFEATED by South Africa on the opening day of the 22-goal Copa de las Naciones.

The England team of Luke and Mark Tomlinson, Ollie Cudmore and Matt Perry faced a South Africa side of Jean and Nachi du Plessis, Dirk van Reenen and Chris Mackenzie, who defeated them 14-10 at Palermo, Buenos Aires.

England took an early lead and were 4-2 up going into the third chukka. But South Africa turned up the heat, pulling the score back to 6-6 by half-time and taking control in the second half of the match.

Three teams are taking part in the round-robin tournament. England will play Argentina – Diego Cavanagh, Peter Falabella, Martin Joaquin and Manuel Plaza de Ayala – on Thursday (11 April). Argentina will then play South Africa on Saturday 13 April, to decide the winner.

England will be looking for revenge when they take on South Africa on home ground in the first Audi international Test Match of the season, at Beaufort Polo Club on 15 June.
Photograph: Luke and Mark Tomlinson. Courtesy of Audi


Other top stories

Fri 22nd May 2015
Royal Salute are to be the title sponsor for The Coronation Cup
The Hurlingham Polo Association have today announced their news
Thu 21st May 2015
Triple Crown Line-ups Announced
AAP have revealed teams who will take on polo's most coveted title
Wed 20th May 2015
Glittering night of celebration at Awards Dinner
10th Annual Polo Awards 2015

Mon 18th May 2015
Last Minute Victory for Shalimar in Centenary Event
La Martina Queen Elizabeth The Queen Mother's Centenary Trophy
Mon 18th May 2015
England triumphant at St. Regis International Cup
First International of the season at Cowdray Park Polo Club
Fri 15th May 2015
British Polo 10 Goal Championships launched by HPA
Enter to be in with a chance to play on International Day at Guards
Wed 13th May 2015
Cartier Queen's Cup draw announced
12 teams to begin games next week for the 22 goal
Mon 11th May 2015
Hissam Ali Hyder wins The Polo Magazine Most Valuable Player Award at Guards
Tempest win the Valerie Halford Memorial Trophy
Fri 8th May 2015
The Americas team announced for St. Regis International Cup
England's opposition confirmed for first International of the season

Thu 7th May 2015
Feeling charitable?
Polo people working hard to raise money
Wed 6th May 2015
Polito Pieres goes to 10 in America
USPA release handicap changes for 2015
Tue 5th May 2015
England line-up confirmed for the St. Regis Test Match
James Beim to captain the team at Cowdray in two weeks

Fri 1st May 2015
Julius Bär Beach Polo World Cup Sylt 2015
Teams Announced for May Tournament
Wed 29th Apr 2015
Grass Sickness cases show a spike in May
Polo ponies that are kept out at grass could be affected this spring by Equine Grass Sickness
Mon 27th Apr 2015
Cartier Queen's Cup teams announced
Twelve teams have confirmed their entry at Guards

Mon 27th Apr 2015
Argentina win Copa de Las Naciones
Double loss as England Colts lose out to Argentina