Wed 10th Apr 2013
England lose to South Africa in Copa de las Naciones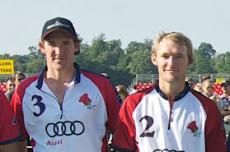 A strong South Africa side gets the better of England at Palermo

ENGLAND WAS DEFEATED by South Africa on the opening day of the 22-goal Copa de las Naciones.

The England team of Luke and Mark Tomlinson, Ollie Cudmore and Matt Perry faced a South Africa side of Jean and Nachi du Plessis, Dirk van Reenen and Chris Mackenzie, who defeated them 14-10 at Palermo, Buenos Aires.

England took an early lead and were 4-2 up going into the third chukka. But South Africa turned up the heat, pulling the score back to 6-6 by half-time and taking control in the second half of the match.

Three teams are taking part in the round-robin tournament. England will play Argentina – Diego Cavanagh, Peter Falabella, Martin Joaquin and Manuel Plaza de Ayala – on Thursday (11 April). Argentina will then play South Africa on Saturday 13 April, to decide the winner.

England will be looking for revenge when they take on South Africa on home ground in the first Audi international Test Match of the season, at Beaufort Polo Club on 15 June.
Photograph: Luke and Mark Tomlinson. Courtesy of Audi


Other top stories
Wed 26th Apr 2017
US Open Championship
Valiente take the US crown from Orchard Hill
Tue 25th Apr 2017
St Andrews Charity Tournament
Royal Scots Dragoons Victorious Against St Andrews University
Mon 24th Apr 2017
New Addition to UK Club List
Moor Farm Polo Club Opens
Thu 20th Apr 2017
US Open Finalists Decided
Rematch of 2015 Final
Wed 19th Apr 2017
$100,000 World Cup Final
Palm Beach Illustrated Win at Grand Champions
Wed 12th Apr 2017
Brooke's MyHackathon
Riding for a cause

Tue 11th Apr 2017
US Open Action Hots Up
Orchard Hill, Valiente and Flexjet Secure Wins

Mon 10th Apr 2017
UK High Goal Update
Line-ups for 22 Goal Season
Tue 4th Apr 2017
Travieso Rally to Victory
Molina Cup Runs into Overtime Thriller

Mon 3rd Apr 2017
Butler Handicap Final
Coca Cola Wins as 26 Goal Action Continues Stateside

Wed 29th Mar 2017
Dubai Challenge Cup
Finalists Decided

Tue 28th Mar 2017
SUPA Tri-Nations
England Triumph
Mon 27th Mar 2017
Victorious Valiente
USPA Gold Cup Win for Tournament Favourites