Wed 10th Apr 2013
England lose to South Africa in Copa de las Naciones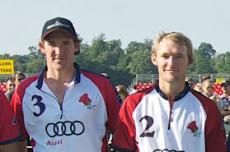 A strong South Africa side gets the better of England at Palermo

ENGLAND WAS DEFEATED by South Africa on the opening day of the 22-goal Copa de las Naciones.

The England team of Luke and Mark Tomlinson, Ollie Cudmore and Matt Perry faced a South Africa side of Jean and Nachi du Plessis, Dirk van Reenen and Chris Mackenzie, who defeated them 14-10 at Palermo, Buenos Aires.

England took an early lead and were 4-2 up going into the third chukka. But South Africa turned up the heat, pulling the score back to 6-6 by half-time and taking control in the second half of the match.

Three teams are taking part in the round-robin tournament. England will play Argentina – Diego Cavanagh, Peter Falabella, Martin Joaquin and Manuel Plaza de Ayala – on Thursday (11 April). Argentina will then play South Africa on Saturday 13 April, to decide the winner.

England will be looking for revenge when they take on South Africa on home ground in the first Audi international Test Match of the season, at Beaufort Polo Club on 15 June.
Photograph: Luke and Mark Tomlinson. Courtesy of Audi


Other top stories
Wed 31st Aug 2016
Breast Cancer Care is Biggest Winner
Guards Polo Club host 4th Ladies Charity Polo Day for Breast Cancer Haven
Tue 30th Aug 2016
Dubai win Sotogrande Gold Cup for Second Year Running
Cambiaso and Albwardy champions once again
Tue 23rd Aug 2016
Polo for Good
The Guards Ladies' Charity Trophy

Mon 22nd Aug 2016
Polo Times Out This Week
Youth Special for September

Mon 22nd Aug 2016
Sotogrande Excitement Continues
Gold Cups at Santa María Polo Club

Fri 19th Aug 2016
Arena Polo Fixtures
Some Winter Dates for your Diary
Fri 19th Aug 2016
Zones for FIP European Championship Determined
Games Begin in Berlin 28 August
Thu 18th Aug 2016
Scotland Claim Whitbread Trophy
HPA Youth Polo Continues
Tue 16th Aug 2016
Stagshead Trophy
Youth Polo at HPC
Mon 15th Aug 2016
Tally Ho Farm Polo Festival Concludes
Fun in the Sun at RCBPC

Fri 12th Aug 2016
SKY TV coverage of the 2016 Jaeger-LeCoultre Gold Cup
Polo Hits the Screens at Home on Sky Sports
Fri 12th Aug 2016
Sotogrande Action
The latest from Santa María Polo Club
Thu 11th Aug 2016
Staggering Stagshead
Youth action continues at Ham Polo Club
Wed 10th Aug 2016
Trucks and Tribulations
Are all your Licences and Passports Legal?
Mon 8th Aug 2016
Pony Club Polo Championships
188 Players Complete the Tournament
Mon 8th Aug 2016
Sotogrande Weekend Update
45th INDI International Polo Tournament

Fri 5th Aug 2016
Tally Ho Farm Polo Festival Ticket Offer
Plenty of Polo in Berkshire to Watch
Fri 5th Aug 2016
Olympics Set to Start
Dressage & Eventing Update

Thu 4th Aug 2016
Get Our Girls to Zambia
Sponsorship Search is on for England Ladies
Wed 3rd Aug 2016
England Team for Manipur
Fancy a Trip to Play on the Oldest Polo Grounds?
Mon 1st Aug 2016
Polo Times Out Now
Subscribe Now for the August Issue

Mon 1st Aug 2016
A Trio of Triumphs
Harrison, Holden White and Challenge Cup Finals