Wed 10th Apr 2013
England lose to South Africa in Copa de las Naciones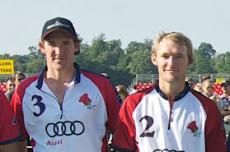 A strong South Africa side gets the better of England at Palermo

ENGLAND WAS DEFEATED by South Africa on the opening day of the 22-goal Copa de las Naciones.

The England team of Luke and Mark Tomlinson, Ollie Cudmore and Matt Perry faced a South Africa side of Jean and Nachi du Plessis, Dirk van Reenen and Chris Mackenzie, who defeated them 14-10 at Palermo, Buenos Aires.

England took an early lead and were 4-2 up going into the third chukka. But South Africa turned up the heat, pulling the score back to 6-6 by half-time and taking control in the second half of the match.

Three teams are taking part in the round-robin tournament. England will play Argentina – Diego Cavanagh, Peter Falabella, Martin Joaquin and Manuel Plaza de Ayala – on Thursday (11 April). Argentina will then play South Africa on Saturday 13 April, to decide the winner.

England will be looking for revenge when they take on South Africa on home ground in the first Audi international Test Match of the season, at Beaufort Polo Club on 15 June.
Photograph: Luke and Mark Tomlinson. Courtesy of Audi


Other top stories
Fri 6th May 2016
Prizes, Prizes!
Polo Times and The Polo Magazine Celebrate Excellence

Thu 5th May 2016
HRH Prince Harry has Cause to Celebrate
Victory and Further Support at The Sentebale Royal Salute Polo Cup
Wed 4th May 2016
Brigadier John Wright CBE
Sad Passing of Former HPA Chairman

Wed 4th May 2016
Cartier Queen's Cup Draw announced
Play to Start in Two Weeks Time
Wed 4th May 2016
Charity Polo in Florida
Sentebale Royal Salute Polo Cup

Fri 29th Apr 2016
High Goal Season Starts
The Prince of Wales Trophy Draw Announced
Fri 29th Apr 2016
New Hat Rule for 2018
HPA Safety Advisory Panel Helmet Rule Update

Fri 29th Apr 2016
Hilario Ulloa Goes up to 10 Goals in the USA
The Goal Maker Scored 35 Times in the US Open 2016

Wed 27th Apr 2016
Polo Awards Voting Now Open
The Nominees Are Announced for the 11th Event
Tue 26th Apr 2016
Arena Handicaps Announced
Ups and Downs for the UK Arena Players

Tue 26th Apr 2016
2016 Cartier Queen's Cup Teams Confirmed
12 Teams Will Compete for This Year's Queen's Cup Title
Mon 25th Apr 2016
Orchard Hill US Open Victors
Orchard Hill Defeats Dubai to Win their First US Open Title
Thu 21st Apr 2016
US Open Final Set
Orchard Hill and Dubai in the Final
Wed 20th Apr 2016
Followers, Followers and More Followers!
Polo Times Reaches 10,000 Twitter Followers and 1,000 Followers on Instagram
Tue 19th Apr 2016
Land of Hope and Glory
Hope & Glory® Become Official Tea Sponsor of the England Polo Team
Mon 18th Apr 2016
And Then There Were Four
Dubai, Orchard Hill, Audi and White Birch the US Open Semi Finalists
Mon 18th Apr 2016
Polo Times Out This Week
News and Views From Barbados to the Midlands
Fri 15th Apr 2016
US Open Update
Dubai and Orchard Hill Earn Semi Final Spots
Wed 13th Apr 2016
The Cartier Queen's Cup Date Change
The Queen's Cup Final to be Played on Saturday 11 June
Mon 11th Apr 2016
Congratulations
Edition Hat Competition Winner Announced

Mon 11th Apr 2016
Action from the US Open Championship
Dubai, White Birch and Orchard Hill Remain Undefeated