Wed 10th Apr 2013
England lose to South Africa in Copa de las Naciones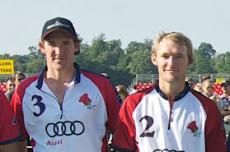 A strong South Africa side gets the better of England at Palermo

ENGLAND WAS DEFEATED by South Africa on the opening day of the 22-goal Copa de las Naciones.

The England team of Luke and Mark Tomlinson, Ollie Cudmore and Matt Perry faced a South Africa side of Jean and Nachi du Plessis, Dirk van Reenen and Chris Mackenzie, who defeated them 14-10 at Palermo, Buenos Aires.

England took an early lead and were 4-2 up going into the third chukka. But South Africa turned up the heat, pulling the score back to 6-6 by half-time and taking control in the second half of the match.

Three teams are taking part in the round-robin tournament. England will play Argentina – Diego Cavanagh, Peter Falabella, Martin Joaquin and Manuel Plaza de Ayala – on Thursday (11 April). Argentina will then play South Africa on Saturday 13 April, to decide the winner.

England will be looking for revenge when they take on South Africa on home ground in the first Audi international Test Match of the season, at Beaufort Polo Club on 15 June.
Photograph: Luke and Mark Tomlinson. Courtesy of Audi


Other top stories

Thu 23rd Apr 2015
England win first Copa de Las Naciones game
Final will be England vs. Argentina this Saturday
Mon 20th Apr 2015
Valiente win The U.S. Open
Third time lucky for Cambiaso's crew
Thu 16th Apr 2015
Stage set for Pieres-Cambiaso Final
Orchard Hill will face Valiente for 2015 US Open
Thu 16th Apr 2015
Guards announce Land Rover sponsorship
Club celebrates its Jubilee with new, three-year partnership
Wed 15th Apr 2015
Arena handicap changes announced
88 players from the 2014/15 season have had their handicaps changed
Wed 15th Apr 2015
Calling all Whippet fans!
Four adorable Whippet puppies for sale
Tue 14th Apr 2015
Chris Hyde goes to 10
HPA announces historical handicap
Mon 13th Apr 2015
Coca-Cola and Valiente advance to Semi Finals
Adolfo Cambiaso returns from injury to take Valiente into final four
Mon 13th Apr 2015
Bin Drai win in Dubai
Inaugural 10 goal tournament held at Dubai Polo & Equestrian Club

Thu 9th Apr 2015
Dubai Cup Final scheduled tomorrow
New 8-10 goal tournament extends Dubai season
Thu 9th Apr 2015
Semi Finals take shape
The US Open continues in Florida with just ten days remaining
Wed 8th Apr 2015
Beach Polo Cup Dubai 2015 to take place this weekends
Four teams to feature in this year's edition
Tue 7th Apr 2015
Audi continue their winning streak in US Open
An action-packed weekend at IPC, Wellington
Mon 30th Mar 2015
Polo Under the Stars
Barbados floodlit game at Apes Hill
Mon 30th Mar 2015
FIP World Championships continue in Chile
England to play in the Semi Finals tomorrow
Mon 30th Mar 2015
Pieres Power
High goal family dominate in first weekend of US Open