Wed 30th Jan 2013
Polo Times app now launched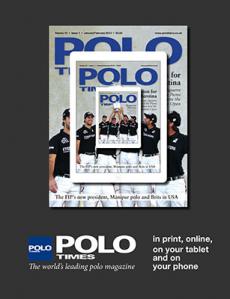 The magazine can now be read on tablets and android devices

THE POLO TIMES app was officially launched today. This means that for the first time the magazine is now available on all tablets and android devices.
The first issue - the Jan/Feb issue - is available to download free of charge so have a read and spread the word. Thereafter all issues will be free for current Polo Times subscribers, and for non-subscribers single issues can be purchased via the app.
For iPad and iPhone users, you can get the app by clicking through to the Polo Times iPhone app here or by searching for "Polo Times" on iTunes.
For other android devices, you can get the app by clicking through to the Polo Times Android app here or by searching Google Play for "Polo Times".
To subscribe to Polo Times, click here.

Other top stories
Thu 2nd Oct 2014
England triumph over Argentina
England will face Hong Kong China in the Final of The Super Nations Cup at Tianjin Goldin Metropolitan Polo Club
Wed 1st Oct 2014
Defending champions Hong Kong China start well in Super Nations Cup
The third Fortune Heights 24 goal tournament is underway in Tianjin, China
Tue 30th Sep 2014
England qualify for The FIP 2015 World Championships
Ireland beat France in the final qualifying match to ensure England's place in Chile next year

Thu 25th Sep 2014
England win against Spain in FIP 14 Goal
Peter Webb saves the day for England in close game against Spain
Mon 22nd Sep 2014
La Dolfina flawless in Jockey Club Open
Side has returned to the ultimate 40 goal handicap
Fri 19th Sep 2014
The French Open continues for British women players
Chantilly busy with polo action in the Women's French Open as they head towards the finals
Thu 18th Sep 2014
Guards Polo Club sets a safety trend
The first club to take make a decision on safety standards and helmets for the 2015 summer season
Wed 17th Sep 2014
Guards' team starts new tournament with a win
The International Series in Brazil gets underway with all four teams enjoying their games at Helvetica Polo Club
Tue 16th Sep 2014
British lady players travel to France for the 3rd Women's French Open
Preparations underway, as the first round of the tournament in Chantilly is set to begin tomorrow.
Mon 15th Sep 2014
England win the FIP 8 Goal European Championships
Ten days, five games and four wins later England hold the Trophy for the FIP 8Goal European Championships
Fri 12th Sep 2014
Argentine season starts with more rule changes
The Argentine Polo Association has made further revisions to their rule changes despite the season having already started.

Thu 11th Sep 2014
England lose to Ireland in the FIP European 8 Goal Championships
A set back for the England team in Chantilly as they prepare to play France on Friday
Wed 10th Sep 2014
South Africa and the USA draw in the first test match at Shongweni in Durban
The second and final test match by both teams in the BMW Internationals Polo Series 2014 concludes in Johannesburg this Sunday
Wed 10th Sep 2014
Guards Polo Club unveil their field with a view
A new high goal ground opens at Flemish Farm with the Board Directors' Cup.
Tue 9th Sep 2014
Black Eagles victorious in Cheltenham Cup
A win for Black Eagles at Cirencester

Mon 8th Sep 2014
England claim second victory in Chantilly
Win against Spain secures place in Semi Finals
Mon 8th Sep 2014
Audi England victorious in final International of the season
Home nation defeat Rest of the World to win at Chester
Fri 5th Sep 2014
England win opening game in Chantilly
England defeat Austria in the FIP European Championships
Thu 4th Sep 2014
Guards Polo Club takes Brazil
Guards International Series expands its fixtures as far as Brazil