Tue 18th Dec 2012
British SUPA team to face USA next month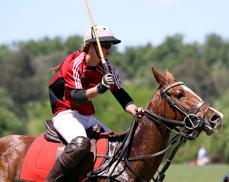 First ever international SUPA arena team will play the USA in California

BRITAIN WILL PLAY the USA in the first Schools and Universities Polo Association (SUPA) international arena match.

The SUPA university team will face a USPA intercollegiate side at Empire Polo Club, California, with the final Test Match being held alongside the Townsend Cup on 12 January.

The British team will comprise three-goalers Charles Scott and George Shelton from University College London, three-goaler Alexandra Jacob of Royal Agricultural College and one-goaler Sam Browne from the University of Cambridge.

A preliminary match against Southern California university will be held before the main Test Match, allowing each player to take part in at least one match.

A shortlist of players was selected based on handicap, with the final team chosen following try-outs. The team will be coached by eight-goaler Sebastian Dawnay. The USA team is yet to be announced.

Plans are also underway to host an international Test Match against the USA at the SUPA National University Championships in 2014.

Photograph: Alexandra Jacob of the Royal Agricultural College in action

Other top stories
Mon 6th Jul 2015
A Golden Weekend
Updates from The Jaeger-LeCoultre Gold Cup
Mon 6th Jul 2015
RoR Racing to Polo Challenge
RoR will be holding its Racing to Polo Challenge at The Royal County of Berkshire Polo Club on Monday 7 September
Mon 6th Jul 2015
The Pony Club and British Junior Polo Championships set to start
Dates and venues for this year's Youth tournaments
Fri 3rd Jul 2015
Close matches in The Jaeger-LeCoultre Gold Cup
Zacara and El Remanso win after exciting play
Thu 2nd Jul 2015
England Team announced for Royal Salute Coronation Cup
Final line up revealed ahead of International game against South America
Thu 2nd Jul 2015
Dubai Dominate
Latest updates from the Jaeger-LeCoultre Gold Cup
Thu 2nd Jul 2015
Polo Abroad – updates from the Continent
Latest news from France, Germany and Switzerland
Wed 1st Jul 2015
Keep it cool
Polo Times' top tips for hot horses
Tue 30th Jun 2015
The July issue of Polo Times is out now!
Hot off the press – our biggest issue ever
Mon 29th Jun 2015
Drama in Jaeger-LeCoultre Gold Cup
Talandracas reduced to three-man team after umpire call
Mon 29th Jun 2015
Great Western Railway Polo On the Beach
Watergate Bay saw weekend of excitement
Fri 26th Jun 2015
What's on this weekend?
Take your pick from Norfolk to Watergate Bay via Guards
Thu 25th Jun 2015
Last minute goal sees win for Apes Hill at Cowdray
Eduardo Novillo Astrada scores in nail biting finish
Wed 24th Jun 2015
Salkeld and UAE Polo triumphant
Results from the first two matches of The Jaeger-LeCoultre Gold Cup
Tue 23rd Jun 2015
England longlist announced for The Royal Salute Coronation Cup
Hurlingham Polo Association announces big names set to play
Mon 22nd Jun 2015
Clarita victorious in Bentley Royal Windsor Cup
Mathias' Team beat Bridge House of Twyford
Mon 22nd Jun 2015
La Aguada reign triumphant
La Aguada teams dominate in the La Aguada Youth Tournament
Mon 22nd Jun 2015
Serious talent at SUPA
Cheltenham take the Open National Senior Schools title
Fri 19th Jun 2015
Jeff Thomas Memorial Service at RCBPC 6pm Thursday 25 June
Fri 19th Jun 2015
The Guards La Aguada Youth Tournament
Young players tournament now in its third year
Fri 19th Jun 2015
The UK Kids Polo Tour draw announced
Famous names in miniature fill team list
Wed 17th Jun 2015
University Challenge
British Beach Polo Championships to feature Exeter and Bristol University

Wed 17th Jun 2015
Rock 'n' Horsepower at Hurtwood
Charity event in aid of Prostate Cancer sees rock legends gather for polo
Tue 16th Jun 2015
Sad news
Deaths of well-known polo personalities
Mon 15th Jun 2015
Gloucestershire Festival of Polo
England dominate at Beaufort Charity Weekend
Mon 15th Jun 2015
Double win for King Power teams in The Cartier Queen's Cup
Finals end in dramatic seventh chukkas
Fri 12th Jun 2015
The Gloucestershire Festival Polo begins tomorrow
The Gigaset International will be England vs Ireland
Fri 12th Jun 2015
Polo returns to Richmond Park in London
Polo ponies set foot on the grounds after 20 years
Thu 11th Jun 2015
The Argentine Polo Association has released spring dates
The 122nd Argentine Open confirmed to start on 21 November
Thu 11th Jun 2015
Dubai face King Power Foxes in Final
Dramatic games in the Semi Finals of The Cartier Queen's Cup
Tue 9th Jun 2015
Ferne Park take The Duke of Sutherland Cup
Cowdray Park Polo Club summer season in full swing
Tue 9th Jun 2015
The Jaeger-LeCoultre Gold Cup draw announced
Old Bond Street London gathering sees teams drawn for 2015