Tue 18th Dec 2012
British SUPA team to face USA next month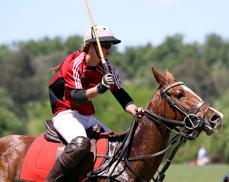 First ever international SUPA arena team will play the USA in California

BRITAIN WILL PLAY the USA in the first Schools and Universities Polo Association (SUPA) international arena match.

The SUPA university team will face a USPA intercollegiate side at Empire Polo Club, California, with the final Test Match being held alongside the Townsend Cup on 12 January.

The British team will comprise three-goalers Charles Scott and George Shelton from University College London, three-goaler Alexandra Jacob of Royal Agricultural College and one-goaler Sam Browne from the University of Cambridge.

A preliminary match against Southern California university will be held before the main Test Match, allowing each player to take part in at least one match.

A shortlist of players was selected based on handicap, with the final team chosen following try-outs. The team will be coached by eight-goaler Sebastian Dawnay. The USA team is yet to be announced.

Plans are also underway to host an international Test Match against the USA at the SUPA National University Championships in 2014.

Photograph: Alexandra Jacob of the Royal Agricultural College in action

Other top stories
Wed 23rd May 2018
The Cartier Queen's Cup Gets Underway
Talandracas, La Indiana, RH Polo and Emlor take the charge

Tue 22nd May 2018
Win For HB La Forge
The La Martina Queen Elizabeth The Queen Mother's Centenary Trophy

Mon 21st May 2018
The Hai Air Prince of Wales Trophy
Monterosso steal the crown

Wed 16th May 2018
Prince of Wales Update
Cambiaso, Laprida and Jornayvaz comply

Mon 14th May 2018
HelmetGate
Valiente go against HPA ruling

Fri 11th May 2018
The Royal Windsor Horse Show
2018 Polo Pony Show Classes
Thu 10th May 2018
USA Handicap Changes
The USPA has announced the 2018 April changes

Wed 9th May 2018
Statement from the Hurlingham Polo Association
Visa Situation and Tournament Conditions Addressed

Tue 8th May 2018
The Cartier Queen's Cup Draw
Teams and schedule announced

Mon 7th May 2018
Gloucestershire Festival of Polo
Beaufort Polo Club announces its exhibitors

Sat 5th May 2018
Prince of Wales Teams Announced
Teams and fixtures announced in the UK high goal tournament

Fri 4th May 2018
Arena Handicap Changes
HPA announce the end of season handicap changes
Thu 3rd May 2018
Sixth Annual Arena Polo World Cup Azerbaijan
Polo returns to Baku

Wed 2nd May 2018
Argentine Update
News from South America
Mon 30th Apr 2018
A New Face in the UK High Goal
Cortium returns to the 22 Goal

Fri 27th Apr 2018
Polo Times is Out Next Week!
May Issue of Polo Times
Thu 26th Apr 2018
Copa de las Naciones 2018
Ninth annual tournament is underway

Wed 25th Apr 2018
APPL Takes Brazil by Storm
World Tour Continues in Southern Hemisphere