Tue 18th Dec 2012
British SUPA team to face USA next month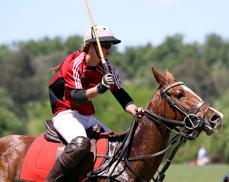 First ever international SUPA arena team will play the USA in California

BRITAIN WILL PLAY the USA in the first Schools and Universities Polo Association (SUPA) international arena match.

The SUPA university team will face a USPA intercollegiate side at Empire Polo Club, California, with the final Test Match being held alongside the Townsend Cup on 12 January.

The British team will comprise three-goalers Charles Scott and George Shelton from University College London, three-goaler Alexandra Jacob of Royal Agricultural College and one-goaler Sam Browne from the University of Cambridge.

A preliminary match against Southern California university will be held before the main Test Match, allowing each player to take part in at least one match.

A shortlist of players was selected based on handicap, with the final team chosen following try-outs. The team will be coached by eight-goaler Sebastian Dawnay. The USA team is yet to be announced.

Plans are also underway to host an international Test Match against the USA at the SUPA National University Championships in 2014.

Photograph: Alexandra Jacob of the Royal Agricultural College in action

Other top stories
Wed 22nd May 2013
Zacara, El Remanso and Emlor off to good start in Queen's Cup
The Queen's Cup league games begin at Guards

Wed 22nd May 2013
Argentina defeats England in Gaucho International
Argentina got their revenge on England with victory at the O2 Arena
Tue 21st May 2013
Players honoured at Audi Polo Awards
Adrian Kirby, Adolfo Cambiaso and Luke Tomlinson are among the big winners of the "oscars of polo"
Mon 20th May 2013
Nacho Figueras ruled out of Gaucho International
A fall early in the Cowdray Test Match leaves Figueras out of action
Mon 20th May 2013
England defeated by South America at Cowdray
The first Test Match of the English season ends with victory for South America

Fri 17th May 2013
England to play South America at Cowdray tomorrow
The first international Test Match of the English season will take place tomorrow
Thu 16th May 2013
Prince Harry scores winning goal in Greenwich
Over $1m is raised for the Prince's Sentebale charity