Tue 18th Dec 2012
British SUPA team to face USA next month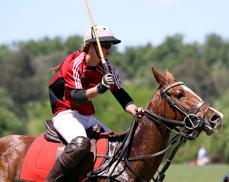 First ever international SUPA arena team will play the USA in California

BRITAIN WILL PLAY the USA in the first Schools and Universities Polo Association (SUPA) international arena match.

The SUPA university team will face a USPA intercollegiate side at Empire Polo Club, California, with the final Test Match being held alongside the Townsend Cup on 12 January.

The British team will comprise three-goalers Charles Scott and George Shelton from University College London, three-goaler Alexandra Jacob of Royal Agricultural College and one-goaler Sam Browne from the University of Cambridge.

A preliminary match against Southern California university will be held before the main Test Match, allowing each player to take part in at least one match.

A shortlist of players was selected based on handicap, with the final team chosen following try-outs. The team will be coached by eight-goaler Sebastian Dawnay. The USA team is yet to be announced.

Plans are also underway to host an international Test Match against the USA at the SUPA National University Championships in 2014.

Photograph: Alexandra Jacob of the Royal Agricultural College in action

Other top stories
Fri 15th Dec 2017
16th Bendura Bank Snow Polo World Cup Kitzbühel 2018
Better than ever!

Thu 14th Dec 2017
Visa Update from the HPA
Letter received on 14 December

Tue 12th Dec 2017
Magdala Claim First APP-APPL Tournament
APPL Rules in Force

Fri 8th Dec 2017
Polo Times is Out Next Week!
December/January issue of Polo Times

Wed 6th Dec 2017
Youth Wins the Day
Young, Dumb & Broke and Regal Warriors win at RCBPC
Mon 4th Dec 2017
La Dolfina Brava Win the First Women's Argentine Open
Clarkin, Cambiaso and the Araujos are a winning combination

Mon 4th Dec 2017
La Dolfina Secures a Fifth Argentine Open Victory
Nail-biting 14-13 win for Cambiaso's team
Sat 2nd Dec 2017
HPA National Club Championships
Final weekend of the 3 & 12 Goal
Fri 1st Dec 2017
124th Argentine Open Finals Await
High goal action-filled weekend to come
Thu 30th Nov 2017
Bastian Fernandez Appeal Launched
Polo Community asked to donate to the Basti Fund
Wed 29th Nov 2017
Women's Argentine Open
La Dolfina Brava and Ellerstina into the Final

Tue 28th Nov 2017
Copa Cámara de Diputados
Chapaleufú and Pilarchico La Ensenada to play in the Final
Mon 27th Nov 2017
124th Argentine Open HSBC Polo Championship Update
News from Palermo
Fri 24th Nov 2017
HPA National Club Championships 1-3 Goal
Schedule and Teams Announced
Thu 23rd Nov 2017
Women's Argentine Open
Historic tournament is underway

Tue 21st Nov 2017
Cambiaso's 100th Argentine Open Match
Busy weekend of big scores in Argentine Open