Tue 18th Dec 2012
British SUPA team to face USA next month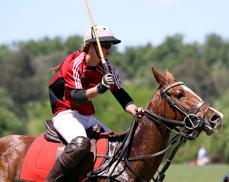 First ever international SUPA arena team will play the USA in California

BRITAIN WILL PLAY the USA in the first Schools and Universities Polo Association (SUPA) international arena match.

The SUPA university team will face a USPA intercollegiate side at Empire Polo Club, California, with the final Test Match being held alongside the Townsend Cup on 12 January.

The British team will comprise three-goalers Charles Scott and George Shelton from University College London, three-goaler Alexandra Jacob of Royal Agricultural College and one-goaler Sam Browne from the University of Cambridge.

A preliminary match against Southern California university will be held before the main Test Match, allowing each player to take part in at least one match.

A shortlist of players was selected based on handicap, with the final team chosen following try-outs. The team will be coached by eight-goaler Sebastian Dawnay. The USA team is yet to be announced.

Plans are also underway to host an international Test Match against the USA at the SUPA National University Championships in 2014.

Photograph: Alexandra Jacob of the Royal Agricultural College in action

Other top stories

Thu 26th May 2016
A New Generation of Regeneration
Advances in Stem Cell Therapy in the UK
Wed 25th May 2016
Cartier Queen's Cup Day Six
Wins for La Indiana and Dubai
Tue 24th May 2016
Polo Times Out This Week
Massive June Issue with New Property Section
Mon 23rd May 2016
Cartier Queen's Cup Day Four and Five
Wins for HB Polo, Valiente Dubai, Zacara and King Power Foxes

Fri 20th May 2016
Cartier Queen's Cup Day Three
Wins for King Power Foxes and Britannia El Remanso
Thu 19th May 2016
Seeing Red
Rule Change for Yellow and Red Flags Issued

Thu 19th May 2016
Cartier Queen's Cup Day Two
Wins for Dubai and Talandracas
Wed 18th May 2016
Cartier Queen's Cup Kicks Off
Wins for Apes Hill and Zacara in Opening Games
Wed 18th May 2016
Sad Passing of Martha Laffaye
12 April 1938 – 24 April 2016
Mon 16th May 2016
La Martina Magic
Black Bears Roar to Success in La Martina Final
Mon 16th May 2016
High Goal High Drama
Valiente Dubai Win The Prince of Wales Trophy
Fri 13th May 2016
Royal Windsor Winners
Polo Pony Class Completed Despite Downpour
Thu 12th May 2016
Pint Sized Polo in Poole
Young Players Compete in Front of Record Crowds
Wed 11th May 2016
International Ahoy
Gloucestershire Festival of Polo Schedule Announced

Mon 9th May 2016
Prize winning Ponies and Players
The Valerie Halford Memorial Trophy
Fri 6th May 2016
Prizes, Prizes!
Polo Times and The Polo Magazine Celebrate Excellence

Thu 5th May 2016
HRH Prince Harry has Cause to Celebrate
Victory and Further Support at The Sentebale Royal Salute Polo Cup
Wed 4th May 2016
Brigadier John Wright CBE
Sad Passing of Former HPA Chairman

Wed 4th May 2016
Cartier Queen's Cup Draw announced
Play to Start in Two Weeks Time
Wed 4th May 2016
Charity Polo in Florida
Sentebale Royal Salute Polo Cup

Fri 29th Apr 2016
High Goal Season Starts
The Prince of Wales Trophy Draw Announced
Fri 29th Apr 2016
New Hat Rule for 2018
HPA Safety Advisory Panel Helmet Rule Update

Fri 29th Apr 2016
Hilario Ulloa Goes up to 10 Goals in the USA
The Goal Maker Scored 35 Times in the US Open 2016

Wed 27th Apr 2016
Polo Awards Voting Now Open
The Nominees Are Announced for the 11th Event