Tue 18th Dec 2012
British SUPA team to face USA next month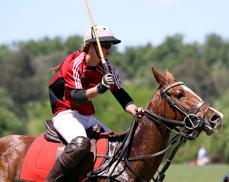 First ever international SUPA arena team will play the USA in California

BRITAIN WILL PLAY the USA in the first Schools and Universities Polo Association (SUPA) international arena match.

The SUPA university team will face a USPA intercollegiate side at Empire Polo Club, California, with the final Test Match being held alongside the Townsend Cup on 12 January.

The British team will comprise three-goalers Charles Scott and George Shelton from University College London, three-goaler Alexandra Jacob of Royal Agricultural College and one-goaler Sam Browne from the University of Cambridge.

A preliminary match against Southern California university will be held before the main Test Match, allowing each player to take part in at least one match.

A shortlist of players was selected based on handicap, with the final team chosen following try-outs. The team will be coached by eight-goaler Sebastian Dawnay. The USA team is yet to be announced.

Plans are also underway to host an international Test Match against the USA at the SUPA National University Championships in 2014.

Photograph: Alexandra Jacob of the Royal Agricultural College in action

Other top stories

Wed 25th Jan 2017
Polo Times Out This Week
Watch out for the February issue
Tue 24th Jan 2017
Joe Barry Memorial Final
La Indiana defeat Mt. Brilliant
Mon 23rd Jan 2017
Fortune Heights Snow Polo World Cup
Argentina secure victory
Wed 18th Jan 2017
Snow Polo World Cup Day 2
Results from today's matches
Tue 17th Jan 2017
FIP Snow Polo Update
Results from Day 1

Sun 15th Jan 2017
USA Retain Townsend Cup
Fiercely fought and high scoring International
Fri 13th Jan 2017
Final of Thai Polo Open 2017
La Familia and Thai Polo share Open title
Fri 13th Jan 2017
Thai Polo Open 2017
La Familia and Thai Polo to battle for Open honours
Thu 12th Jan 2017
Application for Interim Relief
HPA announced date of hearing
Thu 12th Jan 2017
Visa Update
The latest information from the HPA
Tue 10th Jan 2017
Date for the Arena Diary
Paul Sweeney Memorial Tournament
Tue 10th Jan 2017
SUPA Team Travels
International Intercollegiate Challenge Cup this weekend

Tue 10th Jan 2017
Queen Honours Kiwi
Kihikihi President Paul Kay receives The Queen's Service Medal
Mon 9th Jan 2017
Thai Open is Underway
First week of games completed
Mon 9th Jan 2017
HPA New Year National Club Championships continue
4-6 goal begins with wins for Tally Ho Farm and Comland

Thu 5th Jan 2017
HPA Visa Update
David Woodd, The HPA Chief Executive has contacted Polo Times today to update our readers on the latest news regarding correspondence with the Home Office
Tue 3rd Jan 2017
Happy New Year!
What's in store for 2017
Tue 3rd Jan 2017
American Season Begins
Villa Del Lago Win Herbie Pennell Cup