Sat 5th Oct 2013
Hosts win Super Nations Cup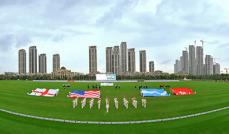 Hong Kong China beat England 11-7 in the final at the Goldin Metropolitan Polo Club in China

England lost out to Hong Kong China in the final of the Super Nations Cup, as the home side powered to an 11-7 victory at the Goldin Metropolitan Polo Club.
Led by eight-goaler JP Clarkin, who was named most valuable player, and also featuring John Fisher, JP Ganon and Dirk Gould, the Hong Kong China side stormed to a healthy lead from the first chukka.
The England team of Luke and Mark Tomlinson, Nacho Gonzalez and Henry Fisher were left with a lot of work to do, and although they managed to close the margin to four goals by the final chukka, it was Hong Kong China who ran out the winners to the delight of the home crowd.
"It wasn't a good game for us," said England captain Luke Tomlinson. "John-Paul Clarkin and JP Ganon were a lot stronger in the middle of the team than we were today".
Photograph: The Goldin Metropolitan Polo Club, which hosted the Super Nations Cup

Other top stories
Wed 16th Jan 2019
17th Bendura Bank Snow Polo World Cup Kitzbühel 2019
Let the excitement commence!
Mon 14th Jan 2019
Dutta Corp's American Reign
Joe Barry Cup Final
Fri 11th Jan 2019
The Joe Barry Cup Final
Dutta Corp and Patagones to compete
Tue 8th Jan 2019
9 Days to go to Snow Polo World Cup Kitzbühel
World turns their eyes to Austria

Mon 7th Jan 2019
Ylvisaker Cup Announced
Teams and schedule confirmed

Fri 4th Jan 2019
Visa Update for 2018 Season
HPA received confirmation from Home Office

Wed 2nd Jan 2019
Mid Season Arena Handicap Changes
HPA ratifies changes

Tue 1st Jan 2019
Happy New Year!!
2019 Begins!

Tue 25th Dec 2018
Merry Christmas!
From everyone at Polo Times

Fri 21st Dec 2018
It's Christmas!
Polo Times is closed for the festive break