Wed 8th May 2013
Queen's Cup teams confirmed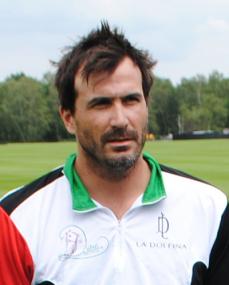 Sixteen teams to play in the Queen's Cup at Guards

GUARDS POLO CLUB has announced the teams for the Cartier Queen's Cup. Sixteen high-goal teams will battle it out from 21 May – 16 June.

Defending champions Dubai will return with a slightly amended line-up for 2013, which sees Adolfo Cambiaso teaming up with Nico Pieres to play alongside Rashid Albwardy and Alec White in a bid to retain the title.

Lyndon Lea's Zacara will also be in action at Guards, fresh from their US Open victory last month. Lea will be joined by Facundo Pieres, Rodrigo Ribero de Andrade and British three-goaler Matt Perry.

Black Bears make their return to the high-goal this month, fielding a strong team of Guy Shwarzenbach, Nachi du Plessis, JP Clarkin and Brit Jack Richardson.
The draw for the Queen's Cup is yet to be announced. Please click here to view the full list of teams.

Photograph: Ten-goaler Adolfo Cambiaso, who will attempt to defend the Queen's Cup title this year

Other top stories

Fri 1st May 2015
Julius Bär Beach Polo World Cup Sylt 2015
Teams Announced for May Tournament
Wed 29th Apr 2015
Grass Sickness cases show a spike in May
Polo ponies that are kept out at grass could be affected this spring by Equine Grass Sickness
Mon 27th Apr 2015
Cartier Queen's Cup teams announced
Twelve teams have confirmed their entry at Guards

Mon 27th Apr 2015
Argentina win Copa de Las Naciones
Double loss as England Colts lose out to Argentina

Thu 23rd Apr 2015
England win first Copa de Las Naciones game
Final will be England vs. Argentina this Saturday
Mon 20th Apr 2015
Valiente win The U.S. Open
Third time lucky for Cambiaso's crew
Thu 16th Apr 2015
Stage set for Pieres-Cambiaso Final
Orchard Hill will face Valiente for 2015 US Open
Thu 16th Apr 2015
Guards announce Land Rover sponsorship
Club celebrates its Jubilee with new, three-year partnership
Wed 15th Apr 2015
Arena handicap changes announced
88 players from the 2014/15 season have had their handicaps changed
Wed 15th Apr 2015
Calling all Whippet fans!
Four adorable Whippet puppies for sale
Tue 14th Apr 2015
Chris Hyde goes to 10
HPA announces historical handicap
Mon 13th Apr 2015
Coca-Cola and Valiente advance to Semi Finals
Adolfo Cambiaso returns from injury to take Valiente into final four
Mon 13th Apr 2015
Bin Drai win in Dubai
Inaugural 10 goal tournament held at Dubai Polo & Equestrian Club

Thu 9th Apr 2015
Dubai Cup Final scheduled tomorrow
New 8-10 goal tournament extends Dubai season
Thu 9th Apr 2015
Semi Finals take shape
The US Open continues in Florida with just ten days remaining
Wed 8th Apr 2015
Beach Polo Cup Dubai 2015 to take place this weekends
Four teams to feature in this year's edition
Tue 7th Apr 2015
Audi continue their winning streak in US Open
An action-packed weekend at IPC, Wellington