Wed 8th May 2013
Queen's Cup teams confirmed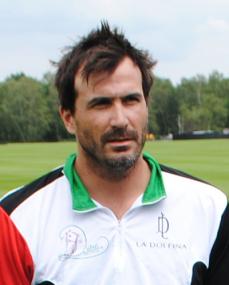 Sixteen teams to play in the Queen's Cup at Guards

GUARDS POLO CLUB has announced the teams for the Cartier Queen's Cup. Sixteen high-goal teams will battle it out from 21 May – 16 June.

Defending champions Dubai will return with a slightly amended line-up for 2013, which sees Adolfo Cambiaso teaming up with Nico Pieres to play alongside Rashid Albwardy and Alec White in a bid to retain the title.

Lyndon Lea's Zacara will also be in action at Guards, fresh from their US Open victory last month. Lea will be joined by Facundo Pieres, Rodrigo Ribero de Andrade and British three-goaler Matt Perry.

Black Bears make their return to the high-goal this month, fielding a strong team of Guy Shwarzenbach, Nachi du Plessis, JP Clarkin and Brit Jack Richardson.
The draw for the Queen's Cup is yet to be announced. Please click here to view the full list of teams.

Photograph: Ten-goaler Adolfo Cambiaso, who will attempt to defend the Queen's Cup title this year

Other top stories

Tue 24th Oct 2017
Hurlingham Open Finalists Decided
Unexpected results in the Semi Finals
Mon 23rd Oct 2017
XI FIP World Championships
Argentina, Australia, England and Chile secure their first victories

Fri 20th Oct 2017
What's On This Week and Looking Further Ahead
Polo near you

Thu 19th Oct 2017
VIII Ladies Circuit Championship
Centauros La Aventura and La Varzea claim titles

Wed 18th Oct 2017
The Hurlingham Open Final Gets Closer
La Albertina and La Dolfina Polo Ranch progress through
Tue 17th Oct 2017
VIII Copa Novillitos
14 childrens team gather at La Aguada Polo Club

Mon 16th Oct 2017
Argentine Update
Hurlingham's third day of play

Thu 12th Oct 2017
Polo Times Is Out Next Week!
November issue of Polo Times

Wed 11th Oct 2017
The Hurlingham Action Continues
Strong starts for La Dolfina, Ellerstina, La Aguada Las Monjitas and Alegría

Mon 9th Oct 2017
La Dolfina Win Again
It's five years on the trot the 40 goal giants

Sat 7th Oct 2017
All Pro Polo League Make History
World's eight 10 goalers to compete

Fri 6th Oct 2017
The Hurlingham Open 2017
The tournament begins today

Thu 5th Oct 2017
Tortugas Final
Ellerstina to play La Dolfina at Palermo
Mon 2nd Oct 2017
Visa Update
Letter from AAP to FIP

Fri 29th Sep 2017
FIP XI World Championships
The teams have been announced

Mon 25th Sep 2017
Argentine Update
Tortugas Open & Torneo Remonta y Veterinaria