Wed 8th May 2013
Queen's Cup teams confirmed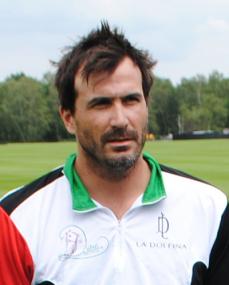 Sixteen teams to play in the Queen's Cup at Guards

GUARDS POLO CLUB has announced the teams for the Cartier Queen's Cup. Sixteen high-goal teams will battle it out from 21 May – 16 June.

Defending champions Dubai will return with a slightly amended line-up for 2013, which sees Adolfo Cambiaso teaming up with Nico Pieres to play alongside Rashid Albwardy and Alec White in a bid to retain the title.

Lyndon Lea's Zacara will also be in action at Guards, fresh from their US Open victory last month. Lea will be joined by Facundo Pieres, Rodrigo Ribero de Andrade and British three-goaler Matt Perry.

Black Bears make their return to the high-goal this month, fielding a strong team of Guy Shwarzenbach, Nachi du Plessis, JP Clarkin and Brit Jack Richardson.
The draw for the Queen's Cup is yet to be announced. Please click here to view the full list of teams.

Photograph: Ten-goaler Adolfo Cambiaso, who will attempt to defend the Queen's Cup title this year

Other top stories
Fri 19th Sep 2014
The French Open continues for British women players
Chantilly busy with polo action in the Women's French Open as they head towards the finals
Thu 18th Sep 2014
Guards Polo Club sets a safety trend
The first club to take make a decision on safety standards and helmets for the 2015 summer season
Wed 17th Sep 2014
Guards' team starts new tournament with a win
The International Series in Brazil gets underway with all four teams enjoying their games at Helvetica Polo Club
Tue 16th Sep 2014
British lady players travel to France for the 3rd Women's French Open
Preparations underway, as the first round of the tournament in Chantilly is set to begin tomorrow.
Mon 15th Sep 2014
England win the FIP 8 Goal European Championships
Ten days, five games and four wins later England hold the Trophy for the FIP 8Goal European Championships
Fri 12th Sep 2014
Argentine season starts with more rule changes
The Argentine Polo Association has made further revisions to their rule changes despite the season having already started.

Thu 11th Sep 2014
England lose to Ireland in the FIP European 8 Goal Championships
A set back for the England team in Chantilly as they prepare to play France on Friday
Wed 10th Sep 2014
South Africa and the USA draw in the first test match at Shongweni in Durban
The second and final test match by both teams in the BMW Internationals Polo Series 2014 concludes in Johannesburg this Sunday
Wed 10th Sep 2014
Guards Polo Club unveil their field with a view
A new high goal ground opens at Flemish Farm with the Board Directors' Cup.
Tue 9th Sep 2014
Black Eagles victorious in Cheltenham Cup
A win for Black Eagles at Cirencester

Mon 8th Sep 2014
England claim second victory in Chantilly
Win against Spain secures place in Semi Finals
Mon 8th Sep 2014
Audi England victorious in final International of the season
Home nation defeat Rest of the World to win at Chester
Fri 5th Sep 2014
England win opening game in Chantilly
England defeat Austria in the FIP European Championships
Thu 4th Sep 2014
Guards Polo Club takes Brazil
Guards International Series expands its fixtures as far as Brazil
Tue 2nd Sep 2014
AAP introduce new rules for the upcoming season
Several new rules being tested in early stages of the season
Tue 2nd Sep 2014
Tiny Tittle receives top prize at RoR's Racing to Polo Challenge
Former racehorses shine in their second career as polo ponies
Tue 2nd Sep 2014
Merlos brothers take the Bombardier Pacific Coast Open by storm
ERG defeat Lucchese to defend their Bombardier Pacific Coast Open title in Santa Barbara
Sun 31st Aug 2014
Valiente win top prize in Sotogrande
Valiente defeated Ellerston in one of the most exciting matches of the season
Fri 29th Aug 2014
Equus win Gold
The medium goal final was played at Santa Maria this evening
Fri 29th Aug 2014
Huntsman complete the triple
The same team have claimed Bronze, Silver and Gold Cup titles

Fri 29th Aug 2014
HPA to host FIP Qualifiers
14 Goal Qualifiers for World Championships will take place from 24–28 September

Thu 28th Aug 2014
Allianz Kundler take first place in Berlin
Following six days of tough competition Allianz Kundler secure the title
Wed 27th Aug 2014
Valiente and Ellerston through to Gold Cup Final
Two Finalists are confirmed following this evening's Semi Finals
Wed 27th Aug 2014
Halcyon Gallery and Lechuza Caracas in Subsidiary Final
Both sides victorious in Subsidiary Semi Finals last night
Tue 26th Aug 2014
Equus to defend Gold Cup title
Defending champions face FCT in Friday's Final
Mon 25th Aug 2014
E.I. Sturdza Investment Funds are champions in Gstaad
Hublot Polo Gold Cup comes to an end

Sun 24th Aug 2014
Semi Finals set for Medium Goal Gold Cup
Silver Cup finalists reach last four