Wed 8th May 2013
Queen's Cup teams confirmed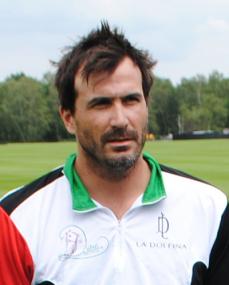 Sixteen teams to play in the Queen's Cup at Guards

GUARDS POLO CLUB has announced the teams for the Cartier Queen's Cup. Sixteen high-goal teams will battle it out from 21 May – 16 June.

Defending champions Dubai will return with a slightly amended line-up for 2013, which sees Adolfo Cambiaso teaming up with Nico Pieres to play alongside Rashid Albwardy and Alec White in a bid to retain the title.

Lyndon Lea's Zacara will also be in action at Guards, fresh from their US Open victory last month. Lea will be joined by Facundo Pieres, Rodrigo Ribero de Andrade and British three-goaler Matt Perry.

Black Bears make their return to the high-goal this month, fielding a strong team of Guy Shwarzenbach, Nachi du Plessis, JP Clarkin and Brit Jack Richardson.
The draw for the Queen's Cup is yet to be announced. Please click here to view the full list of teams.

Photograph: Ten-goaler Adolfo Cambiaso, who will attempt to defend the Queen's Cup title this year

Other top stories

Wed 25th Jan 2017
Polo Times Out This Week
Watch out for the February issue
Tue 24th Jan 2017
Joe Barry Memorial Final
La Indiana defeat Mt. Brilliant
Mon 23rd Jan 2017
Fortune Heights Snow Polo World Cup
Argentina secure victory
Wed 18th Jan 2017
Snow Polo World Cup Day 2
Results from today's matches
Tue 17th Jan 2017
FIP Snow Polo Update
Results from Day 1

Sun 15th Jan 2017
USA Retain Townsend Cup
Fiercely fought and high scoring International
Fri 13th Jan 2017
Final of Thai Polo Open 2017
La Familia and Thai Polo share Open title
Fri 13th Jan 2017
Thai Polo Open 2017
La Familia and Thai Polo to battle for Open honours
Thu 12th Jan 2017
Application for Interim Relief
HPA announced date of hearing
Thu 12th Jan 2017
Visa Update
The latest information from the HPA
Tue 10th Jan 2017
Date for the Arena Diary
Paul Sweeney Memorial Tournament
Tue 10th Jan 2017
SUPA Team Travels
International Intercollegiate Challenge Cup this weekend

Tue 10th Jan 2017
Queen Honours Kiwi
Kihikihi President Paul Kay receives The Queen's Service Medal
Mon 9th Jan 2017
Thai Open is Underway
First week of games completed
Mon 9th Jan 2017
HPA New Year National Club Championships continue
4-6 goal begins with wins for Tally Ho Farm and Comland

Thu 5th Jan 2017
HPA Visa Update
David Woodd, The HPA Chief Executive has contacted Polo Times today to update our readers on the latest news regarding correspondence with the Home Office
Tue 3rd Jan 2017
Happy New Year!
What's in store for 2017
Tue 3rd Jan 2017
American Season Begins
Villa Del Lago Win Herbie Pennell Cup