Wed 8th May 2013
Queen's Cup teams confirmed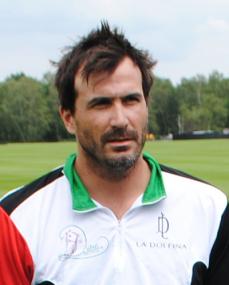 Sixteen teams to play in the Queen's Cup at Guards

GUARDS POLO CLUB has announced the teams for the Cartier Queen's Cup. Sixteen high-goal teams will battle it out from 21 May – 16 June.

Defending champions Dubai will return with a slightly amended line-up for 2013, which sees Adolfo Cambiaso teaming up with Nico Pieres to play alongside Rashid Albwardy and Alec White in a bid to retain the title.

Lyndon Lea's Zacara will also be in action at Guards, fresh from their US Open victory last month. Lea will be joined by Facundo Pieres, Rodrigo Ribero de Andrade and British three-goaler Matt Perry.

Black Bears make their return to the high-goal this month, fielding a strong team of Guy Shwarzenbach, Nachi du Plessis, JP Clarkin and Brit Jack Richardson.
The draw for the Queen's Cup is yet to be announced. Please click here to view the full list of teams.

Photograph: Ten-goaler Adolfo Cambiaso, who will attempt to defend the Queen's Cup title this year

Other top stories
Mon 19th Mar 2018
Argentex Habtoor UAE Reign Triumphant in Dubai
Flannels England miss out

Fri 16th Mar 2018
Iglehart Cup Final
Pilot make a strong comeback
Thu 15th Mar 2018
2018 San Eugenio Ladiesí Cup
Six teams are confirmed

Mon 12th Mar 2018
Julius BaŽr Gold Cup 2018
Bin Drai win the title
Thu 8th Mar 2018
Queen's Cup Pink Polo
La Familia take home the glory

Tue 6th Mar 2018
Major Iain Forbes-Cockell
We announce his passing

Mon 5th Mar 2018
Flannels England lifts the trophy high
HPA International Test Match for the Bryan Morrison Trophy
Thu 1st Mar 2018
Hurlingham Polo Association International Test Match for the Bryan Morrison Trophy
Venue and Time Change
Wed 28th Feb 2018
The 13th Annual Polo Awards 2018
Tickets are now on sale

Tue 27th Feb 2018
Ylvisaker Cup Final
Valiente seal the deal
Mon 26th Feb 2018
Arena Gold Cup Final
SAPA MHF Docklands and Glitterati Polo take home the crown

Fri 23rd Feb 2018
Polo Times is Out Now!
March issue of Polo Times
Wed 21st Feb 2018
2018 Arena Gold Cup Update
Regal Warriors, Ojo Caliente, SAPA Docklands Polo & HB Polo through to the Semi Finals