Wed 8th May 2013
Queen's Cup teams confirmed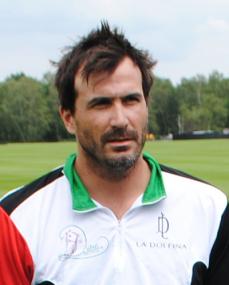 Sixteen teams to play in the Queen's Cup at Guards

GUARDS POLO CLUB has announced the teams for the Cartier Queen's Cup. Sixteen high-goal teams will battle it out from 21 May – 16 June.

Defending champions Dubai will return with a slightly amended line-up for 2013, which sees Adolfo Cambiaso teaming up with Nico Pieres to play alongside Rashid Albwardy and Alec White in a bid to retain the title.

Lyndon Lea's Zacara will also be in action at Guards, fresh from their US Open victory last month. Lea will be joined by Facundo Pieres, Rodrigo Ribero de Andrade and British three-goaler Matt Perry.

Black Bears make their return to the high-goal this month, fielding a strong team of Guy Shwarzenbach, Nachi du Plessis, JP Clarkin and Brit Jack Richardson.
The draw for the Queen's Cup is yet to be announced. Please click here to view the full list of teams.

Photograph: Ten-goaler Adolfo Cambiaso, who will attempt to defend the Queen's Cup title this year

Other top stories
Mon 2nd Mar 2015
Julius Baer Gold Cup Update
The 18 goal tournament continues in Dubai

Mon 2nd Mar 2015
Black Eagles win The Arena Gold Cup
Silex take the Silver Cup at the Royal County of Berkshire Polo Club
Mon 2nd Mar 2015
Orchard Hill win C.V Whitney
Steve Van Andel's team claim victory in highest scoring Final in tournament's history.
Fri 27th Feb 2015
Julius Baer Gold Cup continues this weekend
18 goal tournament at Dubai Polo & Equestrian Club is well underway

Fri 27th Feb 2015
Black Eagles 'bring it' in Berkshire
Gaucho against Black Eagles in The Arena Gold Cup Final
Thu 26th Feb 2015
C.V. Whitney Cup Finals decided
Polo in Palm Beach continues with 26 goal tournament
Wed 25th Feb 2015
Arena Gold Cup Semi Finals decided
Black Hound and Silex will play for The Silver Cup
Wed 25th Feb 2015
History at Hurlingham Park
International polo will return for the first time since 1939
Tue 24th Feb 2015
PIPA Snow Polo Championship Tour continues
Next stop in the tour calendar is Bad Gastein, Salzberg
Mon 23rd Feb 2015
Arena Gold Cup update
Black Eagles and Gaucho win a game each
Mon 23rd Feb 2015
Coca-Cola win the Ylvisaker Cup
Valiente take the runner up place on the podium at Palm Beach

Mon 23rd Feb 2015
The 27th UK Women's National Arena Tournament
12 teams battled in torrential rain for the winning titles
Sun 22nd Feb 2015
Desert Palm defeat UAE Polo at Cartier Challenge in Dubai
Rashid Albwardy & Alan Meeker's team battle opposition & sandstorm to clinch title

Fri 20th Feb 2015
Drama-filled Semi Finals in Dubai
Desert Palm & UAE Polo reach Final of Cartier Challenge

Thu 19th Feb 2015
Anomalies explained in Women's polo handicaps
Initial handicaps awarded with plans to re-asses during the season
Thu 19th Feb 2015
UK Ladies' Handicaps announced
New ladies' handicap committee formed with the HPA
Thu 19th Feb 2015
Ylvisaker Cup Final teams decided
This Sunday Coca-Cola and Valiente will play the Final
Wed 18th Feb 2015
Lots of ladies at Ascot park this weekend
The UK National Women's Tournament draw and teams announced
Tue 17th Feb 2015
La Martina opens on Jermyn Street
Polo equipment and lifestyle brand celebrates 30th anniversary with London store launch
Mon 16th Feb 2015
SUPA National University Championships
Four days of fun and games at Rugby Polo Club
Fri 13th Feb 2015
Orchard Hill remain unbeaten
10 goaler Facundo Pieres leads his side to a third victory in the Ylvisaker Cup
Thu 12th Feb 2015
Coco-Cola sail through to playoffs
Gillian Johnston's side secure their third consecutive win in Ylvisaker Cup

Thu 12th Feb 2015
Arena Gold Cup draw announced
2014 Champions Black Eagles return to defend title
Wed 11th Feb 2015
Dubai Gold Cup teams and draw announced
The 18 goal tournament starts in 12 days at Dubai Polo & Equestrian Club
Wed 11th Feb 2015
Ylvisaker Memorial Cup continues
Casablanca and Villa del Lago win games this week
Wed 11th Feb 2015
Cartier Challenge celebrates 10th anniversary
Royal players take to the pitch at Desert Palm, Dubai
Tue 10th Feb 2015
Look out for our newly launched 20th Anniversary Logo this weekend
360 competitors due for SUPA National University Championships

Tue 10th Feb 2015
40 goal match to take place at International Polo Club this weekend
World's top polo players come together to raise funds for the Polo Players Support Group

Tue 10th Feb 2015
Merlos brothers return to the Triple Crown
Sebastian and Agustin Merlos will feature in the 2015 line-up
Mon 9th Feb 2015
Polo Times celebrates 20 years of publishing 'polo for the purist'
Look out for our new logo at polo events this summer
Mon 9th Feb 2015
Men win in Barbados to bring scores even
A second victory for the boys makes it two wins apiece in this year's Battle of the Sexes
Mon 9th Feb 2015
Ghantoot Polo take pole position in Final of McLaren Cup
Desert Palm II defeated at Dubai Polo & Equestrian Club
Mon 9th Feb 2015
Brazil win Fortune Heights Snow Polo World Cup
USA settle for second place at the Goldin Metropolitan Polo Club
Mon 9th Feb 2015
Ylvisaker Memorial Cup in full swing
20 goal tournament hits halfway mark in Palm Beach

Mon 9th Feb 2015
England Ladies triumph in New Zealand
The girls fly the flag whilst the English men's team lose to home squad
Fri 6th Feb 2015
Palm Beach Polo Update
The Ylvisaker Memorial Cup continues at International Polo Club
Fri 6th Feb 2015
Kihikihi Polo Club welcomes two England teams this weekend
England ladies line-up announced for New Zealand International Test Match
Thu 5th Feb 2015
Honk Kong hit the road as Brazil goes through to Semi Finals
Argentina, France and the USA also make it through in Tianjin
Wed 4th Feb 2015
Barbados' Battle of The Sexes is on
Diamond International Men and Virgin Atlantic Women claim one win apiece
Tue 3rd Feb 2015
McLaren Cup Finalists decided
Ghantoot and Desert Palm 2 make it to the final stage