Wed 8th May 2013
Queen's Cup teams confirmed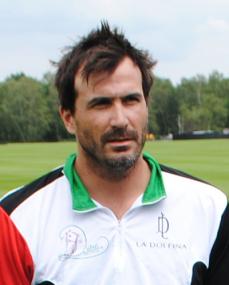 Sixteen teams to play in the Queen's Cup at Guards

GUARDS POLO CLUB has announced the teams for the Cartier Queen's Cup. Sixteen high-goal teams will battle it out from 21 May – 16 June.

Defending champions Dubai will return with a slightly amended line-up for 2013, which sees Adolfo Cambiaso teaming up with Nico Pieres to play alongside Rashid Albwardy and Alec White in a bid to retain the title.

Lyndon Lea's Zacara will also be in action at Guards, fresh from their US Open victory last month. Lea will be joined by Facundo Pieres, Rodrigo Ribero de Andrade and British three-goaler Matt Perry.

Black Bears make their return to the high-goal this month, fielding a strong team of Guy Shwarzenbach, Nachi du Plessis, JP Clarkin and Brit Jack Richardson.
The draw for the Queen's Cup is yet to be announced. Please click here to view the full list of teams.

Photograph: Ten-goaler Adolfo Cambiaso, who will attempt to defend the Queen's Cup title this year

Other top stories
Mon 21st Aug 2017
HPA Handicap News
22 goal 2018 handicaps announced

Sat 19th Aug 2017
What's On This Weekend
Polo near you

Fri 18th Aug 2017
AAP Triple Crown
Rule Changes for the 2017-2018 season

Tue 15th Aug 2017
The Sun Shines on Pony Club
Children from across the UK gather at Cowdray Park Polo Club
Mon 14th Aug 2017
Tally Ho Farm Polo Festival Finale
Fun in the sun at RCBPC
Fri 11th Aug 2017
What's On This Weekend
Polo near you

Wed 9th Aug 2017
Youth Polo Update
The Rocksavage and Jorrocks Finals
Tue 8th Aug 2017
22 Goal 2018 Handicaps
HPA Plans to Introduce Separate Handicaps at 22 Goal Level

Mon 7th Aug 2017
Sotogrande Silver Cups Well Underway
Action across high, medium and low goal
Thu 3rd Aug 2017
The Thai Polo Club Ladies International for The Diamond Jubilee Trophy
Swarovski England Ladies beat Llangollen USA Ladies at Guards Polo Club
Mon 31st Jul 2017
The Royal Salute Coronation Cup
Flannels England secure success
Fri 28th Jul 2017
What's On
The weekend's fixtures

Thu 27th Jul 2017
Polo Times Is Out This Week!
August issue of Polo Times
Wed 26th Jul 2017
Royal Salute Coronation Cup
Ticket Update With Three Days to Go

Tue 25th Jul 2017
RoR Racing Challenge
Retrained ponies take the limelight

Mon 24th Jul 2017
Thrice the Champions
King Power wins The Jaeger-LeCoultre Gold Cup for The British Open