Thu 28th Feb 2013
Beach polo will return to Jersey this year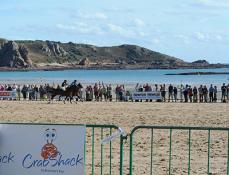 Last year's successful beach polo tournament has got the go ahead for 2013

THE JERSEY BEACH Polo tournament will return to St Brelades Bay on Jersey for a second year. The tournament, which was held for the first time in 2012, will take place on 20 September.

Organisers have confirmed that four teams will take part, with Andrew Hine providing ponies as he did last year.

The 2012 event was the first time polo had been played on Jersey, with organisers having to acquire special permission for horses to be allowed on the beach. More than 2,000 people turned out to watch the tournament, which was won by the Banjo team of Andrew Hine, Alex Banner-Eve and local Jersey player Ian Tait.
Photograph: Action on the beach at St Brelades Bay, which will host the tourament again this year. By Tony Ramirez - www.imagesofpolo.com

Other top stories
Wed 26th Apr 2017
US Open Championship
Valiente take the US crown from Orchard Hill
Tue 25th Apr 2017
St Andrews Charity Tournament
Royal Scots Dragoons Victorious Against St Andrews University
Mon 24th Apr 2017
New Addition to UK Club List
Moor Farm Polo Club Opens
Thu 20th Apr 2017
US Open Finalists Decided
Rematch of 2015 Final
Wed 19th Apr 2017
$100,000 World Cup Final
Palm Beach Illustrated Win at Grand Champions
Wed 12th Apr 2017
Brooke's MyHackathon
Riding for a cause

Tue 11th Apr 2017
US Open Action Hots Up
Orchard Hill, Valiente and Flexjet Secure Wins

Mon 10th Apr 2017
UK High Goal Update
Line-ups for 22 Goal Season
Tue 4th Apr 2017
Travieso Rally to Victory
Molina Cup Runs into Overtime Thriller

Mon 3rd Apr 2017
Butler Handicap Final
Coca Cola Wins as 26 Goal Action Continues Stateside

Wed 29th Mar 2017
Dubai Challenge Cup
Finalists Decided

Tue 28th Mar 2017
SUPA Tri-Nations
England Triumph
Mon 27th Mar 2017
Victorious Valiente
USPA Gold Cup Win for Tournament Favourites