Thu 28th Feb 2013
Beach polo will return to Jersey this year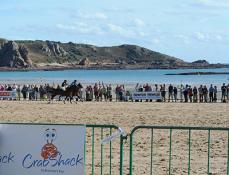 Last year's successful beach polo tournament has got the go ahead for 2013

THE JERSEY BEACH Polo tournament will return to St Brelades Bay on Jersey for a second year. The tournament, which was held for the first time in 2012, will take place on 20 September.

Organisers have confirmed that four teams will take part, with Andrew Hine providing ponies as he did last year.

The 2012 event was the first time polo had been played on Jersey, with organisers having to acquire special permission for horses to be allowed on the beach. More than 2,000 people turned out to watch the tournament, which was won by the Banjo team of Andrew Hine, Alex Banner-Eve and local Jersey player Ian Tait.
Photograph: Action on the beach at St Brelades Bay, which will host the tourament again this year. By Tony Ramirez - www.imagesofpolo.com

Other top stories

Fri 29th Jul 2016
The Polo Magazine Out Now!
Subscribe to get your hands on a copy
Wed 27th Jul 2016
Join our editorial team (Full or Part Time)
Working on Polo Times and The Polo Magazine
Mon 25th Jul 2016
The Commonwealth Claim The Royal Salute Coronation Cup
A Trio of Games to Celebrate Coronation Cup Day

Thu 21st Jul 2016
Buckmaster Final Decided
Junior HPA Championships Feature in International Schedule
Tue 19th Jul 2016
Keep it cool
Polo Timesí top tips for hot horses

Tue 19th Jul 2016
High Goal Handicaps
Juan Martin Nero Goes to Ten
Mon 18th Jul 2016
King Power Foxes Retain Jaeger-LeCoultre Gold Cup
British High Goal Season Closes with an Incredible Game
Mon 18th Jul 2016
Cowdray Vikings Conquer Cowdray
Home Team Storm to Victory in the British Ladiesí Championships

Fri 15th Jul 2016
Junior HPA Championships Begin
17 Teams Across Buckmaster, Hipwood & Rocksavage

Thu 14th Jul 2016
King Power Foxes & La Indiana
Who Will Win The Jaeger-LeCoultre Gold Cup?
Tue 12th Jul 2016
Going for Gold Days 15 & 16
Semi Finals Set After a Weekend of Quarter Finals

Mon 11th Jul 2016
Teams Announced for Royal Salute Coronation Cup
England and Commonwealth Line-ups Revealed
Fri 8th Jul 2016
RoRís Ready to Rock
RoRís Silent and Live Auction Now Open for Bidding Appealing Polo Lots are Available

Thu 7th Jul 2016
Going for Gold Days 12, 13 & 14
A Round-Up of the Weekís Jaeger-LeCoultre Gold Cup Action
Wed 6th Jul 2016
Eduardo Moore Semi Finals
Victor Ludorum Tournaments Advance
Mon 4th Jul 2016
Going for Gold Days 10 & 11
A Weekend of Wins for HB Polo, King Power Foxes, Britannia El Remanso & La Indiana
Mon 4th Jul 2016
Kids Polo Tour Concludes
40 Future Stars Hosted by Dubai
Fri 1st Jul 2016
Going for Gold Day 9
Wins for Valiente and Talandracas
Fri 1st Jul 2016
British Beach Polo Championships
The Final Countdown to Sandpolo Begins

Fri 1st Jul 2016
More Matches, More Action
The Argentine Association of Polo (AAP) has Announced Changes in the Format of the Argentine Open