Thu 28th Feb 2013
Beach polo will return to Jersey this year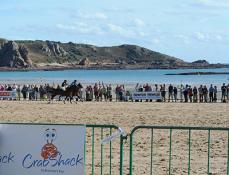 Last year's successful beach polo tournament has got the go ahead for 2013

THE JERSEY BEACH Polo tournament will return to St Brelades Bay on Jersey for a second year. The tournament, which was held for the first time in 2012, will take place on 20 September.

Organisers have confirmed that four teams will take part, with Andrew Hine providing ponies as he did last year.

The 2012 event was the first time polo had been played on Jersey, with organisers having to acquire special permission for horses to be allowed on the beach. More than 2,000 people turned out to watch the tournament, which was won by the Banjo team of Andrew Hine, Alex Banner-Eve and local Jersey player Ian Tait.
Photograph: Action on the beach at St Brelades Bay, which will host the tourament again this year. By Tony Ramirez - www.imagesofpolo.com

Other top stories
Wed 22nd May 2013
Zacara, El Remanso and Emlor off to good start in Queen's Cup
The Queen's Cup league games begin at Guards

Wed 22nd May 2013
Argentina defeats England in Gaucho International
Argentina got their revenge on England with victory at the O2 Arena
Tue 21st May 2013
Players honoured at Audi Polo Awards
Adrian Kirby, Adolfo Cambiaso and Luke Tomlinson are among the big winners of the "oscars of polo"
Mon 20th May 2013
Nacho Figueras ruled out of Gaucho International
A fall early in the Cowdray Test Match leaves Figueras out of action
Mon 20th May 2013
England defeated by South America at Cowdray
The first Test Match of the English season ends with victory for South America

Fri 17th May 2013
England to play South America at Cowdray tomorrow
The first international Test Match of the English season will take place tomorrow
Thu 16th May 2013
Prince Harry scores winning goal in Greenwich
Over $1m is raised for the Prince's Sentebale charity