Thu 28th Feb 2013
Beach polo will return to Jersey this year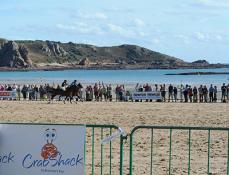 Last year's successful beach polo tournament has got the go ahead for 2013

THE JERSEY BEACH Polo tournament will return to St Brelades Bay on Jersey for a second year. The tournament, which was held for the first time in 2012, will take place on 20 September.

Organisers have confirmed that four teams will take part, with Andrew Hine providing ponies as he did last year.

The 2012 event was the first time polo had been played on Jersey, with organisers having to acquire special permission for horses to be allowed on the beach. More than 2,000 people turned out to watch the tournament, which was won by the Banjo team of Andrew Hine, Alex Banner-Eve and local Jersey player Ian Tait.
Photograph: Action on the beach at St Brelades Bay, which will host the tourament again this year. By Tony Ramirez - www.imagesofpolo.com

Other top stories
Mon 21st Aug 2017
HPA Handicap News
22 goal 2018 handicaps announced

Sat 19th Aug 2017
What's On This Weekend
Polo near you

Fri 18th Aug 2017
AAP Triple Crown
Rule Changes for the 2017-2018 season

Tue 15th Aug 2017
The Sun Shines on Pony Club
Children from across the UK gather at Cowdray Park Polo Club
Mon 14th Aug 2017
Tally Ho Farm Polo Festival Finale
Fun in the sun at RCBPC
Fri 11th Aug 2017
What's On This Weekend
Polo near you

Wed 9th Aug 2017
Youth Polo Update
The Rocksavage and Jorrocks Finals
Tue 8th Aug 2017
22 Goal 2018 Handicaps
HPA Plans to Introduce Separate Handicaps at 22 Goal Level

Mon 7th Aug 2017
Sotogrande Silver Cups Well Underway
Action across high, medium and low goal
Thu 3rd Aug 2017
The Thai Polo Club Ladies International for The Diamond Jubilee Trophy
Swarovski England Ladies beat Llangollen USA Ladies at Guards Polo Club
Mon 31st Jul 2017
The Royal Salute Coronation Cup
Flannels England secure success
Fri 28th Jul 2017
What's On
The weekend's fixtures

Thu 27th Jul 2017
Polo Times Is Out This Week!
August issue of Polo Times
Wed 26th Jul 2017
Royal Salute Coronation Cup
Ticket Update With Three Days to Go

Tue 25th Jul 2017
RoR Racing Challenge
Retrained ponies take the limelight

Mon 24th Jul 2017
Thrice the Champions
King Power wins The Jaeger-LeCoultre Gold Cup for The British Open