Wed 23rd Jan 2013
St Moritz Polo World Cup on Snow to begin tomorrow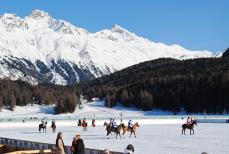 Four teams, featuring several British players, will contest the tournament

THE POLO WORLD Cup on Snow will get underway in St Moritz tomorrow.

The opening matches of the 20-goal tournament will take place tomorrow (Thursday 24 January), with Andreas Knapp Voith's BMW team facing Michael Bickford's Ralph Lauren.

Jonathan Munro Ford's Sal. Oppenheim side will play Richard Davis' Cartier later in the day. The final will take place on Sunday (27 January).

Brits Jonny Good and Tarquin Southwell will join Davis' Cartier team, playing alongside nine-goaler Eduardo Novillo Astrada. Munro Ford has teamed up with Max Charlton and Chris Hyde, as well as Nacho Gonzalez, for Sal. Oppenheim and Jamie Morrison will join Bickford's Ralph Lauren team, playing alongside Nacho Figueras and Marcos Araya.

Knapp Voith's BMW side will feature Bautista Ortiz de Urbina, Ignacio Tillous and Lucas Labat.

For the schedule and results please click here.
Photograph: The frozen lake at St Moritz, where the snow polo will take place. By Georgie May


Other top stories
Tue 4th Aug 2015
Argentine Triple Crown teams announced
Tortugas draw and match schedule also released
Mon 3rd Aug 2015
The 44th Land Rover International Polo Tournament
Low, medium and high goal updates from Santa María Polo Club, Sotogrande

Mon 3rd Aug 2015
Polo Times August issue out now
Another bumper issue with everything from high goal to hydration
Mon 3rd Aug 2015
USPA star Will Tankard dies
Tragic road traffic accident also kills three horses
Wed 29th Jul 2015
e3Light Team New York win The Scandinavian Beach Polo World Cup
Six different countries participated in the Danish Riviera
Tue 28th Jul 2015
Cedar Croft wins its third consecutive US Arena Open
Country Farms Polo Club, Long Island, New York hosted the match
Mon 27th Jul 2015
POLOLIVE TV launched with first live stream
Polo Times showed the Royal Salute Coronation Cup live
Mon 27th Jul 2015
England remain unbeaten in International series
England defeats South America for The Royal Salute Coronation Cup
Fri 24th Jul 2015
Live drone-shot footage of the Coronation Cup
Polo Times is delighted to announce that it has commissioned PoloCam to provide live drone-shot footage for the 2015 Royal Salute Coronation Cup tomorrow, with additional match analysis from Charlie Froggatt.
Thu 23rd Jul 2015
Watch The 2015 Royal Salute Coronation Cup with POLOLIVE TV
A brand new polo watching experience has been announced today
Thu 23rd Jul 2015
Tempest and Black Bears Finalists
How To Spend It British 10 Goal Championship
Mon 20th Jul 2015
King Power Foxes reign champions
The Jaeger-LeCoultre Gold Cup Final at Cowdray Park Polo Club

Sat 18th Jul 2015
Come and visit Polo Times at The Jaeger-LeCoultre Gold Cup Final
Subscribe and be in with a chance to win a Falcon polo helmet
Thu 16th Jul 2015
The Foxes to take on Maitha's Men
King Power Foxes and UAE Polo Team reach the Final of The Jaeger-LeCoultre Gold Cup
Tue 14th Jul 2015
La Martina British Ladies' Championships underway
Six teams take to the fields in the 12-18 goal tournament
Mon 13th Jul 2015
Semi Finalists decided in The Jaeger-LeCoultre Gold Cup
UAE, Apes Hill, Zacara and King Power Foxes all qualify
Fri 10th Jul 2015
What is on this weekend?
Plenty of picnic, playing and partying options
Thu 9th Jul 2015
Ragwort rears its ugly head
Now is the time to tackle this silent killer before the flowers seed
Thu 9th Jul 2015
Quarter Finalists almost decided in The Jaeger-LeCoultre Gold Cup
HB Polo, King Power and Salkeld face a penalty shootout for the remaining place
Wed 8th Jul 2015
The South American team has been announced for The Royal Salute Coronation Cup
Line-up to feature players from Argentina, Brazil and Chile
Mon 6th Jul 2015
A Golden Weekend
Updates from The Jaeger-LeCoultre Gold Cup
Mon 6th Jul 2015
RoR Racing to Polo Challenge
RoR will be holding its Racing to Polo Challenge at The Royal County of Berkshire Polo Club on Monday 7 September
Mon 6th Jul 2015
The Pony Club and British Junior Polo Championships set to start
Dates and venues for this year's Youth tournaments