Wed 23rd Jan 2013
St Moritz Polo World Cup on Snow to begin tomorrow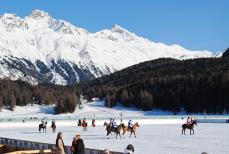 Four teams, featuring several British players, will contest the tournament

THE POLO WORLD Cup on Snow will get underway in St Moritz tomorrow.

The opening matches of the 20-goal tournament will take place tomorrow (Thursday 24 January), with Andreas Knapp Voith's BMW team facing Michael Bickford's Ralph Lauren.

Jonathan Munro Ford's Sal. Oppenheim side will play Richard Davis' Cartier later in the day. The final will take place on Sunday (27 January).

Brits Jonny Good and Tarquin Southwell will join Davis' Cartier team, playing alongside nine-goaler Eduardo Novillo Astrada. Munro Ford has teamed up with Max Charlton and Chris Hyde, as well as Nacho Gonzalez, for Sal. Oppenheim and Jamie Morrison will join Bickford's Ralph Lauren team, playing alongside Nacho Figueras and Marcos Araya.

Knapp Voith's BMW side will feature Bautista Ortiz de Urbina, Ignacio Tillous and Lucas Labat.

For the schedule and results please click here.
Photograph: The frozen lake at St Moritz, where the snow polo will take place. By Georgie May


Other top stories

Thu 26th May 2016
A New Generation of Regeneration
Advances in Stem Cell Therapy in the UK
Wed 25th May 2016
Cartier Queen's Cup Day Six
Wins for La Indiana and Dubai
Tue 24th May 2016
Polo Times Out This Week
Massive June Issue with New Property Section
Mon 23rd May 2016
Cartier Queen's Cup Day Four and Five
Wins for HB Polo, Valiente Dubai, Zacara and King Power Foxes

Fri 20th May 2016
Cartier Queen's Cup Day Three
Wins for King Power Foxes and Britannia El Remanso
Thu 19th May 2016
Seeing Red
Rule Change for Yellow and Red Flags Issued

Thu 19th May 2016
Cartier Queen's Cup Day Two
Wins for Dubai and Talandracas
Wed 18th May 2016
Cartier Queen's Cup Kicks Off
Wins for Apes Hill and Zacara in Opening Games
Wed 18th May 2016
Sad Passing of Martha Laffaye
12 April 1938 – 24 April 2016
Mon 16th May 2016
La Martina Magic
Black Bears Roar to Success in La Martina Final
Mon 16th May 2016
High Goal High Drama
Valiente Dubai Win The Prince of Wales Trophy
Fri 13th May 2016
Royal Windsor Winners
Polo Pony Class Completed Despite Downpour
Thu 12th May 2016
Pint Sized Polo in Poole
Young Players Compete in Front of Record Crowds
Wed 11th May 2016
International Ahoy
Gloucestershire Festival of Polo Schedule Announced

Mon 9th May 2016
Prize winning Ponies and Players
The Valerie Halford Memorial Trophy
Fri 6th May 2016
Prizes, Prizes!
Polo Times and The Polo Magazine Celebrate Excellence

Thu 5th May 2016
HRH Prince Harry has Cause to Celebrate
Victory and Further Support at The Sentebale Royal Salute Polo Cup
Wed 4th May 2016
Brigadier John Wright CBE
Sad Passing of Former HPA Chairman

Wed 4th May 2016
Cartier Queen's Cup Draw announced
Play to Start in Two Weeks Time
Wed 4th May 2016
Charity Polo in Florida
Sentebale Royal Salute Polo Cup

Fri 29th Apr 2016
High Goal Season Starts
The Prince of Wales Trophy Draw Announced
Fri 29th Apr 2016
New Hat Rule for 2018
HPA Safety Advisory Panel Helmet Rule Update

Fri 29th Apr 2016
Hilario Ulloa Goes up to 10 Goals in the USA
The Goal Maker Scored 35 Times in the US Open 2016

Wed 27th Apr 2016
Polo Awards Voting Now Open
The Nominees Are Announced for the 11th Event