Wed 23rd Jan 2013
St Moritz Polo World Cup on Snow to begin tomorrow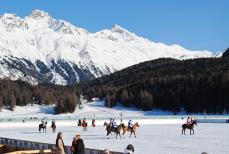 Four teams, featuring several British players, will contest the tournament

THE POLO WORLD Cup on Snow will get underway in St Moritz tomorrow.

The opening matches of the 20-goal tournament will take place tomorrow (Thursday 24 January), with Andreas Knapp Voith's BMW team facing Michael Bickford's Ralph Lauren.

Jonathan Munro Ford's Sal. Oppenheim side will play Richard Davis' Cartier later in the day. The final will take place on Sunday (27 January).

Brits Jonny Good and Tarquin Southwell will join Davis' Cartier team, playing alongside nine-goaler Eduardo Novillo Astrada. Munro Ford has teamed up with Max Charlton and Chris Hyde, as well as Nacho Gonzalez, for Sal. Oppenheim and Jamie Morrison will join Bickford's Ralph Lauren team, playing alongside Nacho Figueras and Marcos Araya.

Knapp Voith's BMW side will feature Bautista Ortiz de Urbina, Ignacio Tillous and Lucas Labat.

For the schedule and results please click here.
Photograph: The frozen lake at St Moritz, where the snow polo will take place. By Georgie May


Other top stories
Mon 26th Jun 2017
The Kings Head Hotel Ladies International
Convincing win for Swarovski England ladies

Fri 23rd Jun 2017
Polo Times Out This Week!
July issue of Polo Times

Wed 21st Jun 2017
RoR Racing to Polo Challenge
Recognition for second career polo ponies
Tue 20th Jun 2017
Hydration Advice
Hot tips for the heatwave
Mon 19th Jun 2017
Queen's Cup Win for RH Polo
Cambiaso Dictates Result
Fri 16th Jun 2017
What's On
This weekend's fixtures
Thu 15th Jun 2017
The Cartier Queen's Cup Semi Finals
La Indiana and RH Polo are through to the Final
Wed 14th Jun 2017
The Polo Magazine is Out This Week!
Summer issue of The Polo Magazine

Tue 13th Jun 2017
The 2017 Jaeger-LeCoultre Gold Cup Draw
10 teams are drawn at Old Bond Street

Mon 12th Jun 2017
Gloucestershire Festival of Polo
Thousands flock to Beaufort Polo Club
Fri 9th Jun 2017
Your Views on Blocking
A call for the rule to be amended
Thu 8th Jun 2017
The Cartier Queen's Cup Update
A game-changing Wednesday in Berkshire
Wed 7th Jun 2017
Jam-Packed June
La Martina Varsity Polo Day results, SUPA dates & Javier Novillo Astrada U15 Cup

Tue 6th Jun 2017
Telemark 2-4 Goal Carlito's White Waltham Polo Club
In aid of Cancer Research
Mon 5th Jun 2017
Queen's Cup Update
The war for the Semi Finals continues

Fri 2nd Jun 2017
What's On
This weekend's fixtures

Thu 1st Jun 2017
Cartier Queen's Cup Update
Action from the last week of matches
Wed 31st May 2017
Polo Awards 2017
Results from the 12th 'Oscars of Polo'

Tue 30th May 2017
International Test Match Update
Flannels England and Ireland teams announced
Sat 27th May 2017
Polo Times June Issue Out Now
Read all about the latest polo news, reports