Wed 23rd Jan 2013
St Moritz Polo World Cup on Snow to begin tomorrow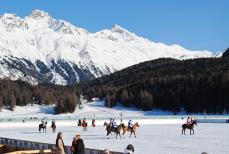 Four teams, featuring several British players, will contest the tournament

THE POLO WORLD Cup on Snow will get underway in St Moritz tomorrow.

The opening matches of the 20-goal tournament will take place tomorrow (Thursday 24 January), with Andreas Knapp Voith's BMW team facing Michael Bickford's Ralph Lauren.

Jonathan Munro Ford's Sal. Oppenheim side will play Richard Davis' Cartier later in the day. The final will take place on Sunday (27 January).

Brits Jonny Good and Tarquin Southwell will join Davis' Cartier team, playing alongside nine-goaler Eduardo Novillo Astrada. Munro Ford has teamed up with Max Charlton and Chris Hyde, as well as Nacho Gonzalez, for Sal. Oppenheim and Jamie Morrison will join Bickford's Ralph Lauren team, playing alongside Nacho Figueras and Marcos Araya.

Knapp Voith's BMW side will feature Bautista Ortiz de Urbina, Ignacio Tillous and Lucas Labat.

For the schedule and results please click here.
Photograph: The frozen lake at St Moritz, where the snow polo will take place. By Georgie May


Other top stories
Thu 11th Feb 2016
Thank You for Following
Polo Times Social Media from St Moritz
Thu 11th Feb 2016
Boys vs Babes at Barbados Polo Club
The Diamonds International Battle of the Sexes
Wed 10th Feb 2016
Important Changes to Pony Passports
HPA Issue New Instructions Inline with DEFRA
Mon 8th Feb 2016
Zedan Take The McLaren Cup
First Trophy of the Dubai Polo Gold Cup Series 2016 Ends
Mon 8th Feb 2016
The Joe Barry Memorial Cup Final
All the News from Across the Atlantic
Mon 8th Feb 2016
Arena Gold Cup Draw
Last of the High Goal Arena Polo Starts Soon
Fri 5th Feb 2016
Dates For Your Diary
The HPA Have Released the 2016 Summer Season Fixtures
Fri 5th Feb 2016
Record Breaking Rugby
SUPA National University Arena Championships Hit Highest Entries

Fri 5th Feb 2016
Itís All Go In Palm Beach
Ylvisaker Cup Gets Going with World Ranking Players
Wed 3rd Feb 2016
Finally Finalists at the International Polo Club
The Joe Barry Action Resumes with Semi Finals
Wed 3rd Feb 2016
The McLaren Cup Semi Finals Concluded
Zedan and Bin Drai Polo will Play the Final
Tue 2nd Feb 2016
Victory for Vargas
The Conclusion of the First Tournament of the Dominican Republic Polo Challenge
Sun 31st Jan 2016
Mighty Maserati
Defending Champions Cartier Miss Out In St Moritz Final

Sun 31st Jan 2016
Finalists Decided in the Snow Polo World Cup St Moritz
Day Two Wins for Cartier and Badruttís Palace Hotel

Sat 30th Jan 2016
Snow Polo World Cup St Moritz 2016
Day One Wins for Cartier and Maserati
Mon 25th Jan 2016
Four Quarters and Tchogan Win
The HPA New Year National Club Championships Finals
Fri 22nd Jan 2016
HPA Arena Nationals Update
Finals Decided for 3 and 12 Goal
Fri 22nd Jan 2016
The Thai Polo Open
The Finalists Have Been Decided
Fri 22nd Jan 2016
FIP Snow Polo World Cup Imminent
Tianjin Goldin Metropolitan Polo Club to Host 14-16 Goal Snow Polo Tournament

Tue 19th Jan 2016
Safety First
Artificial Snowmaking on the Frozen Lake in St Moritz
Tue 19th Jan 2016
Dubai Polo Gold Cup Series (Dubai Open)
2016 Tournament Dates Announced at Live Draw
Tue 19th Jan 2016
Polo Challenge
High Goal Gets Underway in the Dominican Republic
Tue 19th Jan 2016
Home Win
Thailand Victorious in the All Asia Cup
Mon 18th Jan 2016
Polo Times Out This Week!
Look Out For The January/February Issue 2016
Mon 18th Jan 2016
HPA New Year Nationals Update
Semi Finalists Decided For 3 Goal
Mon 18th Jan 2016
Brits Boss It In Austria
14th Valartis Bank Snow Polo World Cup
Fri 15th Jan 2016
More Action in Palm Beach
The Joe Barry Cup Continues at the International Polo Club
Fri 15th Jan 2016
2016 Triple Crown Dates Set In Argentina
Official Autumn and Spring Tournament Dates
Fri 15th Jan 2016
Back To Hong Kong
Arena Polo Demonstration at Longines Hong Kong Masters