Wed 23rd Jan 2013
St Moritz Polo World Cup on Snow to begin tomorrow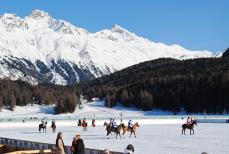 Four teams, featuring several British players, will contest the tournament

THE POLO WORLD Cup on Snow will get underway in St Moritz tomorrow.

The opening matches of the 20-goal tournament will take place tomorrow (Thursday 24 January), with Andreas Knapp Voith's BMW team facing Michael Bickford's Ralph Lauren.

Jonathan Munro Ford's Sal. Oppenheim side will play Richard Davis' Cartier later in the day. The final will take place on Sunday (27 January).

Brits Jonny Good and Tarquin Southwell will join Davis' Cartier team, playing alongside nine-goaler Eduardo Novillo Astrada. Munro Ford has teamed up with Max Charlton and Chris Hyde, as well as Nacho Gonzalez, for Sal. Oppenheim and Jamie Morrison will join Bickford's Ralph Lauren team, playing alongside Nacho Figueras and Marcos Araya.

Knapp Voith's BMW side will feature Bautista Ortiz de Urbina, Ignacio Tillous and Lucas Labat.

For the schedule and results please click here.
Photograph: The frozen lake at St Moritz, where the snow polo will take place. By Georgie May


Other top stories
Wed 6th May 2015
Polito Pieres goes to 10 in America
USPA release handicap changes for 2015
Tue 5th May 2015
England line-up confirmed for the St. Regis Test Match
James Beim to captain the team at Cowdray in two weeks

Fri 1st May 2015
Julius Bär Beach Polo World Cup Sylt 2015
Teams Announced for May Tournament
Wed 29th Apr 2015
Grass Sickness cases show a spike in May
Polo ponies that are kept out at grass could be affected this spring by Equine Grass Sickness
Mon 27th Apr 2015
Cartier Queen's Cup teams announced
Twelve teams have confirmed their entry at Guards

Mon 27th Apr 2015
Argentina win Copa de Las Naciones
Double loss as England Colts lose out to Argentina

Thu 23rd Apr 2015
England win first Copa de Las Naciones game
Final will be England vs. Argentina this Saturday
Mon 20th Apr 2015
Valiente win The U.S. Open
Third time lucky for Cambiaso's crew
Thu 16th Apr 2015
Stage set for Pieres-Cambiaso Final
Orchard Hill will face Valiente for 2015 US Open
Thu 16th Apr 2015
Guards announce Land Rover sponsorship
Club celebrates its Jubilee with new, three-year partnership
Wed 15th Apr 2015
Arena handicap changes announced
88 players from the 2014/15 season have had their handicaps changed
Wed 15th Apr 2015
Calling all Whippet fans!
Four adorable Whippet puppies for sale
Tue 14th Apr 2015
Chris Hyde goes to 10
HPA announces historical handicap
Mon 13th Apr 2015
Coca-Cola and Valiente advance to Semi Finals
Adolfo Cambiaso returns from injury to take Valiente into final four
Mon 13th Apr 2015
Bin Drai win in Dubai
Inaugural 10 goal tournament held at Dubai Polo & Equestrian Club

Thu 9th Apr 2015
Dubai Cup Final scheduled tomorrow
New 8-10 goal tournament extends Dubai season
Thu 9th Apr 2015
Semi Finals take shape
The US Open continues in Florida with just ten days remaining
Wed 8th Apr 2015
Beach Polo Cup Dubai 2015 to take place this weekends
Four teams to feature in this year's edition