Wed 23rd Jan 2013
St Moritz Polo World Cup on Snow to begin tomorrow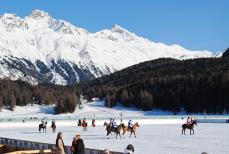 Four teams, featuring several British players, will contest the tournament

THE POLO WORLD Cup on Snow will get underway in St Moritz tomorrow.

The opening matches of the 20-goal tournament will take place tomorrow (Thursday 24 January), with Andreas Knapp Voith's BMW team facing Michael Bickford's Ralph Lauren.

Jonathan Munro Ford's Sal. Oppenheim side will play Richard Davis' Cartier later in the day. The final will take place on Sunday (27 January).

Brits Jonny Good and Tarquin Southwell will join Davis' Cartier team, playing alongside nine-goaler Eduardo Novillo Astrada. Munro Ford has teamed up with Max Charlton and Chris Hyde, as well as Nacho Gonzalez, for Sal. Oppenheim and Jamie Morrison will join Bickford's Ralph Lauren team, playing alongside Nacho Figueras and Marcos Araya.

Knapp Voith's BMW side will feature Bautista Ortiz de Urbina, Ignacio Tillous and Lucas Labat.

For the schedule and results please click here.
Photograph: The frozen lake at St Moritz, where the snow polo will take place. By Georgie May


Other top stories

Wed 25th Jan 2017
Polo Times Out This Week
Watch out for the February issue
Tue 24th Jan 2017
Joe Barry Memorial Final
La Indiana defeat Mt. Brilliant
Mon 23rd Jan 2017
Fortune Heights Snow Polo World Cup
Argentina secure victory
Wed 18th Jan 2017
Snow Polo World Cup Day 2
Results from today's matches
Tue 17th Jan 2017
FIP Snow Polo Update
Results from Day 1

Sun 15th Jan 2017
USA Retain Townsend Cup
Fiercely fought and high scoring International
Fri 13th Jan 2017
Final of Thai Polo Open 2017
La Familia and Thai Polo share Open title
Fri 13th Jan 2017
Thai Polo Open 2017
La Familia and Thai Polo to battle for Open honours
Thu 12th Jan 2017
Application for Interim Relief
HPA announced date of hearing
Thu 12th Jan 2017
Visa Update
The latest information from the HPA
Tue 10th Jan 2017
Date for the Arena Diary
Paul Sweeney Memorial Tournament
Tue 10th Jan 2017
SUPA Team Travels
International Intercollegiate Challenge Cup this weekend

Tue 10th Jan 2017
Queen Honours Kiwi
Kihikihi President Paul Kay receives The Queen's Service Medal
Mon 9th Jan 2017
Thai Open is Underway
First week of games completed
Mon 9th Jan 2017
HPA New Year National Club Championships continue
4-6 goal begins with wins for Tally Ho Farm and Comland

Thu 5th Jan 2017
HPA Visa Update
David Woodd, The HPA Chief Executive has contacted Polo Times today to update our readers on the latest news regarding correspondence with the Home Office
Tue 3rd Jan 2017
Happy New Year!
What's in store for 2017
Tue 3rd Jan 2017
American Season Begins
Villa Del Lago Win Herbie Pennell Cup