Mon 2nd Jul 2012
Oli Ellis resigns from Guards Polo Club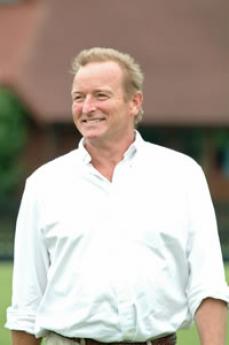 Oliver Ellis, who has been Polo Manager at Smith's Lawn for the last 10 years, has tendered his resignation

In a move that has surprised many, Guards Polo Club mainstay Oli Ellis has decided to leave his role as polo manager and is set to leave before the end of the season. It is understood that he plans to develop his own polo consultancy.
"I have had the most amazing career in polo so far," said Ellis. "I played the game professionally for 30 years, travelled the world and met some incredible people and have made so many friends. Over the past 10 years I have held one of the most prestigious jobs in the polo world as polo manager at Guards Polo Club. I have many special memories but I just felt it was time for me to move on and concentrate on my business interests in polo elsewhere. I would like to thank all my old and present colleagues, board members, patrons and professionals for making my time at Guards so special."
It is not yet clear whether he will stay with the club in the build up to the inaugural HPA International Day sponsored by Audi.
Photograph: Oli Ellis, who will leave Guards later this season

Other top stories
Tue 21st May 2013
Players honoured at Audi Polo Awards
Adrian Kirby, Adolfo Cambiaso and Luke Tomlinson are among the big winners of the "oscars of polo"
Mon 20th May 2013
Nacho Figueras ruled out of Gaucho International
A fall early in the Cowdray Test Match leaves Figueras out of action
Mon 20th May 2013
England defeated by South America at Cowdray
The first Test Match of the English season ends with victory for South America

Fri 17th May 2013
England to play South America at Cowdray tomorrow
The first international Test Match of the English season will take place tomorrow
Thu 16th May 2013
Prince Harry scores winning goal in Greenwich
Over $1m is raised for the Prince's Sentebale charity
Tue 14th May 2013
South America team announced for Cowdray Test
Facundo Pieres is among the South American opposition this weekend
Tue 14th May 2013
Teams confirmed for Polo at Marriners
Young players will take to the field at Marriners for the third year