Thu 5th Oct 2023
Polo Times October Out Now!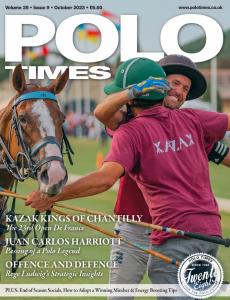 Antepenultimate issue hitting doorsteps

As the English outdoor season comes to a close and the international polo circuit moves up a gear, the October issue of Polo Times is packed with Reports, Club News, Youth Polo, Knowledge plus much, much more!
Sadly, this issue includes Juancarlitos Harriott's Obituary following his death on 11 September at the age of 86-years-old – he was truly one of polo's greats, reaching 10 goals in 1961.
This issue's Features include the results from the inaugural Lycetts Thoroughbred Polo Championship at Guards Polo Club and polo artwork from the talented Ferenc Flamm; the Reports pages are overflowing with the last matches of the 2023 Victor and Victrix Ludorum Series as well as The Coupe d'Or Marta & Lucien Barrière Cup, The Engels & Völkers Coupe de Bronze, The 23rd Open de France, The Electrolit Gold Cups, The 4th Diamond Ladies Polo Open and The 12th Women's Open de France. Meanwhile, Military Polo continues to go from strength-to-strength and this issue includes results from The Adjutant General's Corps Cup at Tedworth Park Polo Club.
Our unique Knowledge pages have plenty of tips and advice for ponies and players alike with Polodoc looking at the importance of keeping your weight healthy; Raise Polo's advice on How to Adopt a Winning Mindset; Rege Ludwig offers his insights into Offence and Defence Modes of Play; Donna Barker shines a light on Equine Zen Shiatsu; Lorna Edgar highlights the importance of nutrition for all-rounder equine athletes; India Parker-Smith illustrates the importance of maintaining your energy levels and Pony Power pages celebrate the Polo Times Best Playing Pony 2023 series.
You can tell it is the end of the season with our Sidelines pages including coverage from Guards, Cheshire and Tedworth Park Polo Clubs' End of Season Awards, plus Engels & Völkers Coupe de Bronze winner Philipp Müller is this month's Passions interview.
The Classifieds pages offer a range of polo ponies and equipment for sale, don't forget that advertising in these pages is totally free, simply email us
here
with an image and details of your polo item for sale.
A
Polo Times
subscription makes the perfect birthday or Christmas gift for friends and family, so
click here
today!

Other top stories
Thu 7th Dec 2023
Facundo Pieres & Hope Arellano Reach 10 Goals
Argentine handicap changes
Wed 6th Dec 2023
El Overo Z7 UAE Qualify for 2024 Triple Crown
Narrow 13-12 win against La Irenita
Mon 4th Dec 2023
VII Argentine Women's Open
Third win for El Overo Z7 UAE

Mon 4th Dec 2023
La Natividad Secure Second Title
The 130th Argentine Open
Wed 29th Nov 2023
Thai Polo Cup & Pink Polo Cup
Wins for Ojo Caliente & El Overo Z7 UAE
Tue 28th Nov 2023
The Julio Novillo Astrada Cup
Bardon triumphant with 13-7 win

Mon 27th Nov 2023
La Natividad & La Dolfina Saudi Qualify for Final
The 130th Argentine Open

Wed 22nd Nov 2023
The VII Argentine Women's Open
El Overo Z7 UAE qualify for Final
Tue 21st Nov 2023
The 2024 Snow Polo World Cup St. Moritz
Mon 20th Nov 2023
Argentine Open Weekend Results
Wins for La Hache La Roca & La Dolfina Saudi
Fri 17th Nov 2023
What's On This Weekend in Argentina?
Plenty of polo at top levels
Tue 14th Nov 2023
12th Annual Bentley Scottsdale Polo Championships
Wins for Aspen Valley, Pride USA, USA Women's & New Orleans
Mon 13th Nov 2023
La Hache Polo Cup
Bardon beat Bel Polo 10-7 in Final
Sun 12th Nov 2023
Argentine Open Delayed Due to Rain
Action continues Monday 13 November