Mon 3rd Feb 2020
Farrington Secure Extra Time RCBPC Win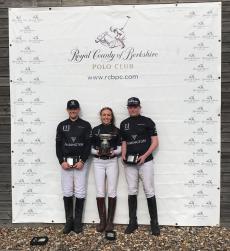 The HPA Winter Victor Ludorum Final

With the sun shining, but a harsh wind blowing through the arena at The Royal County of Berkshire Polo Club, The HPA Winter Victor Ludorum Final saw two skilled teams come together to battle for the coveted national title yesterday, Sunday 2 February. Yaroslav Chichvarkin's Hedonism Wines (playing instead of his injured father Evgeny), a regular in these fixtures, came up against Louisa Watt's Farrington in the 8 goal Final, in front of a bevy of arena polo fans.
The first chukka began slow and steady, with both teams eyeing each other up and identifying the potential weak links in their play. But, with a 25 yard penalty it was Hedonism Wines who found the posts first, with Brit Royston Prisk, solid in defence, finding fire at the end of this stick, securing eight goals before the bell to end the chukka. With another goal for Hedonism Wines from number two Marcus Cork at the beginning of the second chukka, Farrington looked like they were in for a hard slog to the finish, put three penalty ones but them back in contention, 9-3. Irishman Evan Powers, was the tonic the Farrington side needed, as he secured three goals for his side, with another five following off teammate Ed Banner-Eve's stick. So, going into half-time, Hedonism Wines' early, extensive lead, was no longer, with Farrington trailing by just one goal, 12-11.
The strong wind was making all the difference to these two sides, with the advantage clear when the teams changed ends, but it was Prisk who once again took control going into the second half. A thirteenth goal for his side once again extended their lead, but Banner-Eve wasn't far behind. The teams drew for the first time, 13-13, and each time Hedonism Wines put themselves ahead Farrington were not far behind. It wasn't until the final 13 seconds of the match, with the teams at 20-20, that it looked as though Farrington might get the upper hand. With a centre hit, Banner-Eve, fired the ball up the arena, but the clock had other ideas, thus the teams found themselves in an extra chukka. As the fifth chukka ensued, Farrington was the first team to foul, but Prisk was unable to put pen to paper, with the wind working tirelessly against him, and with the polo fates falling in Farrington's favour, a penalty one was what signed on the dotted line for a Farrington win, 21-20.
The teams were presented with their prizes in front of their friends and family, with
The Polo Magazine
Most Valuable Player honours going quite rightly to Hedonism Wines' Royston Prisk. The
Polo Times
Best Playing Pony rug was awarded to Daisy, a bay mare owned by Adolfo Casabal and played by Ed Banner-Eve. A full report will follow in the next issue of
Polo Times
, so be sure to update your subscription
here
now.
The HPA Winter Victor Ludorum Final Teams:
Farrington (8): Louisa Watt (0), Evan Powers (2) & Ed Banner-Eve (6)
Hedonism Wines (8): Yaroslav Chichvarkin (1), Marcus Cork (3) & Royston Prisk (4)
Photograph: Farrington win The HPA Winter Victor Ludorum. By Polo Times

Other top stories

Wed 19th Feb 2020
The Junior Arena Gold & Silver Cups
New youth tournament to take place at RCBPC
Tue 18th Feb 2020
C.V. Whitney Cup Update
La Indiana, Pilot & Las Monjitas qualify for Semi Finals

Mon 17th Feb 2020
All-Star Challenge Final
Valiente crowned as champions

Sun 16th Feb 2020
The Ladies Polo Foundation Scholarship
Annie Woodhead to visit South Africa
Sat 15th Feb 2020
USPA Outdoor Rules Changes
Alterations to USPA outdoor rules

Fri 14th Feb 2020
STOP PRESS
2020 Three Match International Polo Test Series
Fri 14th Feb 2020
Frasers England to Play Australia
Polo International Down Under
Thu 13th Feb 2020
The New Zealand International
Home team triumphs
Wed 12th Feb 2020
Ghantoot Secure Dubai Silver Cup
Half goal secures Ghantoot success
Tue 11th Feb 2020
Sue Cudmore Memorial
Memorial to be held in Gloucestershire
Mon 10th Feb 2020
SUPA University Winter Nationals
Rugby Polo Club welcomes 202 teams
Wed 5th Feb 2020
World Polo League Announces Schedule
Play commences tomorrow
Tue 4th Feb 2020
La Familia Retain B. Grimm Thai Polo Masters Title
News from South-East Asia
Tue 4th Feb 2020
Patagones Champion Ylvisaker Title
Sun shines in Palm Beach
Mon 3rd Feb 2020
Farrington Secure Extra Time RCBPC Win
The HPA Winter Victor Ludorum Final

Tue 28th Jan 2020
Polo Times Out Soon!
February issue of Polo Times
Sun 26th Jan 2020
Finals day delivers world class polo 'On top of the world'
Snow Polo World Cup St. Moritz
Sat 25th Jan 2020
Sparkling Snow And Spectacular Polo Action
Snow Polo World Cup St. Moritz action continues

Fri 24th Jan 2020
Snow Polo World Cup St. Moritz Starts
Snow polo delights crowds on 'First Day Friday'
Wed 22nd Jan 2020
The Bryan Morrison Trophy is Postponed
The International Test Match for The Bryan Morrison Trophy to be played at Polo in the Park
Sun 19th Jan 2020
18th Bendura Bank Snow Polo World Cup Kitzbühel 2020
World Polo League champion maiden Final in Kitzbühel