Sun 15th Dec 2019
La Dolfina Reign in Argentina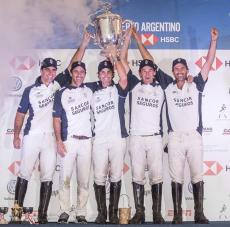 Champion side win seventh consecutive Argentine Open

On Saturday 14 December, the world's most high profile polo tournament came to an end in Palermo, Argentina, with eight of the world's greatest players set to battle for the coveted 126th Argentine Open title. Once again, this year's Final was set to be a battle between the black shirts of Ellerstina and the distinctive white and blue colours of six-time champions, 40 goal La Dolfina.
10 teams had competed in this exciting tournament for the third year in a row, but it was, as usual and somewhat predictably, Ellerstina and La Dolfina who came to the fore from the off, with more powerful game plans and horsepower. From the start of the Final, La Dolfina were the dominant force. Despite the first chukka ending with La Dolfina narrowly ahead 1-0, Ellerstina struggled to overcome the synergy and harmony of the La Dolfina players. The boys in white always managed to find and hold onto the advantage, but in the seventh chukka, with La Dolfina leading 13-9, following a collision from Nico Pieres, Juan Martín Nero's horse slipped, throwing him to the ground in a heavy fall and breaking Nero's leg in the process. Despite attempting to remount, there was little doubt a substitute was needed, which came in the form of Brazilian Rodrigo Andrade. In a moment when it seemed Ellerstina were going to make a comeback, Andrade proved to be exactly the tonic La Dolfina needed, scoring two spectacular goals in the eighth chukka, sealing the match 16-12 for La Dolfina.
With five goals to his name, Pablo Mac Donough was awarded the Gonzalo Heguy Most Valuable Player Award, whilst the Lady Susan Townley Cup for the Best Playing Pony of the Final was awarded the Dolfina B06 Cuartetera, played by Adolfo Cambiaso. Interestingly, La Dolfina brought eight Cuartetera clones to the Final and two Lapa clones, causing mixed reactions on the sidelines, but there is no doubt the La Dolfina horsepower is a force to be reckoned with. What's more, there was even a British pony seen riding out for the champion team, in the form of Jive, bred and trained by Oxfordshire's own Ben Eeley.
Following the match, concerns were raised as to the safety of the field itself. Alongside Nero's catastrophic fall, there were four other significant falls, due to the slippery nature of the field itself. The region has been plagued by bad weather for a number of weeks, with The Tortugas Open Final postponed due to poor field conditions. It has come to our attention that the AAP changed their field management company two-years-ago, with the quality of the surfaces, allegedly, taking a significant downturn following the change of hands. With the best players in the world becoming injured, could Nero's fall be the sign of a need for change?
La Dolfina this year broke records, becoming the only team to ever win The Argentine Open seven times in a row and taking two of this year's Triple Crown titles; The Hurlingham and Argentine Opens. This exciting Final marked the end of the Argentine high goal season, with all eyes now turning to exciting fixtures ahead in 2020.
The 126th Argentine Open Final Teams:
La Dolfina (40): Adolfo Cambiaso (10), David 'Pelón' Stirling (10), Pablo Mac Donough (10) & Juan Martín Nero (10 – substituted by Rodrigo Andrade 8)
Ellerstina (39): Facundo Pieres (10), Gonzalito Pieres (9), Polito Pieres (10) & Nico Pieres (10)
Photograph: La Dolfina win a seventh consecutive Argentine Open. Courtesy of La Dolfina

Other top stories

Thu 6th Aug 2020
HPA Tournament Conditions for 2021
British polo post-Brexit
Wed 5th Aug 2020
Last Minute Les Lions/Great Oaks Win
Cartier Queen's Cup

Tue 4th Aug 2020
Polo Times Out This Week!
August issue arriving soon
Mon 3rd Aug 2020
Cartier Queen's Cup Update
Weekend wins for Park Place & Scone Polo
Fri 31st Jul 2020
Cartier Queen's Cup Week 1
Wins for Thai Polo, MT Vikings, Monterosso & Park Place
Thu 30th Jul 2020
International Begins at Santa María
49th MANSION International Polo Tournament
Wed 29th Jul 2020
HPA Mid-Season Handicap Changes
Raises for Castagnola & Cambiaso

Tue 28th Jul 2020
Cartier Queen's Cup Begins Today!
Scone Polo vs Thai Polo
Mon 27th Jul 2020
Next Generation Secure Gold Cup
Adolfo Cambiaso's eighth win
Fri 24th Jul 2020
Gold Cup Final This Weekend
Les Lions/Great Oaks vs Next Generation
Thu 23rd Jul 2020
Competitive Polo Resumes at All Levels in England
HPA Update No11

Wed 22nd Jul 2020
King Power Gold Cup Semi Finals Set
Action continues today!
Tue 21st Jul 2020
Victorious Monterosso Vikings
British Ladies Open Final

Mon 20th Jul 2020
Kildare Win Indian Empire Shield
9-7 win against Emlor
Thu 16th Jul 2020
Park Place Secure Two Semi Final Spots
Both organisation's teams are in The King Power Gold Cup Semi Finals

Wed 15th Jul 2020
King Power Gold Cup & British Ladies Open
Action aplenty at Cowdray Park
Mon 13th Jul 2020
Snakebite Secure Eduardo Moore Final
Emlor Black win Subsidiary Final