Tue 26th Nov 2019
Frasers England in Manipur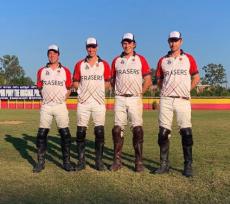 Three wins under their belt

A Frasers England team are currently in Manipur, India, taking part in The 13th Manipur Polo International 2019. The team consists of George Amor, Chris Crawford, Ben Eeley & Will Seth Smith. They have achieved three wins over the last week, first defeating the USA 9-2, then going on to beat India 12-2. Today, they defeated France 6-5 securing another all-important step towards the Final. With the team up against Manipur next, the competition is tough and with the Final taking place this weekend, perhaps Frasers England could be very much in the running.
Photograph: Frasers England have secured three wins in Manipur. Courtesy of Sats Polo

Other top stories
Tue 10th Dec 2019
III Women's Argentine Open Semi Finals
Semi Finals are set in Argentina
Mon 9th Dec 2019
The 126th Argentine Open
La Dolfina and Ellerstina to battle in the Final
Thu 5th Dec 2019
Polo Times Out Soon – Don't Miss Christmas Offers!
December 2019/January 2020 issue of Polo Times
Wed 4th Dec 2019
The III Women's Argentine Open
Play underway in Palermo
Tue 3rd Dec 2019
Polo Times Christmas Offer
Festive season is the perfect time to subscribe to the world's most influential polo magazine

Mon 2nd Dec 2019
HPA National Club Championships 3 & 12 Goal Finals
HPA arena schedule kicks off with a bang
Fri 29th Nov 2019
News from The Hurlingham Polo Association
Antony Fanshawe To Chair The HPA International Committee
Fri 29th Nov 2019
Home Team Snatch the Honours
The 13th Manipur Polo International
Tue 26th Nov 2019
Frasers England in Manipur
Three wins under their belt
Mon 25th Nov 2019
WIP Ladies Nations Cup
Frasers England win Ladies International
Thu 21st Nov 2019
Manipur Polo International
2019 teams announced

Wed 20th Nov 2019
Edgeworth Polo Club
Bucking the Brexit blues with £16,000 prize money up for grabs

Tue 19th Nov 2019
Thai Pink Polo
Brit Milly Hine wins MVP honours
Mon 18th Nov 2019
The 79th Tortugas Open Final
Ellerstina win the postponed Tortugas Open Final

Fri 15th Nov 2019
HPA's Vision for Polo
The HPA responds to Polo Times September issue article