Tue 26th Nov 2019
Frasers England in Manipur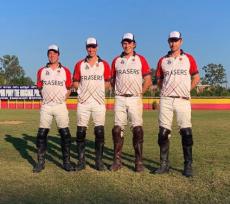 Three wins under their belt

A Frasers England team are currently in Manipur, India, taking part in The 13th Manipur Polo International 2019. The team consists of George Amor, Chris Crawford, Ben Eeley & Will Seth Smith. They have achieved three wins over the last week, first defeating the USA 9-2, then going on to beat India 12-2. Today, they defeated France 6-5 securing another all-important step towards the Final. With the team up against Manipur next, the competition is tough and with the Final taking place this weekend, perhaps Frasers England could be very much in the running.
Photograph: Frasers England have secured three wins in Manipur. Courtesy of Sats Polo

Other top stories

Thu 6th Aug 2020
HPA Tournament Conditions for 2021
British polo post-Brexit
Wed 5th Aug 2020
Last Minute Les Lions/Great Oaks Win
Cartier Queen's Cup

Tue 4th Aug 2020
Polo Times Out This Week!
August issue arriving soon
Mon 3rd Aug 2020
Cartier Queen's Cup Update
Weekend wins for Park Place & Scone Polo
Fri 31st Jul 2020
Cartier Queen's Cup Week 1
Wins for Thai Polo, MT Vikings, Monterosso & Park Place
Thu 30th Jul 2020
International Begins at Santa María
49th MANSION International Polo Tournament
Wed 29th Jul 2020
HPA Mid-Season Handicap Changes
Raises for Castagnola & Cambiaso

Tue 28th Jul 2020
Cartier Queen's Cup Begins Today!
Scone Polo vs Thai Polo
Mon 27th Jul 2020
Next Generation Secure Gold Cup
Adolfo Cambiaso's eighth win
Fri 24th Jul 2020
Gold Cup Final This Weekend
Les Lions/Great Oaks vs Next Generation
Thu 23rd Jul 2020
Competitive Polo Resumes at All Levels in England
HPA Update No11

Wed 22nd Jul 2020
King Power Gold Cup Semi Finals Set
Action continues today!
Tue 21st Jul 2020
Victorious Monterosso Vikings
British Ladies Open Final

Mon 20th Jul 2020
Kildare Win Indian Empire Shield
9-7 win against Emlor
Thu 16th Jul 2020
Park Place Secure Two Semi Final Spots
Both organisation's teams are in The King Power Gold Cup Semi Finals

Wed 15th Jul 2020
King Power Gold Cup & British Ladies Open
Action aplenty at Cowdray Park
Mon 13th Jul 2020
Snakebite Secure Eduardo Moore Final
Emlor Black win Subsidiary Final