Tue 26th Nov 2019
Frasers England in Manipur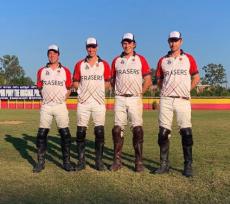 Three wins under their belt

A Frasers England team are currently in Manipur, India, taking part in The 13th Manipur Polo International 2019. The team consists of George Amor, Chris Crawford, Ben Eeley & Will Seth Smith. They have achieved three wins over the last week, first defeating the USA 9-2, then going on to beat India 12-2. Today, they defeated France 6-5 securing another all-important step towards the Final. With the team up against Manipur next, the competition is tough and with the Final taking place this weekend, perhaps Frasers England could be very much in the running.
Photograph: Frasers England have secured three wins in Manipur. Courtesy of Sats Polo

Other top stories
Wed 22nd Jan 2020
The Bryan Morrison Trophy is Postponed
The International Test Match for The Bryan Morrison Trophy to be played at Polo in the Park
Sun 19th Jan 2020
18th Bendura Bank Snow Polo World Cup Kitzbühel 2020
World Polo League champion maiden Final in Kitzbühel

Tue 14th Jan 2020
Palm Beach Equine Victorious
Joe Barry Memorial 2020
Mon 13th Jan 2020
Snow Polo World Cups Take Europe By Storm
Kitzbühel and St. Moritz ready for snow polo action

Fri 10th Jan 2020
The Future of Polo
Concerns raised following Daily Mail article
Thu 9th Jan 2020
de Grisogono Lead the Sponsor's Charge
The Snow Polo World Cup St. Moritz
Wed 8th Jan 2020
Polo Times, the perfect addition to your 2020
New Year, New Subscription

Mon 6th Jan 2020
The 18th Bendura Bank Snow Polo World Cup Kitzbühel
Just a week and a half to go!
Thu 2nd Jan 2020
Max Charlton to Captain Frasers England Side
Frasers England to take on the USA for The Bryan Morrison Trophy

Wed 1st Jan 2020
Happy New Year
Happy New Year to all our readers

Wed 25th Dec 2019
Merry Christmas
Wishing all our readers a happy festive season