Mon 16th Sep 2019
The 55th Jockey Club Open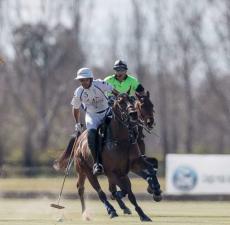 Play continues this week

Over the weekend, play continued in The Jockey Club Open in Argentina, with seven out of Argentina's nine 10 goalers participating. Following two wins, against La Dolfina WPL and La Dolfina Betania, La Dolfina Valiente became the tournament's first finalists. Ellerstina Pilot also secured a Quarter Final win, 12-11, against Chapaleufú La H to assure their spot in the next round.
The tournament continues this week, with the Final scheduled to take place on Saturday 21 September.
The 55th Jockey Club Open Teams:
La Dolfina Valiente (31): Bob Jornayvaz (1), Juan Martín Nero (10), David 'Pelón' Stirling (10) & Pablo Mac Donough (10)
La Dolfina (30): Diego Cavanagh (8), Adolfo Cambiaso (10), Poroto Cambiaso (4) & Juan Martín Zubía (8)
Ellerstina Pilot (19): Curtis Pilot (0), Facundo Pieres (10), Gonzalito Pieres (9) & Nico Pieres (10)
La Cañada Angiocor Daily Racing Form (22): Agustin Obregon (0), Jared Zenni (6), Alejandro Muzzio (8) & Ezequiel Martinez Ferrario (8)
Chapaleufú La H (27): Hilario Ulloa (10), Fran Elizalde (8), Cruz Heguy (4) & Carlos María Ulloa (5)
La Dolfina Betania (27): Ignacio Toccalino (8), Joao Paulo Ganon (7), Manuel Calafell (6) & Juan Calafell (6)
La Dolfina World Polo League (27): Juan Britos (8), Guillermo Terrera (8), Jeronimo Del Carril (7) & Gonzalo Ferrari (4)
Los Indios (28): Ignacio Laprida (8), Alberto 'Pepe' Heguy (7), Juan Martín Zavaleta (8) & Jorge Monsegou (5)
Photograph: Pablo Mac Donough on the ball for La Dolfina Valiente. By Matias Calléjo

Other top stories
Tue 10th Dec 2019
III Women's Argentine Open Semi Finals
Semi Finals are set in Argentina
Mon 9th Dec 2019
The 126th Argentine Open
La Dolfina and Ellerstina to battle in the Final
Thu 5th Dec 2019
Polo Times Out Soon – Don't Miss Christmas Offers!
December 2019/January 2020 issue of Polo Times
Wed 4th Dec 2019
The III Women's Argentine Open
Play underway in Palermo
Tue 3rd Dec 2019
Polo Times Christmas Offer
Festive season is the perfect time to subscribe to the world's most influential polo magazine

Mon 2nd Dec 2019
HPA National Club Championships 3 & 12 Goal Finals
HPA arena schedule kicks off with a bang
Fri 29th Nov 2019
News from The Hurlingham Polo Association
Antony Fanshawe To Chair The HPA International Committee
Fri 29th Nov 2019
Home Team Snatch the Honours
The 13th Manipur Polo International
Tue 26th Nov 2019
Frasers England in Manipur
Three wins under their belt
Mon 25th Nov 2019
WIP Ladies Nations Cup
Frasers England win Ladies International
Thu 21st Nov 2019
Manipur Polo International
2019 teams announced

Wed 20th Nov 2019
Edgeworth Polo Club
Bucking the Brexit blues with £16,000 prize money up for grabs

Tue 19th Nov 2019
Thai Pink Polo
Brit Milly Hine wins MVP honours
Mon 18th Nov 2019
The 79th Tortugas Open Final
Ellerstina win the postponed Tortugas Open Final

Fri 15th Nov 2019
HPA's Vision for Polo
The HPA responds to Polo Times September issue article