Mon 16th Sep 2019
The 55th Jockey Club Open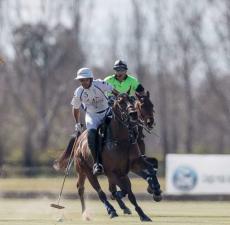 Play continues this week

Over the weekend, play continued in The Jockey Club Open in Argentina, with seven out of Argentina's nine 10 goalers participating. Following two wins, against La Dolfina WPL and La Dolfina Betania, La Dolfina Valiente became the tournament's first finalists. Ellerstina Pilot also secured a Quarter Final win, 12-11, against Chapaleufú La H to assure their spot in the next round.
The tournament continues this week, with the Final scheduled to take place on Saturday 21 September.
The 55th Jockey Club Open Teams:
La Dolfina Valiente (31): Bob Jornayvaz (1), Juan Martín Nero (10), David 'Pelón' Stirling (10) & Pablo Mac Donough (10)
La Dolfina (30): Diego Cavanagh (8), Adolfo Cambiaso (10), Poroto Cambiaso (4) & Juan Martín Zubía (8)
Ellerstina Pilot (19): Curtis Pilot (0), Facundo Pieres (10), Gonzalito Pieres (9) & Nico Pieres (10)
La Cañada Angiocor Daily Racing Form (22): Agustin Obregon (0), Jared Zenni (6), Alejandro Muzzio (8) & Ezequiel Martinez Ferrario (8)
Chapaleufú La H (27): Hilario Ulloa (10), Fran Elizalde (8), Cruz Heguy (4) & Carlos María Ulloa (5)
La Dolfina Betania (27): Ignacio Toccalino (8), Joao Paulo Ganon (7), Manuel Calafell (6) & Juan Calafell (6)
La Dolfina World Polo League (27): Juan Britos (8), Guillermo Terrera (8), Jeronimo Del Carril (7) & Gonzalo Ferrari (4)
Los Indios (28): Ignacio Laprida (8), Alberto 'Pepe' Heguy (7), Juan Martín Zavaleta (8) & Jorge Monsegou (5)
Photograph: Pablo Mac Donough on the ball for La Dolfina Valiente. By Matias Calléjo

Other top stories

Thu 6th Aug 2020
HPA Tournament Conditions for 2021
British polo post-Brexit
Wed 5th Aug 2020
Last Minute Les Lions/Great Oaks Win
Cartier Queen's Cup

Tue 4th Aug 2020
Polo Times Out This Week!
August issue arriving soon
Mon 3rd Aug 2020
Cartier Queen's Cup Update
Weekend wins for Park Place & Scone Polo
Fri 31st Jul 2020
Cartier Queen's Cup Week 1
Wins for Thai Polo, MT Vikings, Monterosso & Park Place
Thu 30th Jul 2020
International Begins at Santa María
49th MANSION International Polo Tournament
Wed 29th Jul 2020
HPA Mid-Season Handicap Changes
Raises for Castagnola & Cambiaso

Tue 28th Jul 2020
Cartier Queen's Cup Begins Today!
Scone Polo vs Thai Polo
Mon 27th Jul 2020
Next Generation Secure Gold Cup
Adolfo Cambiaso's eighth win
Fri 24th Jul 2020
Gold Cup Final This Weekend
Les Lions/Great Oaks vs Next Generation
Thu 23rd Jul 2020
Competitive Polo Resumes at All Levels in England
HPA Update No11

Wed 22nd Jul 2020
King Power Gold Cup Semi Finals Set
Action continues today!
Tue 21st Jul 2020
Victorious Monterosso Vikings
British Ladies Open Final

Mon 20th Jul 2020
Kildare Win Indian Empire Shield
9-7 win against Emlor
Thu 16th Jul 2020
Park Place Secure Two Semi Final Spots
Both organisation's teams are in The King Power Gold Cup Semi Finals

Wed 15th Jul 2020
King Power Gold Cup & British Ladies Open
Action aplenty at Cowdray Park
Mon 13th Jul 2020
Snakebite Secure Eduardo Moore Final
Emlor Black win Subsidiary Final