Tue 20th Aug 2019
British Junior HPA Championships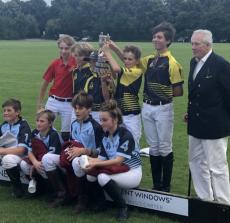 Stagshead Trophy

In the Final of The Stagheads Trophy, held at Ham Polo Club on Sunday 18 August, The Dark Blue Team (Darius Gilbert/Erik Romain, Ollie Drewitt, George Copcutt &Tani Darritchon) defeated The Light Blue Team (Talan Dudd, Charlie Hipwood, Hector Copcutt & Bonnie Barnes) to take home the trophy. Former Ham Polo Club Chairman and FIP President Nicholas Colquhoun-Denvers was on hand to present the teams with their prizes. Congratulations to these young guns.
Photograph: The Dark Blue Team win The Stagshead Trophy at Ham Polo Club. By Olly Hughes

Other top stories

Thu 19th Sep 2019
End of Season Handicap Changes
HPA releases handicap list
Mon 16th Sep 2019
The 55th Jockey Club Open
Play continues this week

Wed 11th Sep 2019
Vision for Polo
A realistic goal or rose-tinted glasses?
Tue 10th Sep 2019
RoR Racing to Polo Challenge
Winners at RCBPC
Mon 9th Sep 2019
La Dolfina Victorious
Father & son secure 52nd San Jorge Open

Wed 4th Sep 2019
22 Goal and Victor Ludorum Handicaps
HPA Releases End of Season List
Tue 3rd Sep 2019
Polo Times Out Now
September Issue of Polo Times
Mon 2nd Sep 2019
Sotogrande Gold Cups
Wins for Brunei, MB Polo & Rhone Hill
Fri 30th Aug 2019
55th Jockey Club Open
Teams announced
Thu 29th Aug 2019
48 Torneo Internacional de Polo
LG Signature Gold Cup Medium Goal Final set
Tue 27th Aug 2019
Sotogrande Semi Finalists
The LG Signature Gold Cup continues