Tue 20th Aug 2019
British Junior HPA Championships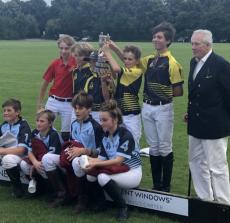 Stagshead Trophy

In the Final of The Stagheads Trophy, held at Ham Polo Club on Sunday 18 August, The Dark Blue Team (Darius Gilbert/Erik Romain, Ollie Drewitt, George Copcutt &Tani Darritchon) defeated The Light Blue Team (Talan Dudd, Charlie Hipwood, Hector Copcutt & Bonnie Barnes) to take home the trophy. Former Ham Polo Club Chairman and FIP President Nicholas Colquhoun-Denvers was on hand to present the teams with their prizes. Congratulations to these young guns.
Photograph: The Dark Blue Team win The Stagshead Trophy at Ham Polo Club. By Olly Hughes

Other top stories

Wed 19th Feb 2020
The Junior Arena Gold & Silver Cups
New youth tournament to take place at RCBPC
Tue 18th Feb 2020
C.V. Whitney Cup Update
La Indiana, Pilot & Las Monjitas qualify for Semi Finals

Mon 17th Feb 2020
All-Star Challenge Final
Valiente crowned as champions

Sun 16th Feb 2020
The Ladies Polo Foundation Scholarship
Annie Woodhead to visit South Africa
Sat 15th Feb 2020
USPA Outdoor Rules Changes
Alterations to USPA outdoor rules

Fri 14th Feb 2020
STOP PRESS
2020 Three Match International Polo Test Series
Fri 14th Feb 2020
Frasers England to Play Australia
Polo International Down Under
Thu 13th Feb 2020
The New Zealand International
Home team triumphs
Wed 12th Feb 2020
Ghantoot Secure Dubai Silver Cup
Half goal secures Ghantoot success
Tue 11th Feb 2020
Sue Cudmore Memorial
Memorial to be held in Gloucestershire
Mon 10th Feb 2020
SUPA University Winter Nationals
Rugby Polo Club welcomes 202 teams
Wed 5th Feb 2020
World Polo League Announces Schedule
Play commences tomorrow
Tue 4th Feb 2020
La Familia Retain B. Grimm Thai Polo Masters Title
News from South-East Asia
Tue 4th Feb 2020
Patagones Champion Ylvisaker Title
Sun shines in Palm Beach
Mon 3rd Feb 2020
Farrington Secure Extra Time RCBPC Win
The HPA Winter Victor Ludorum Final

Tue 28th Jan 2020
Polo Times Out Soon!
February issue of Polo Times
Sun 26th Jan 2020
Finals day delivers world class polo 'On top of the world'
Snow Polo World Cup St. Moritz
Sat 25th Jan 2020
Sparkling Snow And Spectacular Polo Action
Snow Polo World Cup St. Moritz action continues

Fri 24th Jan 2020
Snow Polo World Cup St. Moritz Starts
Snow polo delights crowds on 'First Day Friday'
Wed 22nd Jan 2020
The Bryan Morrison Trophy is Postponed
The International Test Match for The Bryan Morrison Trophy to be played at Polo in the Park
Sun 19th Jan 2020
18th Bendura Bank Snow Polo World Cup Kitzbühel 2020
World Polo League champion maiden Final in Kitzbühel