Tue 13th Aug 2019
2019 Ambassadorís Cup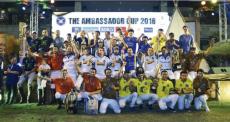 FIP announce schedule

The schedule for the 2019 Ambassador's Cup has been announced by FIP. The first tournament, The 102nd Ambassador's Cup will take place between 5 – 8 September at Roma Polo Club in Italy. This will be followed by the next instalment at Helvetia Polo Club in Brazil between 26 – 29 September.
The third instalment will take place at Lahore Polo Club between 28 October to 3 November followed by the final tournament at La Ensenada Polo Club, Argentina between 6 – 9 December. For more information, please
click here
.
To read more FIP news,
click here
to read their new magazine.
Photograph: FIP has announced The Ambassador's Cup 2019 schedule. Courtesy of FIP

Other top stories

Thu 22nd Aug 2019
Arena Polo 2019/2020 Spur Ban
Trial for new measure
Wed 21st Aug 2019
Robert Graham
Robert Graham very sadly passes away
Tue 20th Aug 2019
British Junior HPA Championships
Stagshead Trophy
Mon 19th Aug 2019
Brunei & Ayala Reign in Sotogrande
48th Torneo Internacional Mansion de Polo
Wed 14th Aug 2019
Sotogrande Finalists Decided
Silver Cup Finals this weekend
Tue 13th Aug 2019
2019 Ambassadorís Cup
FIP announce schedule

Mon 12th Aug 2019
The Frasers Pony Club Polo Championships
Cowdray welcomes hundreds of young guns
Thu 8th Aug 2019
Sotogrande in Full Swing
Plenty of polo action
Mon 5th Aug 2019
Sotogrande Begins
Play commences in sunny Spain
Mon 5th Aug 2019
Neil Hobday to Leave Guards
CEO announces he is to leave Guards Polo Club at the end of the season

Tue 30th Jul 2019
Polo Times Out This Week
August issue of Polo Times
Mon 29th Jul 2019
Argentina Lift Coronation Cup
The International Test Match at RCBPC

Fri 26th Jul 2019
HPA Release Proposed 22 Handicap Changes
List published awaiting ratification