Tue 30th Jul 2019
Polo Times Out This Week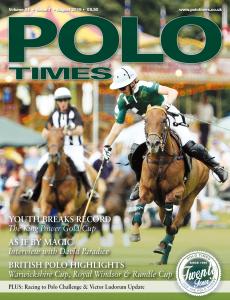 August issue of Polo Times

The latest issue of Polo Times will be hitting stands this week packed full of polo news and extensive knowledge features. The August issue is full to the brim with summer polo madness, from high goal delights to the all-important local news from your favourite clubs.
This issue takes an in-depth look at the thrilling Finals of The King Power Gold Cup, The OUT-SOURCING Inc! Royal Windsor Cup, The Warwickshire Cup and The Ladies International for The Diamond Jubilee Trophy.
What's more, this issue is jam-packed with features including an in-depth interview with Cartier Queen's Cup winning David Paradice, following Scone Polo's epic win at Guards, an update from the Victor Ludorum across the country and an in-depth look at the RoR Racing to Polo Challenge, which took place amidst the buzz of The Gold Cup Semi Finals.
Plus, as always, this issue includes Polo Times' regular sections covering all aspects of polo from Club Focus and Youth Polo, not to mention Polodoc and our Fitness Insight with Gus Olds.
Last but by no means least, the flying dutchman Aki van Andel sheds light on his passions, favourite tournaments, team mates and hobbies, as he takes to the European fields for the 2019 season. So, click
here
to make sure your subscription is up to date now!
Photograph: The August issue of Polo Times is out this week!

Other top stories
Thu 21st Nov 2019
Manipur Polo International
2019 teams announced

Wed 20th Nov 2019
Edgeworth Polo Club
Bucking the Brexit blues with £16,000 prize money up for grabs

Tue 19th Nov 2019
Thai Pink Polo
Brit Milly Hine wins MVP honours
Mon 18th Nov 2019
The 79th Tortugas Open Final
Ellerstina win the postponed Tortugas Open Final

Fri 15th Nov 2019
HPA's Vision for Polo
The HPA responds to Polo Times September issue article
Sun 10th Nov 2019
The 126th Argentine Open
2019 teams announced
Sat 9th Nov 2019
126th Hurlingham Open Final
La Dolfina secure the win
Fri 8th Nov 2019
James Beim Retires as England Captain
Beim stands down after five years
Mon 4th Nov 2019
St. Moritz Snow Polo Teams Announced
Snow Polo World Cup St. Moritz 2020

Tue 29th Oct 2019
Argentine Spring Season
Hurlingham Open and Qualification Updates
Mon 28th Oct 2019
Polo Times Out This Week!
November issue of Polo Times
Fri 25th Oct 2019
The 126th Hurlingham Open
Play set to kick off in Argentina today

Thu 24th Oct 2019
Tortugas Open Final
Play postponed