Fri 21st Dec 2018
It's Christmas!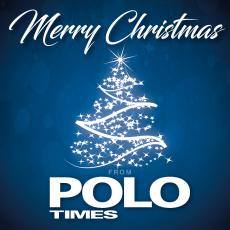 Polo Times is closed for the festive break

Even though polo never stops, we at
Polo Times
HQ are taking a little break from the office to rest and recuperate after a busy year. But don't panic! If you have any exciting news, we'd still love to hear from you. Please email
editorial@polotimes.co.uk
with your news and we'll get back to you as soon as we can.
We'll be back on Monday 7 January, ready and raring for the New Year.
Have a fun festive break and cheers to an exciting 2019!

Other top stories

Thu 27th Jun 2019
Coronation Cup
The Argentine team is announced
Wed 26th Jun 2019
The King Power Gold Cup
Play is underway at Cowdray

Tue 25th Jun 2019
UAE Polo Team Are Victorious
The OUT-SOURCING Inc! Royal Windsor Cup
Mon 24th Jun 2019
Emlor Secure 22 Goal Title
The Warwickshire Cup
Sun 23rd Jun 2019
Frasers England Triumph
The Ladies International Test Match
Fri 21st Jun 2019
Warwickshire Cup Final
Lovelocks and Emlor to compete for coveted trophy
Tue 18th Jun 2019
The Warwickshire Cup Begins
Play is underway

Mon 17th Jun 2019
The Underdogs Have It!
Scone Polo win The Cartier Queen's Cup

Thu 13th Jun 2019
Scone Polo and Park Place Secure Final Spots
The Cartier Queen's Cup Final decided
Tue 11th Jun 2019
Cartier Queen's Cup Semi Finals Decided
Thrilling matches decide final four

Mon 10th Jun 2019
Gloucestershire Festival of Polo
Two international titles

Tue 4th Jun 2019
La Martina Varsity Day
Oxford retain prestigious trophy
Mon 3rd Jun 2019
Cartier Queen's Cup Update
La Indiana, Talandracas, VS King Power & UAE Polo secure Quarter Final places
Thu 30th May 2019
High Goal Handicaps
Young players ratings in question

Wed 29th May 2019
Polo Times Out This Week!
June issue of Polo Times

Tue 28th May 2019
The Cartier Queen's Cup
First week's play comes to an end