Fri 21st Dec 2018
Itís Christmas!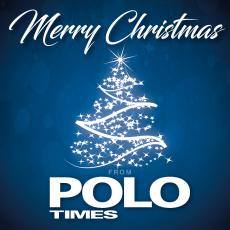 Polo Times is closed for the festive break

Even though polo never stops, we at
Polo Times
HQ are taking a little break from the office to rest and recuperate after a busy year. But don't panic! If you have any exciting news, we'd still love to hear from you. Please email
editorial@polotimes.co.uk
with your news and we'll get back to you as soon as we can.
We'll be back on Monday 7 January, ready and raring for the New Year.
Have a fun festive break and cheers to an exciting 2019!

Other top stories

Fri 22nd Mar 2019
Susan G. Komen US Womenís Open Continues
Finalists decided with Brits leading the charge

Thu 21st Mar 2019
USPA Gold Cup Semi Finals
Rain postpones play

Wed 20th Mar 2019
Action from Dubai
The Dubai Challenge Cup, Amity Polo Cup & AHPRC League

Mon 18th Mar 2019
U.S. Womenís Open
Excitement began on Saturday

Sun 17th Mar 2019
USPA Gold Cup Quarter Finals
American Update

Sat 16th Mar 2019
UK Arena Handicap Changes
2018/19 End of Season

Fri 15th Mar 2019
World Polo League
Palm Beach Open

Fri 15th Mar 2019
U.S. Womenís Open
Matches begin on Saturday
Mon 11th Mar 2019
UAE Undefeated in Dubai
The Julius Bšr Gold Cup 2019
Tue 5th Mar 2019
Junior Westchester U18 Team Head to USA
Flannels England to take on Team USA

Mon 4th Mar 2019
Flannels England Rule the Arena
Playnation International Test Match for The Bryan Morrison Trophy
Thu 28th Feb 2019
Flannels England Women Head to Australia
HPA announce ladies International Test Match team

Wed 27th Feb 2019
Polo Times Out This Week!
March Issue packed with exciting features

Tue 26th Feb 2019
C.V. Whitney Cup Final
Pilot secure pole position