Mon 10th Dec 2018
125th Argentine Open Semi Final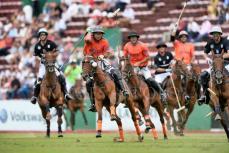 Las Monjitas defeat Ellerstina in surprise victory to secure Final spot

On Saturday 8 December, the last league matches in The 125th Argentine Open took place in Palermo. In the first match of the day, La Dolfina Polo Ranch defeated Alegría-La Irenita 18-13, securing a place in all three 2019 Triple Crown tournaments, finishing fourth in the 2018 rankings. Following this match, La Dolfina secured their spot in the Final on 15 December, with a 17-7 win against La Aguada.
On Sunday 9 December, in a real Triple Crown shake-up, 40 goal Ellerstina lost to 37 goal Las Monjitas 18-16 in their 5pm Semi Final. Las Monjitas are renowned for shaking-up The Triple Crown, having defeated La Dolfina in the Semi Final of the 2017 Hurlingham Open. This year the team have thrown all they have got into pony power, and with this exciting tactical move and the addition of Santiago Toccalino to replace Julian 'Negro' de Lusarreta, this team have high expectations for Saturday's Final. Also on Sunday, Cría Yatay narrowly defeated La Albertina Abu Dhabi to secure their spot in next year's tournament.
The 125th Argentine Open Teams:
Alegría-La Irenita (32): Clemente Zavaleta (7), Juan Gris Zavaleta (8), Fred Mannix (9) & Matías Mac Donough (8)
La Dolfina Polo Ranch (31): Diego Cavanagh (8), Guillermo Terrera (8), Julián de Lusarreta (7) & Ignatius Du Plessis (8)
La Albertina Abu Dhabi (31): Nic Roldan (7), Francisco Elizalde (8), Ignacio Toccalino (8) & Alfredo Cappella Barabucci (8)
Las Monjitas (37): Facundo Sola (9), Hilario Ulloa (10), Guillermo 'Sapo' Caset (10) & Santiago Toccalino (8)
Cría Yatay (32): Valerio Zubiaurre (8), Magoo Laprida (8), Joaquín Pittaluga (8) & Iñaki Laprida (8)
Ellerstina (40): Facundo Pieres (10), Polito Pieres (10), Gonzalito Pieres (10) & Nico Piers (10)
La Dolfina (40): Adolfo Cambiaso (10), David 'Pelòn' Stirling (10), Pablo Mac Donough (10) & Juan Martín Nero (10)
Photograph: Las Monjitas secured their spot in The 125th Argentine Open Final with a win against Ellerstina on Sunday 9 December. By ©www.imagesofpolo.com

Other top stories

Fri 22nd Mar 2019
Susan G. Komen US Women's Open Continues
Finalists decided with Brits leading the charge

Thu 21st Mar 2019
USPA Gold Cup Semi Finals
Rain postpones play

Wed 20th Mar 2019
Action from Dubai
The Dubai Challenge Cup, Amity Polo Cup & AHPRC League

Mon 18th Mar 2019
U.S. Women's Open
Excitement began on Saturday

Sun 17th Mar 2019
USPA Gold Cup Quarter Finals
American Update

Sat 16th Mar 2019
UK Arena Handicap Changes
2018/19 End of Season

Fri 15th Mar 2019
World Polo League
Palm Beach Open

Fri 15th Mar 2019
U.S. Women's Open
Matches begin on Saturday
Mon 11th Mar 2019
UAE Undefeated in Dubai
The Julius Bär Gold Cup 2019
Tue 5th Mar 2019
Junior Westchester U18 Team Head to USA
Flannels England to take on Team USA

Mon 4th Mar 2019
Flannels England Rule the Arena
Playnation International Test Match for The Bryan Morrison Trophy
Thu 28th Feb 2019
Flannels England Women Head to Australia
HPA announce ladies International Test Match team

Wed 27th Feb 2019
Polo Times Out This Week!
March Issue packed with exciting features

Tue 26th Feb 2019
C.V. Whitney Cup Final
Pilot secure pole position