Fri 30th Nov 2018
Flannels England Lose Out to India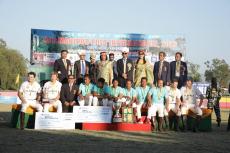 12th Manipur Polo International

Over the past week, teams have been competing for The 12th Manipur Polo International, in the home of polo, Manipur, India, as part of The Manipur Sangai Festival. Following an exciting few days play, Flannels England secured their spot in the Final having drawn their Semi Final game against the USA.
In the Final on Thursday 29 November, Flannels England just lost out to India B. Brit, George Shelton, was named the Most Valuable Player, having played exceedingly well throughout for the Flannels England side. Following the presentation, Shelton made the decision to donate the 50,000 rupees (the equivalent of around £550) he'd been gifted, to a local charity in support of Manipuri ponies. A full report will follow in the next issue of Polo Times, so make sure your subscription is up to date here.
The 12th Manipur Polo International:
Flannels England: Ben Eeley, George Amor, Henry Amor & George Shelton
Photograph: Flannels England lost out to India B in the Final of The 12th Manipur Polo International. Courtesy of Manipur Horse Riding & Polo Association

Other top stories
Fri 15th Feb 2019
C.V. Whitney Cup Underway
USA high goal in full swing
Wed 13th Feb 2019
Ylvisaker Cup Final
Dutta Corp secure third trophy of US season

Mon 11th Feb 2019
SUPA University Winter Nationals
Record breaking number of teams compete
Fri 8th Feb 2019
Playnation Arena International Teams Announced
Flannels England & France vie for The Bryan Morrison Trophy

Thu 7th Feb 2019
Visa Update
News from Hurlingham Polo Association
Thu 7th Feb 2019
Equine Influenza
Outbreak of Equine Influenza in British horse racing

Wed 6th Feb 2019
Ylvisaker Cup Continues
La Indiana, Dutta Corp, Pilot and Patagones in the Semi Finals
Tue 5th Feb 2019
Silver Cup Semi Finals Set
Al Habtoor Polo Resort & Club welcome international teams
Mon 4th Feb 2019
Playnation Arena Polo Test Match
The upcoming Bryan Morrison Trophy

Fri 1st Feb 2019
Polo Times Out Now!
February issue is out now!
Thu 31st Jan 2019
Australia International Team Announced
HPA release names of Flannels England team
Wed 30th Jan 2019
USA Defeat English Arena Sides
Three consecutive international matches see USA reign supreme
Sun 27th Jan 2019
Snow Polo History Made Today
The Snow Polo World Cup St. Moritz 2019 Finals

Sat 26th Jan 2019
Maserati & Badrutt's Palace Secure Places in St. Moritz Final
Snow, sun, spills and thrills delight alpine crowds
Fri 25th Jan 2019
Snow Polo World Cup St. Moritz Starts
Fantastic first day of sparkling snow polo action

Wed 23rd Jan 2019
Snow Polo World Cup St. Moritz
Only one day before the world turns its eyes to Switzerland
Mon 21st Jan 2019
CÓroc Crowned Champions in KitzbŁhel
17th Bendura Bank Snow Polo World Cup
Sat 19th Jan 2019
La Familia Narrowly Secure Title
BMW B. Grimm Thai Polo Open 2019