Sat 5th May 2018
Prince of Wales Teams Announced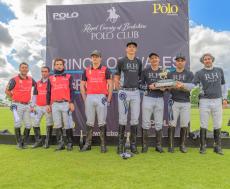 Teams and fixtures announced in the UK high goal tournament

The teams and schedule have been announced for the 2018 Prince of Wales 22 goal tournament. On Friday 11 May, four teams of up to 22 goals will begin their season as the Prince of Wales tournament kicks off at The Royal County of Berkshire Polo Club. These same teams will then go on to take part in The Cartier Queen's Cup at Guards Polo Club later in the season.
This year will see the return of Max Gottschalk with his Jax Coco/Les Lions team, with the team having last taken part in the UK high goal season in 2013 under the captaincy of his father Jo. Max last took part in the high goal in 2011, so we're excited to see how his return will shake up the rankings.
The proposed schedule is as follows:
Friday 11 May – 2pm: Emlor vs Jax Coco/Les Lions
Saturday 12 May – 11.30am: Monterosso vs Valiente
Tuesday 15 May – 4pm: Jax Coco/Les Lions vs Monterosso
Wednesday 16 May – 3pm: Valiente vs Emlor
Saturday 19 May – 3.15pm: Prince of Wales Trophy Final
For more information please visit the RCBPC website
here
.
The Prince of Wales Trophy Teams:
Emlor (22): Spencer McCarthy (0), Agustín 'Tincho' Merlos (9), Diego Cavanagh (8) & Nacho González (5)
Jax Coco/Les Lions (22): Max Gottschalk (0), Guillermo Terrara (8), Joaquín Pittaluga (7) & Jaime García Huidobro (7)
Monterosso (22): Alessandro Bazzoni (0), Juan Martín Zubía (6), Ignacio 'Cubi' Toccalino (8) & Santiago Toccalino (8)
Valiente (22): Rob Jornayvaz (1), Hugo Lewis (4), Adolfo Cambiaso (10) & Christian 'Magoo' Laprida (7)
Photograph: With RH Polo not competing this year, can 2017 runners-up Emlor seal the deal in The Prince of Wales Trophy? By Cymon Skinner Photography

Other top stories

Mon 15th Oct 2018
Hurlingham Open Underway
Few surprises in the league stages
Tue 9th Oct 2018
La Dolfina Secure First 2018 Title
The Tortugas Open Final

Thu 4th Oct 2018
2018 End of Season Ladies' Handicaps
HPA announce changes

Tue 2nd Oct 2018
HPA Response to Handicap Changes
Information released by HPA
Mon 1st Oct 2018
FIP Ladies European Polo Championship
Germany defeat Italy to win title

Mon 1st Oct 2018
Italy Triumph at FIP European Championships
2018 FIP European Championships come to an end

Thu 27th Sep 2018
Tortugas Open and Argentine Youth Open
Argentine Update
Wed 26th Sep 2018
October Issue of Polo Times Out This Week
Addressing the handicap rumours
Tue 25th Sep 2018
FIP European Championships Underway
Italy, Azerbaijan and Ireland off to a flying start

Fri 21st Sep 2018
End of Season Handicap Changes
HPA releases handicap list
Thu 20th Sep 2018
The 54th Jockey Club Open
Second Semi Final cancelled
Tue 18th Sep 2018
Sainte Mesme Secure The Paprec French Open
Play ends in the French high goal