Fri 27th Apr 2018
Polo Times is Out Next Week!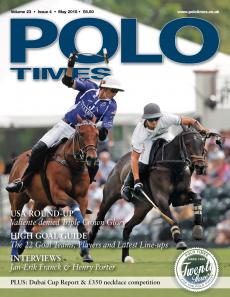 May Issue of Polo Times

The May issue of Polo Times is out next week, with copious amounts of exciting polo news from across the world. This issue delves into the recently completed American high goal season, with reports from the USPA Gold Cup and the US Polo Open Championship. As the British season kicks off, we've put together our perfect guide for the high goal tournaments including a full explanation of the newly introduced 22 goal handicap system and our specially selected 'Ones to Watch'. What's more, we've got not one, but two interviews, from our favourite Europeans who have travelled across the pond, Henry Porter and 'The Voice of Polo' Jan-Erik Franck. And, if this wasn't enough, all our avid readers are in with a chance of winning a beautiful Sylvia Kerr necklace worth over £350. As usual, the latest issue will be jam-packed with polo news, reports and stories including:
Cover Stories:
USA Round-Up
High Goal Guide
Henry Porter Interview
Jan-Erik Franck Interview
Dubai Cup Report
Over £350 Sylvia Kerr Necklace Competition
Plus:
Big Picture
5 minutes with Olivia Lamphee
Breeding Polo Ponies: The Future of Polo
Regulars:
All our traditional Club, Women's (including 5 minutes with Olivia Lamphee), Military and Youth News from both home and abroad, as well as Ainsley Polo's saddle fitting tips, Bit Focus, Letters, Polodoc looks at lower back pain, Equine & Player Physiotherapy, Lorna Edgar looks into Balancers, Fitness for Polo spotlights how to avoid early season injuries, Vet Insight investigates equine asthma and Sidelines. Plus, we speak to the winners of Polo Times Best Playing Pony rug awards to find out more about their winning ponies. Last, but by no means least, is our Sidelines coverage of the hottest social events from across the country, social news in our Gossip pages and we find out more about American Captain and La Indiana regular, Nic Roldan in Passions. And, don't forget to turn to our What's On pages to find out where you need to be this May. If you are not already a subscriber or wish to gift a subscription to friends or family, click
here
to subscribe or call us on 01452 730770.
Photograph: The May issue of Polo Times is out next week, jam-packed with exciting polo news

Other top stories
Mon 20th Aug 2018
47th Polo International Update
Silver Cup titles for Ayala & La Esperanza

Mon 20th Aug 2018
Greta Morrison Memorial Service
Date Announced
Mon 13th Aug 2018
The Flannels Pony Club Polo Championships
Rain didn't dampen anyone's spirits
Sat 11th Aug 2018
British HPA Junior Polo Championships
Rocksavage and Hipwood come to an end

Fri 10th Aug 2018
Thai Polo Club Wins in Malaysia
The Royal Selangor Polo Club Open 2018
Wed 8th Aug 2018
What's On This Week?
Polo this Week
Tue 7th Aug 2018
Play Underway in Sotogrande
47th annual Torneo Internacional de Polo

Wed 1st Aug 2018
HPA Handicap Changes
HPA Announce 22 Goal and Victor Ludorum Changes
Tue 31st Jul 2018
Polo Times is Out Now!
August Issue of Polo Times
Mon 30th Jul 2018
USA Lift The Junior Westchester Cup
Visitors conquer the Flannels England Team in the final second
Mon 30th Jul 2018
Flannels England Rule The International Day
Two wins for the home team at RCBPC
Tue 24th Jul 2018
The HPA Announce The International Day Teams
The Westchester and Thai Polo Club Ladies teams are announced
Mon 23rd Jul 2018
All-Brit El Remanso Champion The British Open
The King Power Gold Cup Comes Home at Cowdray