Fri 13th Apr 2018
News from Florida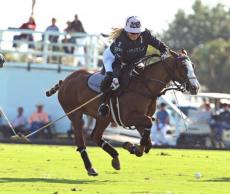 Valiente and Daily Racing Form race through to US Open Polo Championship Semi Finals

This week's US Open Polo Championship play concluded with a win for Daily Racing Form against Melissa Ganzi's Flexjet yesterday, Thursday 13 April, at the International Polo Club in Wellington, Florida. Jared Zenni's team, ably captained by Hilario Ulloa, were clearly the strongest team and led the field from the first throw-in. Flexjet fought back with a vengeance, scoring a worthy 11 goals for their efforts, but as the final bell sounded, Daily Racing Form took home the win 14-11 and with it a position in the US Open Semi Finals.
Earlier in the week, on Wednesday 10 April, Valiente continued their unbeaten US stint with a 13-8 win against Marc Ganzi's Audi. The match came to a head in the fourth and fifth chukkas, as has become a common theme for the Triple Crown favourite's this season, as Valiente took complete control of the game, scoring four goals in as many minutes. Valiente have thus far secured titles in the C.V. Whitney Cup, Butler Handicap and the USPA Gold Cup, putting them in an exceedingly strong position for the 2018 Triple Crown title.
The US Open Polo Championship Semi Finals are scheduled to take place on Wednesday 18 April, with the Final due to take place on Sunday 22 April. For more news from the International Polo Club, please click
here
.
The US Open Polo Championship Teams:
Audi (26): Marc Ganzi (2), Mike Azzaro (6), Polito Pieres (10) & Nic Roldan (8)
Colorado (25): Robert Jornayvaz (1), Juan Britos (7), Christian 'Magoo' Laprida (8) & Diego Cavanagh (9)
Daily Racing Form (26): Jared Zenni (5), Agustin Obregon (5), Hilario Ulloa (10) & Mariano Obregon (6)
U.S Polo Assn (24): Grant Ganzi (2), Juancito Bollini (4), Juan Martín Nero (10) & Alejandro Novillo Astrada (8)
Valiente (26): Bob Jornayvaz (2), Tommy Beresford (4), Facundo Pieres (10) & Adolfo Cambiaso (10)
Flexjet (26): Melissa Ganzi (0), Rodrigo de Andrade (9), Gonzalito Pieres (9) & Nico Pieres (8)
Photograph: Flexjet Captain, Melissa Ganzi, grabs possession from Daily Racing Form. By Alex Pacheco

Other top stories
Thu 19th Jul 2018
King Power Gold Cup Finalists
El Remanso & La Bamba de Areco reach the Final

Wed 18th Jul 2018
New Era For SATS
George Amor to take over from Tony Emerson
Mon 16th Jul 2018
Argentine Triple Crown
2018 Dates Announced
Sun 15th Jul 2018
King Power Gold Cup Semi Finals Decided
La Indiana, La Bamba, El Remanso & RH Polo through
Fri 13th Jul 2018
Quarter Finalists Decided
King Power Gold Cup Update
Thu 12th Jul 2018
Junior Westchester England Team Announced
HPA selection confirmed
Mon 9th Jul 2018
Hope for Polo?
Argentine Polo Players Association Meeting

Thu 5th Jul 2018
The Westchester Cup Launches
Polo Times, The Polo Magazine and British Polo Gin to Partner with The Westchester Cup

Sat 30th Jun 2018
Polo Times Out This Week!
July Issue of Polo Times
Fri 29th Jun 2018
Letter Received from The Argentine Association of Polo Players
Meeting scheduled to take place on Friday 6 July
Wed 27th Jun 2018
Flannels England Team Announced
The Westchester Cup

Tue 26th Jun 2018
Flannels England Lift the Trophy at Cirencester
The Kings Head Hotel Ladies International
Mon 25th Jun 2018
The OUT-SOURCING! Inc Royal Windsor Cup
La Dolfina breaks records

Mon 25th Jun 2018
Monterosso Triumph in The Warwickshire Cup
Cirencester Welcomes Thousands