Fri 13th Apr 2018
News from Florida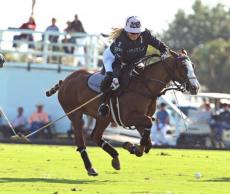 Valiente and Daily Racing Form race through to US Open Polo Championship Semi Finals

This week's US Open Polo Championship play concluded with a win for Daily Racing Form against Melissa Ganzi's Flexjet yesterday, Thursday 13 April, at the International Polo Club in Wellington, Florida. Jared Zenni's team, ably captained by Hilario Ulloa, were clearly the strongest team and led the field from the first throw-in. Flexjet fought back with a vengeance, scoring a worthy 11 goals for their efforts, but as the final bell sounded, Daily Racing Form took home the win 14-11 and with it a position in the US Open Semi Finals.
Earlier in the week, on Wednesday 10 April, Valiente continued their unbeaten US stint with a 13-8 win against Marc Ganzi's Audi. The match came to a head in the fourth and fifth chukkas, as has become a common theme for the Triple Crown favourite's this season, as Valiente took complete control of the game, scoring four goals in as many minutes. Valiente have thus far secured titles in the C.V. Whitney Cup, Butler Handicap and the USPA Gold Cup, putting them in an exceedingly strong position for the 2018 Triple Crown title.
The US Open Polo Championship Semi Finals are scheduled to take place on Wednesday 18 April, with the Final due to take place on Sunday 22 April. For more news from the International Polo Club, please click
here
.
The US Open Polo Championship Teams:
Audi (26): Marc Ganzi (2), Mike Azzaro (6), Polito Pieres (10) & Nic Roldan (8)
Colorado (25): Robert Jornayvaz (1), Juan Britos (7), Christian 'Magoo' Laprida (8) & Diego Cavanagh (9)
Daily Racing Form (26): Jared Zenni (5), Agustin Obregon (5), Hilario Ulloa (10) & Mariano Obregon (6)
U.S Polo Assn (24): Grant Ganzi (2), Juancito Bollini (4), Juan Martín Nero (10) & Alejandro Novillo Astrada (8)
Valiente (26): Bob Jornayvaz (2), Tommy Beresford (4), Facundo Pieres (10) & Adolfo Cambiaso (10)
Flexjet (26): Melissa Ganzi (0), Rodrigo de Andrade (9), Gonzalito Pieres (9) & Nico Pieres (8)
Photograph: Flexjet Captain, Melissa Ganzi, grabs possession from Daily Racing Form. By Alex Pacheco

Other top stories

Fri 21st Sep 2018
End of Season Handicap Changes
HPA releases handicap list
Thu 20th Sep 2018
The 54th Jockey Club Open
Second Semi Final cancelled
Tue 18th Sep 2018
Sainte Mesme Secure The Paprec French Open
Play ends in the French high goal
Fri 14th Sep 2018
The 54th Jockey Club Open Commences
La Dolfina Valiente, La Dolfina Brava I, Las Monjitas and Pilará Etiqueta Negra lead the table
Tue 11th Sep 2018
East Coast Open Finale
Tradition continues for the Brant Family with victory
Mon 10th Sep 2018
Argentine Update
The 51st Abierto de San Jorge ends

Fri 7th Sep 2018
AAP Rules Change Trial
Four new rules to be tested at The San Jorge and Jockey Club Opens

Thu 6th Sep 2018
Passport Regulation Changes
Update from the HPA

Thu 6th Sep 2018
Argentine Spring Season Begins
Duke of Edinburgh Trophy finalists decided

Wed 5th Sep 2018
Polo Times is Out Now!
September Issue of Polo Times

Tue 4th Sep 2018
The Guards Ladies' Charity Tournament for the Lord Patrick Beresford Trophy
The ladies out in force for Breast Cancer Haven Charity
Mon 3rd Sep 2018
Sotogrande wins for La Indiana, Ayala & Sotoisla
47th International Polo Tournament Ends
Fri 31st Aug 2018
Sotogrande Update
Finalists for Gold Cups set across low, medium & high goal
Tue 28th Aug 2018
Sotogrande Semi Finals Set
Action continues across low, medium and high goal at Santa María Polo Club