Tue 3rd Apr 2018
Valiente Retain USPA Gold Cup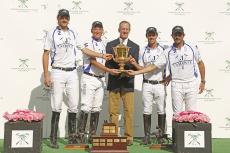 Narrow 12-11 win for the powerhouse team

With their eyes on the Triple Crown prize, Valiente rode for a second consecutive USA win in the 2018 USPA Gold Cup Final against Flexjet on Sunday 1 April at the International Polo Club in Palm Beach, Florida, USA.
Facundo Pieres began the match with fervour as he scored two immediate goals following the first throw-in. As the first half progressed, both teams traded goals with Flexjet taking every opportunity to intercept the ball and capitalise on Valiente's mistakes. Adolfo Cambiaso matched his teammate's skill, scoring the third goal for Valiente at the beginning of the second chukka. From there, Valiente's world famous teamwork secured another two goals, keeping them ahead at the end of the chukka. Missing several attempts on goal, Flexjet couldn't match Valiente's pace and accuracy, thus allowing Cambiaso to break away yet again to goal, doubling the scoreboard. As Pieres looked like he was on a goal-roll again, Rodrigo de Andrade managed to steal the ball and move it downfield, but even with this goal, the first half ended 6-3 in Valiente's favour.
De Andrade took advantage of an initial throw-in win as the second half began to secure a fast goal with the help of teammate Nico Pieres. As the play became more open, the speed and the goals began to increase. Leading 11-9 as the final chukka began, Cambiaso scored his fifth goal of the match, determined to halt Flexjet in their tracks. De Andrade responded with a further two goals, bringing his team to within one of their rivals, but with the final bell ringing out, it just wasn't enough. Valiente took home the USPA Gold Cup title with a 12-11 final score. Responsible for seven out of the 11 goals scored for Flexjet, Nico Pieres was awarded the Most Valuable Player Award, whilst Macerna, owned by Mariano Gonzalez and played by Adolfo Cambiaso in the third chukka, was presented with the Best Playing Pony Rug.
The final leg of the USA Triple Crown series will be the U.S. Open which will begin on Wednesday 4 April at 12pm.
The USPA Gold Cup Final Teams:
Valiente (26): Bob Jornayvaz (2), Tommy Beresford (4), Adolfo Cambiaso (10) & Facundo Pieres (10)
Flexjet (26): Melissa Ganzi (0), Rodrigo de Andrade (9), Gonzalito Pieres (9) & Nico Pieres (8)
Photograph: Valiente secured their second consecutive USA Triple Crown win, securing the USPA Gold Cup title. By David Lominska/United States Polo Association

Other top stories
Mon 10th Dec 2018
125th Argentine Open Semi Final
Las Monjitas defeat Ellerstina in surprise victory to secure Final spot

Fri 7th Dec 2018
HPA Announce Flannels England Squad
Windsor Polo Club International Test Match
Thu 6th Dec 2018
II Women's Argentine Open Championships
The tournament commences

Wed 5th Dec 2018
2019 Gauntlet of Polo
16 teams announced
Tue 4th Dec 2018
The 125th Argentine Open Continues
Play still underway in Buenos Aires

Mon 3rd Dec 2018
HPA National Club Championships
Arena season under way at RCBPC
Fri 30th Nov 2018
Flannels England Lose Out to India
12th Manipur Polo International

Mon 26th Nov 2018
Women's Arena Polo Series
The Ladies Nations Cup marks the series beginning

Fri 23rd Nov 2018
Inaugural Gauntlet of Polo Series
USPA announces launch of new series in February 2019
Thu 22nd Nov 2018
Women's Arena Polo Series
The Ladies Nations Cup marks the series beginning
Tue 20th Nov 2018
Guards Polo Club Appoints New Chairman
Brian Stein announced as ninth Chairman

Mon 19th Nov 2018
The 125th Argentine Open Begins
Rain Delays Start
Thu 15th Nov 2018
Argentine Open Rescheduled
Tournament will begin this Saturday
Wed 14th Nov 2018
Snow Polo World Cups
Who will come out on top at Kitzbühel and St. Moritz 2019?