Tue 3rd Apr 2018
Valiente Retain USPA Gold Cup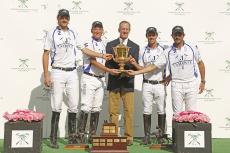 Narrow 12-11 win for the powerhouse team

With their eyes on the Triple Crown prize, Valiente rode for a second consecutive USA win in the 2018 USPA Gold Cup Final against Flexjet on Sunday 1 April at the International Polo Club in Palm Beach, Florida, USA.
Facundo Pieres began the match with fervour as he scored two immediate goals following the first throw-in. As the first half progressed, both teams traded goals with Flexjet taking every opportunity to intercept the ball and capitalise on Valiente's mistakes. Adolfo Cambiaso matched his teammate's skill, scoring the third goal for Valiente at the beginning of the second chukka. From there, Valiente's world famous teamwork secured another two goals, keeping them ahead at the end of the chukka. Missing several attempts on goal, Flexjet couldn't match Valiente's pace and accuracy, thus allowing Cambiaso to break away yet again to goal, doubling the scoreboard. As Pieres looked like he was on a goal-roll again, Rodrigo de Andrade managed to steal the ball and move it downfield, but even with this goal, the first half ended 6-3 in Valiente's favour.
De Andrade took advantage of an initial throw-in win as the second half began to secure a fast goal with the help of teammate Nico Pieres. As the play became more open, the speed and the goals began to increase. Leading 11-9 as the final chukka began, Cambiaso scored his fifth goal of the match, determined to halt Flexjet in their tracks. De Andrade responded with a further two goals, bringing his team to within one of their rivals, but with the final bell ringing out, it just wasn't enough. Valiente took home the USPA Gold Cup title with a 12-11 final score. Responsible for seven out of the 11 goals scored for Flexjet, Nico Pieres was awarded the Most Valuable Player Award, whilst Macerna, owned by Mariano Gonzalez and played by Adolfo Cambiaso in the third chukka, was presented with the Best Playing Pony Rug.
The final leg of the USA Triple Crown series will be the U.S. Open which will begin on Wednesday 4 April at 12pm.
The USPA Gold Cup Final Teams:
Valiente (26): Bob Jornayvaz (2), Tommy Beresford (4), Adolfo Cambiaso (10) & Facundo Pieres (10)
Flexjet (26): Melissa Ganzi (0), Rodrigo de Andrade (9), Gonzalito Pieres (9) & Nico Pieres (8)
Photograph: Valiente secured their second consecutive USA Triple Crown win, securing the USPA Gold Cup title. By David Lominska/United States Polo Association

Other top stories

Fri 22nd Mar 2019
Susan G. Komen US Women's Open Continues
Finalists decided with Brits leading the charge

Thu 21st Mar 2019
USPA Gold Cup Semi Finals
Rain postpones play

Wed 20th Mar 2019
Action from Dubai
The Dubai Challenge Cup, Amity Polo Cup & AHPRC League

Mon 18th Mar 2019
U.S. Women's Open
Excitement began on Saturday

Sun 17th Mar 2019
USPA Gold Cup Quarter Finals
American Update

Sat 16th Mar 2019
UK Arena Handicap Changes
2018/19 End of Season

Fri 15th Mar 2019
World Polo League
Palm Beach Open

Fri 15th Mar 2019
U.S. Women's Open
Matches begin on Saturday
Mon 11th Mar 2019
UAE Undefeated in Dubai
The Julius Bär Gold Cup 2019
Tue 5th Mar 2019
Junior Westchester U18 Team Head to USA
Flannels England to take on Team USA

Mon 4th Mar 2019
Flannels England Rule the Arena
Playnation International Test Match for The Bryan Morrison Trophy
Thu 28th Feb 2019
Flannels England Women Head to Australia
HPA announce ladies International Test Match team

Wed 27th Feb 2019
Polo Times Out This Week!
March Issue packed with exciting features

Tue 26th Feb 2019
C.V. Whitney Cup Final
Pilot secure pole position