Mon 26th Mar 2018
Jorge Mac Donough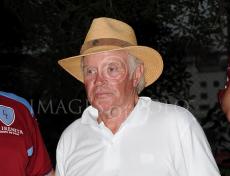 Beloved father of Pablo, Matias and Sofía Mac Donough passes away

Jorge Mac Donough, beloved father of polo powerhouses Pablo and Matias Mac Donough passed away on Saturday 24 March aged 73 following an accident during a playing practice at Centauros in Argentina. Despite valiant attempts by the paramedics to revive him, Jorge died on the way to the General Rodriguez Clinic.
Jorge was a vet, polo player, Director of the AACCP and horse breeder, renowned across the world, and also owned La Irenita. During his polo career, he reached 4 goals and alongside polo considered flying as a great passion. He leaves behind his wife Mercedes Arriola and their three children, Pablo, Matias and Sofía, as well as his beloved grandchildren. Across Argentina, a minute's silence will take place at all polo matches to honour his memory.
Photograph: Jorge Mac Donough passed away in a polo related accident on Saturday 24 March. By ©www.imagesofpolo.com

Other top stories
Mon 10th Dec 2018
125th Argentine Open Semi Final
Las Monjitas defeat Ellerstina in surprise victory to secure Final spot

Fri 7th Dec 2018
HPA Announce Flannels England Squad
Windsor Polo Club International Test Match
Thu 6th Dec 2018
II Women's Argentine Open Championships
The tournament commences

Wed 5th Dec 2018
2019 Gauntlet of Polo
16 teams announced
Tue 4th Dec 2018
The 125th Argentine Open Continues
Play still underway in Buenos Aires

Mon 3rd Dec 2018
HPA National Club Championships
Arena season under way at RCBPC
Fri 30th Nov 2018
Flannels England Lose Out to India
12th Manipur Polo International

Mon 26th Nov 2018
Women's Arena Polo Series
The Ladies Nations Cup marks the series beginning

Fri 23rd Nov 2018
Inaugural Gauntlet of Polo Series
USPA announces launch of new series in February 2019
Thu 22nd Nov 2018
Women's Arena Polo Series
The Ladies Nations Cup marks the series beginning
Tue 20th Nov 2018
Guards Polo Club Appoints New Chairman
Brian Stein announced as ninth Chairman

Mon 19th Nov 2018
The 125th Argentine Open Begins
Rain Delays Start
Thu 15th Nov 2018
Argentine Open Rescheduled
Tournament will begin this Saturday
Wed 14th Nov 2018
Snow Polo World Cups
Who will come out on top at Kitzbühel and St. Moritz 2019?