Mon 26th Mar 2018
Jorge Mac Donough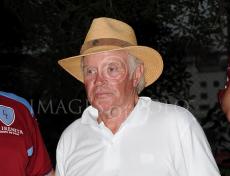 Beloved father of Pablo, Matias and Sofía Mac Donough passes away

Jorge Mac Donough, beloved father of polo powerhouses Pablo and Matias Mac Donough passed away on Saturday 24 March aged 73 following an accident during a playing practice at Centauros in Argentina. Despite valiant attempts by the paramedics to revive him, Jorge died on the way to the General Rodriguez Clinic.
Jorge was a vet, polo player, Director of the AACCP and horse breeder, renowned across the world, and also owned La Irenita. During his polo career, he reached 4 goals and alongside polo considered flying as a great passion. He leaves behind his wife Mercedes Arriola and their three children, Pablo, Matias and Sofía, as well as his beloved grandchildren. Across Argentina, a minute's silence will take place at all polo matches to honour his memory.
Photograph: Jorge Mac Donough passed away in a polo related accident on Saturday 24 March. By ©www.imagesofpolo.com

Other top stories

Fri 22nd Mar 2019
Susan G. Komen US Women's Open Continues
Finalists decided with Brits leading the charge

Thu 21st Mar 2019
USPA Gold Cup Semi Finals
Rain postpones play

Wed 20th Mar 2019
Action from Dubai
The Dubai Challenge Cup, Amity Polo Cup & AHPRC League

Mon 18th Mar 2019
U.S. Women's Open
Excitement began on Saturday

Sun 17th Mar 2019
USPA Gold Cup Quarter Finals
American Update

Sat 16th Mar 2019
UK Arena Handicap Changes
2018/19 End of Season

Fri 15th Mar 2019
World Polo League
Palm Beach Open

Fri 15th Mar 2019
U.S. Women's Open
Matches begin on Saturday
Mon 11th Mar 2019
UAE Undefeated in Dubai
The Julius Bär Gold Cup 2019
Tue 5th Mar 2019
Junior Westchester U18 Team Head to USA
Flannels England to take on Team USA

Mon 4th Mar 2019
Flannels England Rule the Arena
Playnation International Test Match for The Bryan Morrison Trophy
Thu 28th Feb 2019
Flannels England Women Head to Australia
HPA announce ladies International Test Match team

Wed 27th Feb 2019
Polo Times Out This Week!
March Issue packed with exciting features

Tue 26th Feb 2019
C.V. Whitney Cup Final
Pilot secure pole position