Mon 26th Mar 2018
Jorge Mac Donough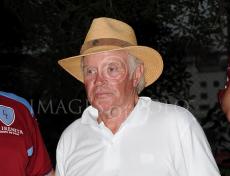 Beloved father of Pablo, Matias and Sofía Mac Donough passes away

Jorge Mac Donough, beloved father of polo powerhouses Pablo and Matias Mac Donough passed away on Saturday 24 March aged 73 following an accident during a playing practice at Centauros in Argentina. Despite valiant attempts by the paramedics to revive him, Jorge died on the way to the General Rodriguez Clinic.
Jorge was a vet, polo player, Director of the AACCP and horse breeder, renowned across the world, and also owned La Irenita. During his polo career, he reached 4 goals and alongside polo considered flying as a great passion. He leaves behind his wife Mercedes Arriola and their three children, Pablo, Matias and Sofía, as well as his beloved grandchildren. Across Argentina, a minute's silence will take place at all polo matches to honour his memory.
Photograph: Jorge Mac Donough passed away in a polo related accident on Saturday 24 March. By ©www.imagesofpolo.com

Other top stories

Fri 21st Sep 2018
End of Season Handicap Changes
HPA releases handicap list
Thu 20th Sep 2018
The 54th Jockey Club Open
Second Semi Final cancelled
Tue 18th Sep 2018
Sainte Mesme Secure The Paprec French Open
Play ends in the French high goal
Fri 14th Sep 2018
The 54th Jockey Club Open Commences
La Dolfina Valiente, La Dolfina Brava I, Las Monjitas and Pilará Etiqueta Negra lead the table
Tue 11th Sep 2018
East Coast Open Finale
Tradition continues for the Brant Family with victory
Mon 10th Sep 2018
Argentine Update
The 51st Abierto de San Jorge ends

Fri 7th Sep 2018
AAP Rules Change Trial
Four new rules to be tested at The San Jorge and Jockey Club Opens

Thu 6th Sep 2018
Passport Regulation Changes
Update from the HPA

Thu 6th Sep 2018
Argentine Spring Season Begins
Duke of Edinburgh Trophy finalists decided

Wed 5th Sep 2018
Polo Times is Out Now!
September Issue of Polo Times

Tue 4th Sep 2018
The Guards Ladies' Charity Tournament for the Lord Patrick Beresford Trophy
The ladies out in force for Breast Cancer Haven Charity
Mon 3rd Sep 2018
Sotogrande wins for La Indiana, Ayala & Sotoisla
47th International Polo Tournament Ends
Fri 31st Aug 2018
Sotogrande Update
Finalists for Gold Cups set across low, medium & high goal
Tue 28th Aug 2018
Sotogrande Semi Finals Set
Action continues across low, medium and high goal at Santa María Polo Club