Mon 26th Mar 2018
Jorge Mac Donough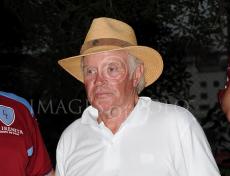 Beloved father of Pablo, Matias and Sofía Mac Donough passes away

Jorge Mac Donough, beloved father of polo powerhouses Pablo and Matias Mac Donough passed away on Saturday 24 March aged 73 following an accident during a playing practice at Centauros in Argentina. Despite valiant attempts by the paramedics to revive him, Jorge died on the way to the General Rodriguez Clinic.
Jorge was a vet, polo player, Director of the AACCP and horse breeder, renowned across the world, and also owned La Irenita. During his polo career, he reached 4 goals and alongside polo considered flying as a great passion. He leaves behind his wife Mercedes Arriola and their three children, Pablo, Matias and Sofía, as well as his beloved grandchildren. Across Argentina, a minute's silence will take place at all polo matches to honour his memory.
Photograph: Jorge Mac Donough passed away in a polo related accident on Saturday 24 March. By ©www.imagesofpolo.com

Other top stories
Thu 19th Jul 2018
King Power Gold Cup Finalists
El Remanso & La Bamba de Areco reach the Final

Wed 18th Jul 2018
New Era For SATS
George Amor to take over from Tony Emerson
Mon 16th Jul 2018
Argentine Triple Crown
2018 Dates Announced
Sun 15th Jul 2018
King Power Gold Cup Semi Finals Decided
La Indiana, La Bamba, El Remanso & RH Polo through
Fri 13th Jul 2018
Quarter Finalists Decided
King Power Gold Cup Update
Thu 12th Jul 2018
Junior Westchester England Team Announced
HPA selection confirmed
Mon 9th Jul 2018
Hope for Polo?
Argentine Polo Players Association Meeting

Thu 5th Jul 2018
The Westchester Cup Launches
Polo Times, The Polo Magazine and British Polo Gin to Partner with The Westchester Cup

Sat 30th Jun 2018
Polo Times Out This Week!
July Issue of Polo Times
Fri 29th Jun 2018
Letter Received from The Argentine Association of Polo Players
Meeting scheduled to take place on Friday 6 July
Wed 27th Jun 2018
Flannels England Team Announced
The Westchester Cup

Tue 26th Jun 2018
Flannels England Lift the Trophy at Cirencester
The Kings Head Hotel Ladies International
Mon 25th Jun 2018
The OUT-SOURCING! Inc Royal Windsor Cup
La Dolfina breaks records

Mon 25th Jun 2018
Monterosso Triumph in The Warwickshire Cup
Cirencester Welcomes Thousands