Sat 2nd Dec 2017
HPA National Club Championships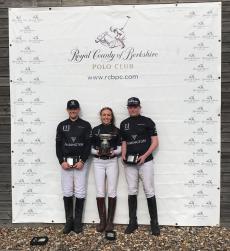 Final weekend of the 3 & 12 Goal

This weekend sees a hive of activity at the Royal County of Berkshire Polo Club (RCBPC). After 10 days of strong competition, today sees the Semi Finals of both the 3 goal and 12 goal HPA National Club Championships with the Finals falling tomorrow.
This tournament is the first of the HPA arena tournaments to take place this winter season and has received a healthy entry of teams in both categories; seven teams have entered the 3 goal, whilst four have entered the 12 goal.
Polo Times
will be on hand for subscriptions, updates and to award two lucky winners with the Best Playing Pony rugs for each of the categories.
The Polo Magazine
Most Valuable Player award will also be presented to two lucky winners. A report will feature in the next issue of
Polo Times
, out soon. Subscribe
here
now or purchase a subscription as the perfect Christmas gift.

Other top stories
Thu 19th Jul 2018
King Power Gold Cup Finalists
El Remanso & La Bamba de Areco reach the Final

Wed 18th Jul 2018
New Era For SATS
George Amor to take over from Tony Emerson
Mon 16th Jul 2018
Argentine Triple Crown
2018 Dates Announced
Sun 15th Jul 2018
King Power Gold Cup Semi Finals Decided
La Indiana, La Bamba, El Remanso & RH Polo through
Fri 13th Jul 2018
Quarter Finalists Decided
King Power Gold Cup Update
Thu 12th Jul 2018
Junior Westchester England Team Announced
HPA selection confirmed
Mon 9th Jul 2018
Hope for Polo?
Argentine Polo Players Association Meeting

Thu 5th Jul 2018
The Westchester Cup Launches
Polo Times, The Polo Magazine and British Polo Gin to Partner with The Westchester Cup

Sat 30th Jun 2018
Polo Times Out This Week!
July Issue of Polo Times
Fri 29th Jun 2018
Letter Received from The Argentine Association of Polo Players
Meeting scheduled to take place on Friday 6 July
Wed 27th Jun 2018
Flannels England Team Announced
The Westchester Cup

Tue 26th Jun 2018
Flannels England Lift the Trophy at Cirencester
The Kings Head Hotel Ladies International
Mon 25th Jun 2018
The OUT-SOURCING! Inc Royal Windsor Cup
La Dolfina breaks records

Mon 25th Jun 2018
Monterosso Triumph in The Warwickshire Cup
Cirencester Welcomes Thousands