Sat 2nd Dec 2017
HPA National Club Championships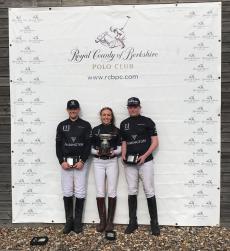 Final weekend of the 3 & 12 Goal

This weekend sees a hive of activity at the Royal County of Berkshire Polo Club (RCBPC). After 10 days of strong competition, today sees the Semi Finals of both the 3 goal and 12 goal HPA National Club Championships with the Finals falling tomorrow.
This tournament is the first of the HPA arena tournaments to take place this winter season and has received a healthy entry of teams in both categories; seven teams have entered the 3 goal, whilst four have entered the 12 goal.
Polo Times
will be on hand for subscriptions, updates and to award two lucky winners with the Best Playing Pony rugs for each of the categories.
The Polo Magazine
Most Valuable Player award will also be presented to two lucky winners. A report will feature in the next issue of
Polo Times
, out soon. Subscribe
here
now or purchase a subscription as the perfect Christmas gift.

Other top stories

Mon 15th Oct 2018
Hurlingham Open Underway
Few surprises in the league stages
Tue 9th Oct 2018
La Dolfina Secure First 2018 Title
The Tortugas Open Final

Thu 4th Oct 2018
2018 End of Season Ladies' Handicaps
HPA announce changes

Tue 2nd Oct 2018
HPA Response to Handicap Changes
Information released by HPA
Mon 1st Oct 2018
FIP Ladies European Polo Championship
Germany defeat Italy to win title

Mon 1st Oct 2018
Italy Triumph at FIP European Championships
2018 FIP European Championships come to an end

Thu 27th Sep 2018
Tortugas Open and Argentine Youth Open
Argentine Update
Wed 26th Sep 2018
October Issue of Polo Times Out This Week
Addressing the handicap rumours
Tue 25th Sep 2018
FIP European Championships Underway
Italy, Azerbaijan and Ireland off to a flying start

Fri 21st Sep 2018
End of Season Handicap Changes
HPA releases handicap list
Thu 20th Sep 2018
The 54th Jockey Club Open
Second Semi Final cancelled
Tue 18th Sep 2018
Sainte Mesme Secure The Paprec French Open
Play ends in the French high goal