Sat 2nd Dec 2017
HPA National Club Championships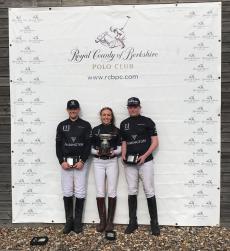 Final weekend of the 3 & 12 Goal

This weekend sees a hive of activity at the Royal County of Berkshire Polo Club (RCBPC). After 10 days of strong competition, today sees the Semi Finals of both the 3 goal and 12 goal HPA National Club Championships with the Finals falling tomorrow.
This tournament is the first of the HPA arena tournaments to take place this winter season and has received a healthy entry of teams in both categories; seven teams have entered the 3 goal, whilst four have entered the 12 goal.
Polo Times
will be on hand for subscriptions, updates and to award two lucky winners with the Best Playing Pony rugs for each of the categories.
The Polo Magazine
Most Valuable Player award will also be presented to two lucky winners. A report will feature in the next issue of
Polo Times
, out soon. Subscribe
here
now or purchase a subscription as the perfect Christmas gift.

Other top stories
Fri 15th Dec 2017
16th Bendura Bank Snow Polo World Cup Kitzbühel 2018
Better than ever!

Thu 14th Dec 2017
Visa Update from the HPA
Letter received on 14 December

Tue 12th Dec 2017
Magdala Claim First APP-APPL Tournament
APPL Rules in Force

Fri 8th Dec 2017
Polo Times is Out Next Week!
December/January issue of Polo Times

Wed 6th Dec 2017
Youth Wins the Day
Young, Dumb & Broke and Regal Warriors win at RCBPC
Mon 4th Dec 2017
La Dolfina Brava Win the First Women's Argentine Open
Clarkin, Cambiaso and the Araujos are a winning combination

Mon 4th Dec 2017
La Dolfina Secures a Fifth Argentine Open Victory
Nail-biting 14-13 win for Cambiaso's team
Sat 2nd Dec 2017
HPA National Club Championships
Final weekend of the 3 & 12 Goal
Fri 1st Dec 2017
124th Argentine Open Finals Await
High goal action-filled weekend to come
Thu 30th Nov 2017
Bastian Fernandez Appeal Launched
Polo Community asked to donate to the Basti Fund
Wed 29th Nov 2017
Women's Argentine Open
La Dolfina Brava and Ellerstina into the Final

Tue 28th Nov 2017
Copa Cámara de Diputados
Chapaleufú and Pilarchico La Ensenada to play in the Final
Mon 27th Nov 2017
124th Argentine Open HSBC Polo Championship Update
News from Palermo
Fri 24th Nov 2017
HPA National Club Championships 1-3 Goal
Schedule and Teams Announced
Thu 23rd Nov 2017
Women's Argentine Open
Historic tournament is underway

Tue 21st Nov 2017
Cambiaso's 100th Argentine Open Match
Busy weekend of big scores in Argentine Open