Sat 2nd Dec 2017
HPA National Club Championships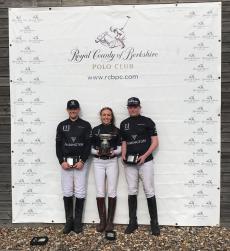 Final weekend of the 3 & 12 Goal

This weekend sees a hive of activity at the Royal County of Berkshire Polo Club (RCBPC). After 10 days of strong competition, today sees the Semi Finals of both the 3 goal and 12 goal HPA National Club Championships with the Finals falling tomorrow.
This tournament is the first of the HPA arena tournaments to take place this winter season and has received a healthy entry of teams in both categories; seven teams have entered the 3 goal, whilst four have entered the 12 goal.
Polo Times
will be on hand for subscriptions, updates and to award two lucky winners with the Best Playing Pony rugs for each of the categories.
The Polo Magazine
Most Valuable Player award will also be presented to two lucky winners. A report will feature in the next issue of
Polo Times
, out soon. Subscribe
here
now or purchase a subscription as the perfect Christmas gift.

Other top stories
Mon 19th Mar 2018
Argentex Habtoor UAE Reign Triumphant in Dubai
Flannels England miss out

Fri 16th Mar 2018
Iglehart Cup Final
Pilot make a strong comeback
Thu 15th Mar 2018
2018 San Eugenio Ladiesí Cup
Six teams are confirmed

Mon 12th Mar 2018
Julius BaŽr Gold Cup 2018
Bin Drai win the title
Thu 8th Mar 2018
Queen's Cup Pink Polo
La Familia take home the glory

Tue 6th Mar 2018
Major Iain Forbes-Cockell
We announce his passing

Mon 5th Mar 2018
Flannels England lifts the trophy high
HPA International Test Match for the Bryan Morrison Trophy
Thu 1st Mar 2018
Hurlingham Polo Association International Test Match for the Bryan Morrison Trophy
Venue and Time Change
Wed 28th Feb 2018
The 13th Annual Polo Awards 2018
Tickets are now on sale

Tue 27th Feb 2018
Ylvisaker Cup Final
Valiente seal the deal
Mon 26th Feb 2018
Arena Gold Cup Final
SAPA MHF Docklands and Glitterati Polo take home the crown

Fri 23rd Feb 2018
Polo Times is Out Now!
March issue of Polo Times
Wed 21st Feb 2018
2018 Arena Gold Cup Update
Regal Warriors, Ojo Caliente, SAPA Docklands Polo & HB Polo through to the Semi Finals