Wed 25th Oct 2017
Argentina Move Closer Towards the Final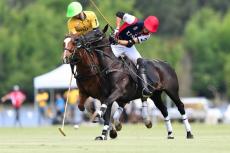 XI FIP World Polo Championship

Yesterday, Tuesday 24 October saw the next stage of the Zone A qualifying matches. Argentina took to the field against Spain for the first match of the day. Even though Spain started the match with fervour, scoring the first goal of the match and already counting a one and a half goal handicap advantage, Argentina proved to be too strong for the European team. They controlled the match from the first chukka onwards, having taken mere minutes to adjust to the pace of play. Argentina closed the game 12-2, securing their spot in the next round of the Championships.
In the second, and by far the longest match, of the day, the USA came up against the Australian home team in a two-hour marathon. The match began on a very even keel with steady play from both sides, but as the match progressed the USA's superiority began to show and they ultimately beat Australia 7-5.
Play begins today for the Zone B qualifiers.
The XI FIP World Championship Teams:
Zone A
Australia: Jack Archibald, Alec White, Jacob Daniels, Daniel O'Leary, Jack Kiely, James Lester, Lachlan Gilmore, George Hill & Alexander Barnet
Spain: Pelayo Barazadi, Mario Gòmez, Antonio Ayesa, José Trénor, Jaime Serra & Ricardo Trujillo
Argentina: Tomás Panelo, Valentín Novillo Astrada, Ivan Maldonado, Ignacio Bello, Hector Guerrero, Lucio Fernandez Ocampo, Estanislao Grahn & Gernonimo Fanello
USA: Jesse Bray, Felipe Viana, Daniel Galindo, Kenneth Wright, Matías Gonzálex, Cari Scherer, Carlos Arellano II & Wesley Finalyson
Photograph: The USA beat Australia in a whopping two-hour match. By Marcos Cerdeira

Other top stories
Fri 19th Jan 2018
2018 Thai Polo Open
Semi Final Action
Tue 16th Jan 2018
2018 Snow Polo World Cup St. Moritz
The draw has been announced
Mon 15th Jan 2018
HPA Visa Update
Polo is granted an extension to the 2017 concessions
Sun 14th Jan 2018
16th Bendura Bank Snow Polo World Cup Kitzbühel
Bendura Bank play the game of a lifetime to take home the win
Sat 13th Jan 2018
16th Bendura Bank Snow Polo World Cup Kitzbühel
Finalists decided in second day of competition
Fri 12th Jan 2018
16th Bendura Bank Snow Polo World Cup Kitzbühel
Sun shines on the first day of matches in Kitzbühel
Thu 11th Jan 2018
16th Bendura Bank Snow Polo World Cup Kitzbühel
Team Presentation and Draw

Thu 11th Jan 2018
What's On
The best polo events
Wed 10th Jan 2018
USA Update
News from across the pond
Tue 9th Jan 2018
2018 Helmet Regulation Change
New rules are in force now!
Mon 8th Jan 2018
2018 Beach Polo World Cup Miami
La Martina take home the glory in the Sunshine State

Mon 1st Jan 2018
Happy New Year
2018 Begins!

Mon 25th Dec 2017
Merry Christmas!
From everyone at Polo Times