Thu 12th Oct 2017
Polo Times Is Out Next Week!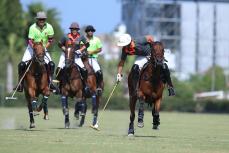 November issue of Polo Times

The November issue of Polo Times, full of exciting polo news will be with you next week. The Argentine polo season is well and truly underway with the world's top players jetting in to sample the high goal delights. This month Polo Times takes an in-depth look at the Argentine season and the players our avid readers should keep an eye on. What's more with the festive season on the horizon, our Christmas Gift Guide will put you at the top of the nice list of all your nearest and dearest. As usual, the latest issue to arrive on your doorstep will be jam-packed full of polo news, reports and stories including:
Cover Stories:
Christmas Gift Guide – The perfect gifts for everyone
Triple Crown Guide – What's the word in Argentina?
The Tortugas Open
Plus:
FIP Focus: World Cup Warm-Up
Victor Ludorum Round-Up
Big Picture
Charity Focus: Ebony Horse Club
Regulars:
All our traditional Club, Women's (including 5 minutes with Olivia Clowes), Military and Youth news from both home and abroad, as well as Bit Focus, Fitness For Polo, Playing Tips with Rege Ludwig, Letters, Polodoc and Sidelines. Plus, we speak to the winners of Polo Times' Best Playing Pony rug awards to find out more about their winning ponies. Last but by no means least is our Sidelines coverage of social events from across the country, social news in our Gossip pages and we find out more about Armis Snake Bite leader, Max Kirchhoff in Passions. And, don't forget to turn to our What's On pages to find out where you need to be this November.
If you are not already a subscriber or wish to gift a subscription to friends or family, click
here
to subscribe or call us on 01452 730770.
Photograph: It's all about Argentina in the November issue of Polo Times. By Pablo Ramirez

Other top stories
Mon 19th Mar 2018
Argentex Habtoor UAE Reign Triumphant in Dubai
Flannels England miss out

Fri 16th Mar 2018
Iglehart Cup Final
Pilot make a strong comeback
Thu 15th Mar 2018
2018 San Eugenio Ladiesí Cup
Six teams are confirmed

Mon 12th Mar 2018
Julius BaŽr Gold Cup 2018
Bin Drai win the title
Thu 8th Mar 2018
Queen's Cup Pink Polo
La Familia take home the glory

Tue 6th Mar 2018
Major Iain Forbes-Cockell
We announce his passing

Mon 5th Mar 2018
Flannels England lifts the trophy high
HPA International Test Match for the Bryan Morrison Trophy
Thu 1st Mar 2018
Hurlingham Polo Association International Test Match for the Bryan Morrison Trophy
Venue and Time Change
Wed 28th Feb 2018
The 13th Annual Polo Awards 2018
Tickets are now on sale

Tue 27th Feb 2018
Ylvisaker Cup Final
Valiente seal the deal
Mon 26th Feb 2018
Arena Gold Cup Final
SAPA MHF Docklands and Glitterati Polo take home the crown

Fri 23rd Feb 2018
Polo Times is Out Now!
March issue of Polo Times
Wed 21st Feb 2018
2018 Arena Gold Cup Update
Regal Warriors, Ojo Caliente, SAPA Docklands Polo & HB Polo through to the Semi Finals