Thu 12th Oct 2017
Polo Times Is Out Next Week!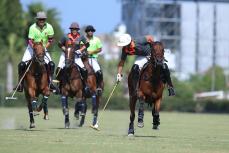 November issue of Polo Times

The November issue of Polo Times, full of exciting polo news will be with you next week. The Argentine polo season is well and truly underway with the world's top players jetting in to sample the high goal delights. This month Polo Times takes an in-depth look at the Argentine season and the players our avid readers should keep an eye on. What's more with the festive season on the horizon, our Christmas Gift Guide will put you at the top of the nice list of all your nearest and dearest. As usual, the latest issue to arrive on your doorstep will be jam-packed full of polo news, reports and stories including:
Cover Stories:
Christmas Gift Guide – The perfect gifts for everyone
Triple Crown Guide – What's the word in Argentina?
The Tortugas Open
Plus:
FIP Focus: World Cup Warm-Up
Victor Ludorum Round-Up
Big Picture
Charity Focus: Ebony Horse Club
Regulars:
All our traditional Club, Women's (including 5 minutes with Olivia Clowes), Military and Youth news from both home and abroad, as well as Bit Focus, Fitness For Polo, Playing Tips with Rege Ludwig, Letters, Polodoc and Sidelines. Plus, we speak to the winners of Polo Times' Best Playing Pony rug awards to find out more about their winning ponies. Last but by no means least is our Sidelines coverage of social events from across the country, social news in our Gossip pages and we find out more about Armis Snake Bite leader, Max Kirchhoff in Passions. And, don't forget to turn to our What's On pages to find out where you need to be this November.
If you are not already a subscriber or wish to gift a subscription to friends or family, click
here
to subscribe or call us on 01452 730770.
Photograph: It's all about Argentina in the November issue of Polo Times. By Pablo Ramirez

Other top stories
Thu 19th Jul 2018
King Power Gold Cup Finalists
El Remanso & La Bamba de Areco reach the Final

Wed 18th Jul 2018
New Era For SATS
George Amor to take over from Tony Emerson
Mon 16th Jul 2018
Argentine Triple Crown
2018 Dates Announced
Sun 15th Jul 2018
King Power Gold Cup Semi Finals Decided
La Indiana, La Bamba, El Remanso & RH Polo through
Fri 13th Jul 2018
Quarter Finalists Decided
King Power Gold Cup Update
Thu 12th Jul 2018
Junior Westchester England Team Announced
HPA selection confirmed
Mon 9th Jul 2018
Hope for Polo?
Argentine Polo Players Association Meeting

Thu 5th Jul 2018
The Westchester Cup Launches
Polo Times, The Polo Magazine and British Polo Gin to Partner with The Westchester Cup

Sat 30th Jun 2018
Polo Times Out This Week!
July Issue of Polo Times
Fri 29th Jun 2018
Letter Received from The Argentine Association of Polo Players
Meeting scheduled to take place on Friday 6 July
Wed 27th Jun 2018
Flannels England Team Announced
The Westchester Cup

Tue 26th Jun 2018
Flannels England Lift the Trophy at Cirencester
The Kings Head Hotel Ladies International
Mon 25th Jun 2018
The OUT-SOURCING! Inc Royal Windsor Cup
La Dolfina breaks records

Mon 25th Jun 2018
Monterosso Triumph in The Warwickshire Cup
Cirencester Welcomes Thousands