Wed 21st Aug 2013
Gstaad Palace triumphs in Hublot Gold Cup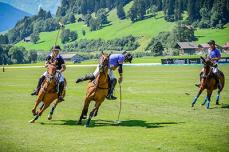 Eduardo Menendez scores the winning goal for Gstaad Palace

THE ANNUAL HUBLOT Polo Gold Cup at Gstaad, Switzerland concluded with victory for Gstaad Palace.

The team of Gualtiero Giori, Riccardo Tattoni, Eduardo Menendez and Santi Cernadas won both of their qualifying matches to book their place against Hublot – Daniel Aegerter, Francisco and Gonzalo Fucci and Salvatore Jauretche – in the final. Gstaad Palace took an early lead, but Hublot fought back and it wasn't until the final 30 seconds that Menendez found the posts for Gstaad Palace to secure the 8-7 win.

Four teams took part in the 14-goal tournament, with the Banque Baring Brothers Sturdza SA team beating Star Design 7-6 in the subsidiary final.
To view a full list of teams and results please click here.

Photograph: Action from the 2013 Hublot Gold Cup in Gstaad. Courtesy of Hublot Polo Gold Cup Gstaad/ Christian Pfahl.

Other top stories

Fri 29th Jul 2016
The Polo Magazine Out Now!
Subscribe to get your hands on a copy
Wed 27th Jul 2016
Join our editorial team (Full or Part Time)
Working on Polo Times and The Polo Magazine
Mon 25th Jul 2016
The Commonwealth Claim The Royal Salute Coronation Cup
A Trio of Games to Celebrate Coronation Cup Day

Thu 21st Jul 2016
Buckmaster Final Decided
Junior HPA Championships Feature in International Schedule
Tue 19th Jul 2016
Keep it cool
Polo Timesí top tips for hot horses

Tue 19th Jul 2016
High Goal Handicaps
Juan Martin Nero Goes to Ten
Mon 18th Jul 2016
King Power Foxes Retain Jaeger-LeCoultre Gold Cup
British High Goal Season Closes with an Incredible Game
Mon 18th Jul 2016
Cowdray Vikings Conquer Cowdray
Home Team Storm to Victory in the British Ladiesí Championships

Fri 15th Jul 2016
Junior HPA Championships Begin
17 Teams Across Buckmaster, Hipwood & Rocksavage

Thu 14th Jul 2016
King Power Foxes & La Indiana
Who Will Win The Jaeger-LeCoultre Gold Cup?
Tue 12th Jul 2016
Going for Gold Days 15 & 16
Semi Finals Set After a Weekend of Quarter Finals

Mon 11th Jul 2016
Teams Announced for Royal Salute Coronation Cup
England and Commonwealth Line-ups Revealed
Fri 8th Jul 2016
RoRís Ready to Rock
RoRís Silent and Live Auction Now Open for Bidding Appealing Polo Lots are Available

Thu 7th Jul 2016
Going for Gold Days 12, 13 & 14
A Round-Up of the Weekís Jaeger-LeCoultre Gold Cup Action
Wed 6th Jul 2016
Eduardo Moore Semi Finals
Victor Ludorum Tournaments Advance
Mon 4th Jul 2016
Going for Gold Days 10 & 11
A Weekend of Wins for HB Polo, King Power Foxes, Britannia El Remanso & La Indiana
Mon 4th Jul 2016
Kids Polo Tour Concludes
40 Future Stars Hosted by Dubai
Fri 1st Jul 2016
Going for Gold Day 9
Wins for Valiente and Talandracas
Fri 1st Jul 2016
British Beach Polo Championships
The Final Countdown to Sandpolo Begins

Fri 1st Jul 2016
More Matches, More Action
The Argentine Association of Polo (AAP) has Announced Changes in the Format of the Argentine Open