Wed 21st Aug 2013
Gstaad Palace triumphs in Hublot Gold Cup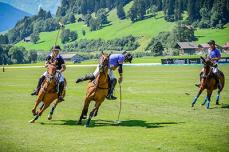 Eduardo Menendez scores the winning goal for Gstaad Palace

THE ANNUAL HUBLOT Polo Gold Cup at Gstaad, Switzerland concluded with victory for Gstaad Palace.

The team of Gualtiero Giori, Riccardo Tattoni, Eduardo Menendez and Santi Cernadas won both of their qualifying matches to book their place against Hublot – Daniel Aegerter, Francisco and Gonzalo Fucci and Salvatore Jauretche – in the final. Gstaad Palace took an early lead, but Hublot fought back and it wasn't until the final 30 seconds that Menendez found the posts for Gstaad Palace to secure the 8-7 win.

Four teams took part in the 14-goal tournament, with the Banque Baring Brothers Sturdza SA team beating Star Design 7-6 in the subsidiary final.
To view a full list of teams and results please click here.

Photograph: Action from the 2013 Hublot Gold Cup in Gstaad. Courtesy of Hublot Polo Gold Cup Gstaad/ Christian Pfahl.

Other top stories
Wed 29th Jul 2015
e3Light Team New York win The Scandinavian Beach Polo World Cup
Six different countries participated in the Danish Riviera
Tue 28th Jul 2015
Cedar Croft wins its third consecutive US Arena Open
Country Farms Polo Club, Long Island, New York hosted the match
Mon 27th Jul 2015
POLOLIVE TV launched with first live stream
Polo Times showed the Royal Salute Coronation Cup live
Mon 27th Jul 2015
England remain unbeaten in International series
England defeats South America for The Royal Salute Coronation Cup
Fri 24th Jul 2015
Live drone-shot footage of the Coronation Cup
Polo Times is delighted to announce that it has commissioned PoloCam to provide live drone-shot footage for the 2015 Royal Salute Coronation Cup tomorrow, with additional match analysis from Charlie Froggatt.
Thu 23rd Jul 2015
Watch The 2015 Royal Salute Coronation Cup with POLOLIVE TV
A brand new polo watching experience has been announced today
Thu 23rd Jul 2015
Tempest and Black Bears Finalists
How To Spend It British 10 Goal Championship
Mon 20th Jul 2015
King Power Foxes reign champions
The Jaeger-LeCoultre Gold Cup Final at Cowdray Park Polo Club

Sat 18th Jul 2015
Come and visit Polo Times at The Jaeger-LeCoultre Gold Cup Final
Subscribe and be in with a chance to win a Falcon polo helmet
Thu 16th Jul 2015
The Foxes to take on Maitha's Men
King Power Foxes and UAE Polo Team reach the Final of The Jaeger-LeCoultre Gold Cup
Tue 14th Jul 2015
La Martina British Ladies' Championships underway
Six teams take to the fields in the 12-18 goal tournament
Mon 13th Jul 2015
Semi Finalists decided in The Jaeger-LeCoultre Gold Cup
UAE, Apes Hill, Zacara and King Power Foxes all qualify
Fri 10th Jul 2015
What is on this weekend?
Plenty of picnic, playing and partying options
Thu 9th Jul 2015
Ragwort rears its ugly head
Now is the time to tackle this silent killer before the flowers seed
Thu 9th Jul 2015
Quarter Finalists almost decided in The Jaeger-LeCoultre Gold Cup
HB Polo, King Power and Salkeld face a penalty shootout for the remaining place
Wed 8th Jul 2015
The South American team has been announced for The Royal Salute Coronation Cup
Line-up to feature players from Argentina, Brazil and Chile
Mon 6th Jul 2015
A Golden Weekend
Updates from The Jaeger-LeCoultre Gold Cup
Mon 6th Jul 2015
RoR Racing to Polo Challenge
RoR will be holding its Racing to Polo Challenge at The Royal County of Berkshire Polo Club on Monday 7 September
Mon 6th Jul 2015
The Pony Club and British Junior Polo Championships set to start
Dates and venues for this year's Youth tournaments
Fri 3rd Jul 2015
Close matches in The Jaeger-LeCoultre Gold Cup
Zacara and El Remanso win after exciting play