Wed 21st Aug 2013
Gstaad Palace triumphs in Hublot Gold Cup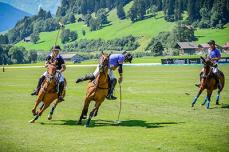 Eduardo Menendez scores the winning goal for Gstaad Palace

THE ANNUAL HUBLOT Polo Gold Cup at Gstaad, Switzerland concluded with victory for Gstaad Palace.

The team of Gualtiero Giori, Riccardo Tattoni, Eduardo Menendez and Santi Cernadas won both of their qualifying matches to book their place against Hublot – Daniel Aegerter, Francisco and Gonzalo Fucci and Salvatore Jauretche – in the final. Gstaad Palace took an early lead, but Hublot fought back and it wasn't until the final 30 seconds that Menendez found the posts for Gstaad Palace to secure the 8-7 win.

Four teams took part in the 14-goal tournament, with the Banque Baring Brothers Sturdza SA team beating Star Design 7-6 in the subsidiary final.
To view a full list of teams and results please click here.

Photograph: Action from the 2013 Hublot Gold Cup in Gstaad. Courtesy of Hublot Polo Gold Cup Gstaad/ Christian Pfahl.

Other top stories
Wed 26th Apr 2017
US Open Championship
Valiente take the US crown from Orchard Hill
Tue 25th Apr 2017
St Andrews Charity Tournament
Royal Scots Dragoons Victorious Against St Andrews University
Mon 24th Apr 2017
New Addition to UK Club List
Moor Farm Polo Club Opens
Thu 20th Apr 2017
US Open Finalists Decided
Rematch of 2015 Final
Wed 19th Apr 2017
$100,000 World Cup Final
Palm Beach Illustrated Win at Grand Champions
Wed 12th Apr 2017
Brooke's MyHackathon
Riding for a cause

Tue 11th Apr 2017
US Open Action Hots Up
Orchard Hill, Valiente and Flexjet Secure Wins

Mon 10th Apr 2017
UK High Goal Update
Line-ups for 22 Goal Season
Tue 4th Apr 2017
Travieso Rally to Victory
Molina Cup Runs into Overtime Thriller

Mon 3rd Apr 2017
Butler Handicap Final
Coca Cola Wins as 26 Goal Action Continues Stateside

Wed 29th Mar 2017
Dubai Challenge Cup
Finalists Decided

Tue 28th Mar 2017
SUPA Tri-Nations
England Triumph
Mon 27th Mar 2017
Victorious Valiente
USPA Gold Cup Win for Tournament Favourites