Wed 21st Aug 2013
Gstaad Palace triumphs in Hublot Gold Cup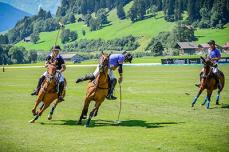 Eduardo Menendez scores the winning goal for Gstaad Palace

THE ANNUAL HUBLOT Polo Gold Cup at Gstaad, Switzerland concluded with victory for Gstaad Palace.

The team of Gualtiero Giori, Riccardo Tattoni, Eduardo Menendez and Santi Cernadas won both of their qualifying matches to book their place against Hublot – Daniel Aegerter, Francisco and Gonzalo Fucci and Salvatore Jauretche – in the final. Gstaad Palace took an early lead, but Hublot fought back and it wasn't until the final 30 seconds that Menendez found the posts for Gstaad Palace to secure the 8-7 win.

Four teams took part in the 14-goal tournament, with the Banque Baring Brothers Sturdza SA team beating Star Design 7-6 in the subsidiary final.
To view a full list of teams and results please click here.

Photograph: Action from the 2013 Hublot Gold Cup in Gstaad. Courtesy of Hublot Polo Gold Cup Gstaad/ Christian Pfahl.

Other top stories

Tue 24th Oct 2017
Hurlingham Open Finalists Decided
Unexpected results in the Semi Finals
Mon 23rd Oct 2017
XI FIP World Championships
Argentina, Australia, England and Chile secure their first victories

Fri 20th Oct 2017
What's On This Week and Looking Further Ahead
Polo near you

Thu 19th Oct 2017
VIII Ladies Circuit Championship
Centauros La Aventura and La Varzea claim titles

Wed 18th Oct 2017
The Hurlingham Open Final Gets Closer
La Albertina and La Dolfina Polo Ranch progress through
Tue 17th Oct 2017
VIII Copa Novillitos
14 childrens team gather at La Aguada Polo Club

Mon 16th Oct 2017
Argentine Update
Hurlingham's third day of play

Thu 12th Oct 2017
Polo Times Is Out Next Week!
November issue of Polo Times

Wed 11th Oct 2017
The Hurlingham Action Continues
Strong starts for La Dolfina, Ellerstina, La Aguada Las Monjitas and Alegría

Mon 9th Oct 2017
La Dolfina Win Again
It's five years on the trot the 40 goal giants

Sat 7th Oct 2017
All Pro Polo League Make History
World's eight 10 goalers to compete

Fri 6th Oct 2017
The Hurlingham Open 2017
The tournament begins today

Thu 5th Oct 2017
Tortugas Final
Ellerstina to play La Dolfina at Palermo
Mon 2nd Oct 2017
Visa Update
Letter from AAP to FIP

Fri 29th Sep 2017
FIP XI World Championships
The teams have been announced

Mon 25th Sep 2017
Argentine Update
Tortugas Open & Torneo Remonta y Veterinaria