Wed 21st Aug 2013
Gstaad Palace triumphs in Hublot Gold Cup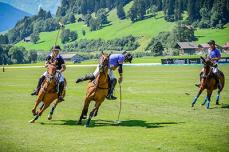 Eduardo Menendez scores the winning goal for Gstaad Palace

THE ANNUAL HUBLOT Polo Gold Cup at Gstaad, Switzerland concluded with victory for Gstaad Palace.

The team of Gualtiero Giori, Riccardo Tattoni, Eduardo Menendez and Santi Cernadas won both of their qualifying matches to book their place against Hublot – Daniel Aegerter, Francisco and Gonzalo Fucci and Salvatore Jauretche – in the final. Gstaad Palace took an early lead, but Hublot fought back and it wasn't until the final 30 seconds that Menendez found the posts for Gstaad Palace to secure the 8-7 win.

Four teams took part in the 14-goal tournament, with the Banque Baring Brothers Sturdza SA team beating Star Design 7-6 in the subsidiary final.
To view a full list of teams and results please click here.

Photograph: Action from the 2013 Hublot Gold Cup in Gstaad. Courtesy of Hublot Polo Gold Cup Gstaad/ Christian Pfahl.

Other top stories
Mon 19th Mar 2018
Argentex Habtoor UAE Reign Triumphant in Dubai
Flannels England miss out

Fri 16th Mar 2018
Iglehart Cup Final
Pilot make a strong comeback
Thu 15th Mar 2018
2018 San Eugenio Ladiesí Cup
Six teams are confirmed

Mon 12th Mar 2018
Julius BaŽr Gold Cup 2018
Bin Drai win the title
Thu 8th Mar 2018
Queen's Cup Pink Polo
La Familia take home the glory

Tue 6th Mar 2018
Major Iain Forbes-Cockell
We announce his passing

Mon 5th Mar 2018
Flannels England lifts the trophy high
HPA International Test Match for the Bryan Morrison Trophy
Thu 1st Mar 2018
Hurlingham Polo Association International Test Match for the Bryan Morrison Trophy
Venue and Time Change
Wed 28th Feb 2018
The 13th Annual Polo Awards 2018
Tickets are now on sale

Tue 27th Feb 2018
Ylvisaker Cup Final
Valiente seal the deal
Mon 26th Feb 2018
Arena Gold Cup Final
SAPA MHF Docklands and Glitterati Polo take home the crown

Fri 23rd Feb 2018
Polo Times is Out Now!
March issue of Polo Times
Wed 21st Feb 2018
2018 Arena Gold Cup Update
Regal Warriors, Ojo Caliente, SAPA Docklands Polo & HB Polo through to the Semi Finals