Wed 21st Aug 2013
Gstaad Palace triumphs in Hublot Gold Cup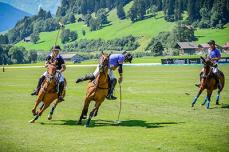 Eduardo Menendez scores the winning goal for Gstaad Palace

THE ANNUAL HUBLOT Polo Gold Cup at Gstaad, Switzerland concluded with victory for Gstaad Palace.

The team of Gualtiero Giori, Riccardo Tattoni, Eduardo Menendez and Santi Cernadas won both of their qualifying matches to book their place against Hublot – Daniel Aegerter, Francisco and Gonzalo Fucci and Salvatore Jauretche – in the final. Gstaad Palace took an early lead, but Hublot fought back and it wasn't until the final 30 seconds that Menendez found the posts for Gstaad Palace to secure the 8-7 win.

Four teams took part in the 14-goal tournament, with the Banque Baring Brothers Sturdza SA team beating Star Design 7-6 in the subsidiary final.
To view a full list of teams and results please click here.

Photograph: Action from the 2013 Hublot Gold Cup in Gstaad. Courtesy of Hublot Polo Gold Cup Gstaad/ Christian Pfahl.

Other top stories
Thu 16th Apr 2015
Stage set for Pieres-Cambiaso Final
Orchard Hill will face Valiente for 2015 US Open
Thu 16th Apr 2015
Guards announce Land Rover sponsorship
Club celebrates its Jubilee with new, three-year partnership
Wed 15th Apr 2015
Arena handicap changes announced
88 players from the 2014/15 season have had their handicaps changed
Wed 15th Apr 2015
Calling all Whippet fans!
Four adorable Whippet puppies for sale
Tue 14th Apr 2015
Chris Hyde goes to 10
HPA announces historical handicap
Mon 13th Apr 2015
Coca-Cola and Valiente advance to Semi Finals
Adolfo Cambiaso returns from injury to take Valiente into final four
Mon 13th Apr 2015
Bin Drai win in Dubai
Inaugural 10 goal tournament held at Dubai Polo & Equestrian Club

Thu 9th Apr 2015
Dubai Cup Final scheduled tomorrow
New 8-10 goal tournament extends Dubai season
Thu 9th Apr 2015
Semi Finals take shape
The US Open continues in Florida with just ten days remaining
Wed 8th Apr 2015
Beach Polo Cup Dubai 2015 to take place this weekends
Four teams to feature in this yearís edition
Tue 7th Apr 2015
Audi continue their winning streak in US Open
An action-packed weekend at IPC, Wellington
Mon 30th Mar 2015
Polo Under the Stars
Barbados floodlit game at Apes Hill
Mon 30th Mar 2015
FIP World Championships continue in Chile
England to play in the Semi Finals tomorrow
Mon 30th Mar 2015
Pieres Power
High goal family dominate in first weekend of US Open
Wed 25th Mar 2015
FIP games in Chile postponed
Tournament now rescheduled to start on Friday
Mon 23rd Mar 2015
FIP World Polo Championships due to start tomorrow
The 14 goal tournament takes place at Mundial del Polo, Chile
Mon 23rd Mar 2015
Audi take The Piaget USPA Gold Cup
Gillian Johnstonís Coca-Cola win Subsidiary Final
Fri 20th Mar 2015
Lawyers take to the polo pitch in Bangkok
Six teams taking part in Lawyers Polo this week