Wed 21st Aug 2013
Gstaad Palace triumphs in Hublot Gold Cup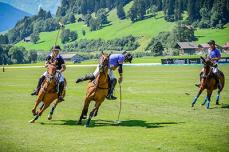 Eduardo Menendez scores the winning goal for Gstaad Palace

THE ANNUAL HUBLOT Polo Gold Cup at Gstaad, Switzerland concluded with victory for Gstaad Palace.

The team of Gualtiero Giori, Riccardo Tattoni, Eduardo Menendez and Santi Cernadas won both of their qualifying matches to book their place against Hublot – Daniel Aegerter, Francisco and Gonzalo Fucci and Salvatore Jauretche – in the final. Gstaad Palace took an early lead, but Hublot fought back and it wasn't until the final 30 seconds that Menendez found the posts for Gstaad Palace to secure the 8-7 win.

Four teams took part in the 14-goal tournament, with the Banque Baring Brothers Sturdza SA team beating Star Design 7-6 in the subsidiary final.
To view a full list of teams and results please click here.

Photograph: Action from the 2013 Hublot Gold Cup in Gstaad. Courtesy of Hublot Polo Gold Cup Gstaad/ Christian Pfahl.

Other top stories
Thu 28th May 2015
Andrew Dechet wins The Polo Magazine Most Valuable Award in The Committee Cup at Guards Polo Club
Los Lobos defeat Ockholt to win the trophy
Thu 28th May 2015
Europe's oldest Polo Club still in full swing
Malta Polo Club host their Novices Cup tournament
Wed 27th May 2015
What's on this weekend?
The UK summer polo season is well underway
Tue 26th May 2015
The Cartier Queen's Cup in full swing
King Power Foxes and Zacara both holding strong

Fri 22nd May 2015
Royal Salute are to be the title sponsor for The Coronation Cup
The Hurlingham Polo Association have today announced their news
Thu 21st May 2015
Triple Crown Line-ups Announced
AAP have revealed teams who will take on polo's most coveted title
Wed 20th May 2015
Glittering night of celebration at Awards Dinner
10th Annual Polo Awards 2015

Mon 18th May 2015
Last Minute Victory for Shalimar in Centenary Event
La Martina Queen Elizabeth The Queen Mother's Centenary Trophy
Mon 18th May 2015
England triumphant at St. Regis International Cup
First International of the season at Cowdray Park Polo Club
Fri 15th May 2015
British Polo 10 Goal Championships launched by HPA
Enter to be in with a chance to play on International Day at Guards
Wed 13th May 2015
Cartier Queen's Cup draw announced
12 teams to begin games next week for the 22 goal
Mon 11th May 2015
Hissam Ali Hyder wins The Polo Magazine Most Valuable Player Award at Guards
Tempest win the Valerie Halford Memorial Trophy
Fri 8th May 2015
The Americas team announced for St. Regis International Cup
England's opposition confirmed for first International of the season

Thu 7th May 2015
Feeling charitable?
Polo people working hard to raise money
Wed 6th May 2015
Polito Pieres goes to 10 in America
USPA release handicap changes for 2015
Tue 5th May 2015
England line-up confirmed for the St. Regis Test Match
James Beim to captain the team at Cowdray in two weeks

Fri 1st May 2015
Julius Bär Beach Polo World Cup Sylt 2015
Teams Announced for May Tournament