Mon 29th Jul 2013
England retains Westchester Cup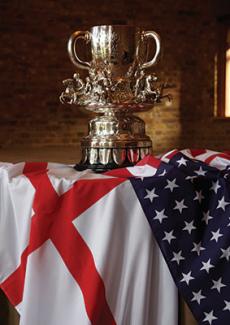 John Paul Clarkin scores winning goal in extra chukka to beat the USA 12-11

England retained the Westchester Cup after beating the USA 12-11 at Guards Polo Club.
The two sides were drawing 11-11 at the end of the regulation six chukkas, sending the game into a sudden death extra chukka. In that period John Paul Clarkin scored the winning "golden-goal" for England to the delight of the home crowd.
The 26-goal USA side – patron Marc Ganzi, Nic Roldan, Polito Pieres and Mike Azzaro – started with a 2-0 head start on handicap and were still narrowly in front at half time, leading 8-7.
However, England – Mark and Luke Tomlinson, James Beim and Clarkin – fought back in the second half and led by two goals with two minutes to play, before eventually snatching the win in extra time.

Other top stories

Fri 20th Oct 2017
What's On This Week and Looking Further Ahead
Polo near you

Thu 19th Oct 2017
VIII Ladies Circuit Championship
Centauros La Aventura and La Varzea claim titles

Wed 18th Oct 2017
The Hurlingham Open Final Gets Closer
La Albertina and La Dolfina Polo Ranch progress through
Tue 17th Oct 2017
VIII Copa Novillitos
14 childrens team gather at La Aguada Polo Club

Mon 16th Oct 2017
Argentine Update
Hurlingham's third day of play

Thu 12th Oct 2017
Polo Times Is Out Next Week!
November issue of Polo Times

Wed 11th Oct 2017
The Hurlingham Action Continues
Strong starts for La Dolfina, Ellerstina, La Aguada Las Monjitas and Alegría

Mon 9th Oct 2017
La Dolfina Win Again
It's five years on the trot the 40 goal giants

Sat 7th Oct 2017
All Pro Polo League Make History
World's eight 10 goalers to compete

Fri 6th Oct 2017
The Hurlingham Open 2017
The tournament begins today

Thu 5th Oct 2017
Tortugas Final
Ellerstina to play La Dolfina at Palermo
Mon 2nd Oct 2017
Visa Update
Letter from AAP to FIP

Fri 29th Sep 2017
FIP XI World Championships
The teams have been announced

Mon 25th Sep 2017
Argentine Update
Tortugas Open & Torneo Remonta y Veterinaria

Sat 23rd Sep 2017
Polo Times Is Out Now!
October issue of Polo Times

Fri 22nd Sep 2017
What's On This Weekend
Polo near you