Mon 29th Jul 2013
England retains Westchester Cup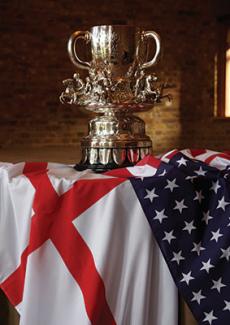 John Paul Clarkin scores winning goal in extra chukka to beat the USA 12-11

England retained the Westchester Cup after beating the USA 12-11 at Guards Polo Club.
The two sides were drawing 11-11 at the end of the regulation six chukkas, sending the game into a sudden death extra chukka. In that period John Paul Clarkin scored the winning "golden-goal" for England to the delight of the home crowd.
The 26-goal USA side – patron Marc Ganzi, Nic Roldan, Polito Pieres and Mike Azzaro – started with a 2-0 head start on handicap and were still narrowly in front at half time, leading 8-7.
However, England – Mark and Luke Tomlinson, James Beim and Clarkin – fought back in the second half and led by two goals with two minutes to play, before eventually snatching the win in extra time.

Other top stories
Mon 21st Aug 2017
HPA Handicap News
22 goal 2018 handicaps announced

Sat 19th Aug 2017
What's On This Weekend
Polo near you

Fri 18th Aug 2017
AAP Triple Crown
Rule Changes for the 2017-2018 season

Tue 15th Aug 2017
The Sun Shines on Pony Club
Children from across the UK gather at Cowdray Park Polo Club
Mon 14th Aug 2017
Tally Ho Farm Polo Festival Finale
Fun in the sun at RCBPC
Fri 11th Aug 2017
What's On This Weekend
Polo near you

Wed 9th Aug 2017
Youth Polo Update
The Rocksavage and Jorrocks Finals
Tue 8th Aug 2017
22 Goal 2018 Handicaps
HPA Plans to Introduce Separate Handicaps at 22 Goal Level

Mon 7th Aug 2017
Sotogrande Silver Cups Well Underway
Action across high, medium and low goal
Thu 3rd Aug 2017
The Thai Polo Club Ladies International for The Diamond Jubilee Trophy
Swarovski England Ladies beat Llangollen USA Ladies at Guards Polo Club
Mon 31st Jul 2017
The Royal Salute Coronation Cup
Flannels England secure success
Fri 28th Jul 2017
What's On
The weekend's fixtures

Thu 27th Jul 2017
Polo Times Is Out This Week!
August issue of Polo Times
Wed 26th Jul 2017
Royal Salute Coronation Cup
Ticket Update With Three Days to Go

Tue 25th Jul 2017
RoR Racing Challenge
Retrained ponies take the limelight

Mon 24th Jul 2017
Thrice the Champions
King Power wins The Jaeger-LeCoultre Gold Cup for The British Open