Mon 29th Jul 2013
England retains Westchester Cup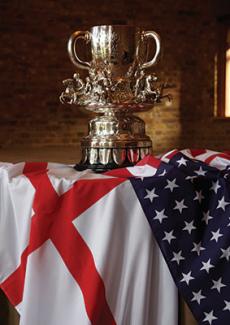 John Paul Clarkin scores winning goal in extra chukka to beat the USA 12-11

England retained the Westchester Cup after beating the USA 12-11 at Guards Polo Club.
The two sides were drawing 11-11 at the end of the regulation six chukkas, sending the game into a sudden death extra chukka. In that period John Paul Clarkin scored the winning "golden-goal" for England to the delight of the home crowd.
The 26-goal USA side – patron Marc Ganzi, Nic Roldan, Polito Pieres and Mike Azzaro – started with a 2-0 head start on handicap and were still narrowly in front at half time, leading 8-7.
However, England – Mark and Luke Tomlinson, James Beim and Clarkin – fought back in the second half and led by two goals with two minutes to play, before eventually snatching the win in extra time.

Other top stories
Mon 26th Jun 2017
The Kings Head Hotel Ladies International
Convincing win for Swarovski England ladies

Fri 23rd Jun 2017
Polo Times Out This Week!
July issue of Polo Times

Wed 21st Jun 2017
RoR Racing to Polo Challenge
Recognition for second career polo ponies
Tue 20th Jun 2017
Hydration Advice
Hot tips for the heatwave
Mon 19th Jun 2017
Queen's Cup Win for RH Polo
Cambiaso Dictates Result
Fri 16th Jun 2017
What's On
This weekend's fixtures
Thu 15th Jun 2017
The Cartier Queen's Cup Semi Finals
La Indiana and RH Polo are through to the Final
Wed 14th Jun 2017
The Polo Magazine is Out This Week!
Summer issue of The Polo Magazine

Tue 13th Jun 2017
The 2017 Jaeger-LeCoultre Gold Cup Draw
10 teams are drawn at Old Bond Street

Mon 12th Jun 2017
Gloucestershire Festival of Polo
Thousands flock to Beaufort Polo Club
Fri 9th Jun 2017
Your Views on Blocking
A call for the rule to be amended
Thu 8th Jun 2017
The Cartier Queen's Cup Update
A game-changing Wednesday in Berkshire
Wed 7th Jun 2017
Jam-Packed June
La Martina Varsity Polo Day results, SUPA dates & Javier Novillo Astrada U15 Cup

Tue 6th Jun 2017
Telemark 2-4 Goal Carlito's White Waltham Polo Club
In aid of Cancer Research
Mon 5th Jun 2017
Queen's Cup Update
The war for the Semi Finals continues

Fri 2nd Jun 2017
What's On
This weekend's fixtures

Thu 1st Jun 2017
Cartier Queen's Cup Update
Action from the last week of matches
Wed 31st May 2017
Polo Awards 2017
Results from the 12th 'Oscars of Polo'

Tue 30th May 2017
International Test Match Update
Flannels England and Ireland teams announced
Sat 27th May 2017
Polo Times June Issue Out Now
Read all about the latest polo news, reports