Thu 20th Jun 2013
Cambiaso and co lift GCC Cup at Guards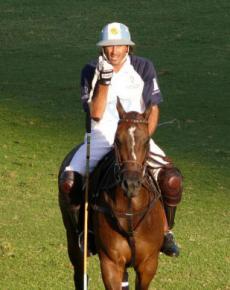 Guards hosted the annual GCC Cup yesterday, with HM The Queen in attendence

ADOLFO CAMBIASO TEAMED up with UAE team patron HH Sheikha Maitha, Habtoor Al Habtoor and Amr Zedan to win the annual Gulf Co-Operation (GCC) Trophy yesterday at Guards Polo Club.

The GCC team faced the Guards team of Clive Reid, Saad Audeh, Peter Webb and Manuel Plaza, and it was GCC who ran out the winners, 7-5, in the 10-goal match.

The event, which was attended by HM The Queen, also supports the Saudi Arabian "Safe Driving...Life Saving" campaign, which raises awareness of responsible driving in an attempt to reduce the number of motor-related deaths in the country.
Photograph: Ten-goaler Adolfo Cambiaso helped GCC to victory

Other top stories

Thu 23rd Feb 2017
Time to Get Booking
St. Moritz & Hickstead Tickets
Wed 22nd Feb 2017
Polo Times Out This Week!
March issue of Polo Times
Mon 20th Feb 2017
Arena Gold Cup Update
Double Loss for K-Law Imperial
Fri 17th Feb 2017
England International Dates for 2017 Announced
England to do battle at Guards and Beaufort
Thu 16th Feb 2017
Ylvisaker Finalists Decided
Final to be played on Sunday

Tue 14th Feb 2017
Ylvisaker Semi Finalists
Semi Finals scheduled for tomorrow
Mon 13th Feb 2017
Exclusive Rooms Secure Victory
Images of Polo 5-8 Goal Victor Ludorum
Fri 10th Feb 2017
Polo Masters Cup Underway
Dubai Gold Cup Continues
Thu 9th Feb 2017
Arena Gold Cup Schedule
Teams and times announced
Wed 8th Feb 2017
Ylvisaker Cup Update
Quarter Final qualifiers
Tue 7th Feb 2017
McLaren Cup 2017
Victory for UAE Polo
Mon 6th Feb 2017
A Trio of Finals
Jam-packed schedule at the RCBPC
Thu 2nd Feb 2017
WPC, Zone D Playoff Results
New Zealand vs Malaysia
Sun 29th Jan 2017
Cartier Reclaim Title
Snow Polo World Cup St. Moritz 2017
Sat 28th Jan 2017
Second day of action from The Snow Polo World Cup St. Moritz
Team Badrutt's Palace and Team Cartier are the winners today of the second matches of the Snow Polo World Cup St. Moritz 2017
Fri 27th Jan 2017
Snow Polo World Cup Starts
Polo action on the frozen lake of St.Moritz
Fri 27th Jan 2017
Home Office Agreed Visa Criteria
Good news for high and medium goal, but low goal still affected
Thu 26th Jan 2017
Visa Update
David Wooodd explains the latest developments

Wed 25th Jan 2017
Polo Times Out This Week
Watch out for the February issue
Tue 24th Jan 2017
Joe Barry Memorial Final
La Indiana defeat Mt. Brilliant