Thu 20th Jun 2013
Cambiaso and co lift GCC Cup at Guards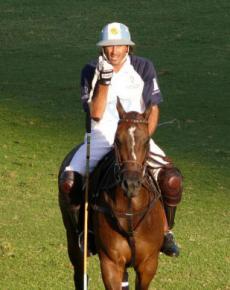 Guards hosted the annual GCC Cup yesterday, with HM The Queen in attendence

ADOLFO CAMBIASO TEAMED up with UAE team patron HH Sheikha Maitha, Habtoor Al Habtoor and Amr Zedan to win the annual Gulf Co-Operation (GCC) Trophy yesterday at Guards Polo Club.

The GCC team faced the Guards team of Clive Reid, Saad Audeh, Peter Webb and Manuel Plaza, and it was GCC who ran out the winners, 7-5, in the 10-goal match.

The event, which was attended by HM The Queen, also supports the Saudi Arabian "Safe Driving...Life Saving" campaign, which raises awareness of responsible driving in an attempt to reduce the number of motor-related deaths in the country.
Photograph: Ten-goaler Adolfo Cambiaso helped GCC to victory

Other top stories

Thu 21st Jun 2018
What's Happening in the British Season
The news from across the country

Mon 18th Jun 2018
Third Time's the Charm for La Indiana
The Cartier Queen's Cup Final
Fri 15th Jun 2018
The King Power Gold Cup for The British Open Polo Championship
The draw is announced
Thu 14th Jun 2018
The Cartier Queen's Cup Semi Finals
Park Place and La Indiana Through to the Final
Tue 12th Jun 2018
Cartier Queen's Cup
Semi Finalists decided following Quarter Finals
Mon 11th Jun 2018
Flannels England Lift the Golden Jubilee Trophy
Gloucestershire Festival of Polo

Fri 8th Jun 2018
What's On This Weekend
The polo season in full swing
Thu 7th Jun 2018
HACKETT Army Welcomes First Female Player for Rundle Cup
Captain Jess Wood to start at Tidworth

Wed 6th Jun 2018
Flannels England International Teams
This weekend's teams announced
Mon 4th Jun 2018
Cartier Queen's Cup Update
Play continues at Guards Polo Club
Fri 1st Jun 2018
APPL Comes to England
Cowdray to welcome 40 goal match
Thu 31st May 2018
Polo Awards 2018
Results from the 13th 'Oscars of Polo'
Fri 25th May 2018
Polo Times Is Out TODAY!
June Issue of Polo Times
Wed 23rd May 2018
The Cartier Queen's Cup Gets Underway
Talandracas, La Indiana, RH Polo and Emlor take the charge