Thu 20th Jun 2013
Cambiaso and co lift GCC Cup at Guards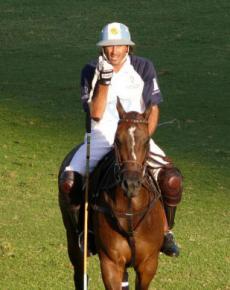 Guards hosted the annual GCC Cup yesterday, with HM The Queen in attendence

ADOLFO CAMBIASO TEAMED up with UAE team patron HH Sheikha Maitha, Habtoor Al Habtoor and Amr Zedan to win the annual Gulf Co-Operation (GCC) Trophy yesterday at Guards Polo Club.

The GCC team faced the Guards team of Clive Reid, Saad Audeh, Peter Webb and Manuel Plaza, and it was GCC who ran out the winners, 7-5, in the 10-goal match.

The event, which was attended by HM The Queen, also supports the Saudi Arabian "Safe Driving...Life Saving" campaign, which raises awareness of responsible driving in an attempt to reduce the number of motor-related deaths in the country.
Photograph: Ten-goaler Adolfo Cambiaso helped GCC to victory

Other top stories
Fri 21st Oct 2016
Rain Rain Go Away
Hurlingham Opening Games Postponed
Thu 20th Oct 2016
HPA Visa Update
Information from the Home Office
Wed 19th Oct 2016
Ready for Arena?
Entries open and rule changes

Tue 18th Oct 2016
One Down, Two to Go
Hurlingham Open Schedule
Mon 17th Oct 2016
New Arena Victor Ludorum
5-8 Goal Series Dates Announced
Mon 17th Oct 2016
La Dolfina Dominate
Ellerstina Fail to Break the Winning Streak
Fri 14th Oct 2016
Lipocast Biotech UK Heads to Argentina
Capital of Polo to Host Lipogems Veterinary Demonstration
Thu 13th Oct 2016
USA Hall of Fame Inductees Announced
Museum of Polo to Host 2017 Awards Gala
Tue 11th Oct 2016
Cría Yatay & La Irenita Confirmed For Palermo
Final Qualifications for the Hurlingham and Argentine Opens
Mon 10th Oct 2016
Ellerstina & La Dolfina Final
The Tortugas Open Nears Completion

Wed 5th Oct 2016
Hurricane Matthew Halts Polo
East Coast America Braces for Deadly Storm
Tue 4th Oct 2016
Top UK 2017 Summer Dates
Victor Ludorum and High Goal Schedule Released
Tue 4th Oct 2016
Tortugas Update Day Four
Ellerstina Hold Their Ground

Mon 3rd Oct 2016
Tortugas Open Update
Triple Crown Begins
Wed 28th Sep 2016
Day One of The Tortugas Open
Triple Crown Begins
Mon 26th Sep 2016
Polo Times Out This Week
October Overflowing with All Things Polo