Thu 20th Jun 2013
Cambiaso and co lift GCC Cup at Guards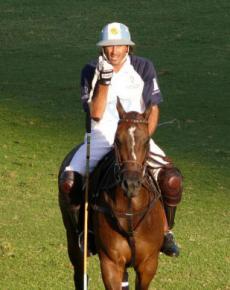 Guards hosted the annual GCC Cup yesterday, with HM The Queen in attendence

ADOLFO CAMBIASO TEAMED up with UAE team patron HH Sheikha Maitha, Habtoor Al Habtoor and Amr Zedan to win the annual Gulf Co-Operation (GCC) Trophy yesterday at Guards Polo Club.

The GCC team faced the Guards team of Clive Reid, Saad Audeh, Peter Webb and Manuel Plaza, and it was GCC who ran out the winners, 7-5, in the 10-goal match.

The event, which was attended by HM The Queen, also supports the Saudi Arabian "Safe Driving...Life Saving" campaign, which raises awareness of responsible driving in an attempt to reduce the number of motor-related deaths in the country.
Photograph: Ten-goaler Adolfo Cambiaso helped GCC to victory

Other top stories
Thu 3rd Sep 2015
Groom apprenticeships scheme approved by the Government
Polo groom employers will be able to take on apprentices from 2017
Wed 2nd Sep 2015
Last chance to take up the Retraining of Racehorses Challenge
You could win up to £1,000 this Monday at The Royal County of Berkshire Polo Club
Tue 1st Sep 2015
American Update: Lucchese takes Gulfstream Pacific Coast Open
East Coast Open sees White Birch continue winning streak
Tue 1st Sep 2015
Last Junior Select match of the summer sees win for HPA
The HPA Junior team beat Kirtlington Park Polo Club for The Alan Budgett Trophy
Mon 31st Aug 2015
The season comes to an end in Sotogrande
Gold Cup Finals for low, medium and high goal at Santa Maria Polo Club
Thu 27th Aug 2015
Polo Times is out now!
The 100 page September issue is now available

Thu 27th Aug 2015
Bulgari Gold Cup Finalists are revealed
Semi Finals take place for the low, medium and high goal categories at Santa Maria Polo Club

Wed 26th Aug 2015
Brits battle it out in the youth polo in Sotogrande
Finals of the Championship of Andalucia and Spain 2015
Mon 24th Aug 2015
Semi Finalists decided for the Bulgari Gold Cup
A weekend of polo at Santa Maria sorts out the contenders for the Semi Finals
Mon 24th Aug 2015
England Ladies' Team win in South Africa
East Rand Polo Club play host to The Ladies' International Test Match
Mon 24th Aug 2015
First public match for East Coast Open 2015
High goal teams battle it out for prestigious American trophy
Sun 23rd Aug 2015
Drama Continues in Sotogrande
More thrills and spills in the Gold Cup of the 44th Land Rover International Polo Tournament
Thu 20th Aug 2015
Sotogrande Gold Cup Update
The low, medium and high goal action continues at Santa Maria Polo Club
Wed 19th Aug 2015
HPA fixture and update
Changes for Tianjin & Chester fixtures
Tue 18th Aug 2015
The Gold Cup gets underway in Sotogrande
First zone matches for medium and high goal Gold Cups take place at Santa Maria Polo Club

Mon 17th Aug 2015
USPA East Coast Open teams announced
Six teams to compete for the title at Greenwich Polo Club
Sat 15th Aug 2015
Dubai remain unbeaten in Sotogrande
Finals of the INDI Silver and Bronze Cups at Santa Maria Polo Club
Thu 13th Aug 2015
Lechuza Caracas to take on Dubai
Sotogrande sees Finals of The High Goal INDI Silver Cup
Wed 12th Aug 2015
Inaugural Nicholls Spinal Injury Foundation Day
Guards Polo Club will host the event on Thursday 13 August
Mon 10th Aug 2015
Semi Finalists for high goal INDI Silver Cup decided in Sotogrande
Equus and Bayswater-Sapphire triumphant in medium goal
Mon 10th Aug 2015
Thrilling matches at The El Remanso Pony Club and The HPA British Junior Polo Championships
Well-deserved victories for superstars in the making
Thu 6th Aug 2015
22 goal and Victor Ludorum handicap changes are out
The up-and-coming players flourish with higher handicaps
Wed 5th Aug 2015
Sotogrande Update: The INDI Silver Cup
Dubai and Dos Lunas A&G Banca Privada through to Semi Finals
Tue 4th Aug 2015
Argentine Triple Crown teams announced
Tortugas draw and match schedule also released