Thu 20th Jun 2013
Cambiaso and co lift GCC Cup at Guards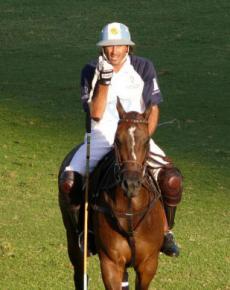 Guards hosted the annual GCC Cup yesterday, with HM The Queen in attendence

ADOLFO CAMBIASO TEAMED up with UAE team patron HH Sheikha Maitha, Habtoor Al Habtoor and Amr Zedan to win the annual Gulf Co-Operation (GCC) Trophy yesterday at Guards Polo Club.

The GCC team faced the Guards team of Clive Reid, Saad Audeh, Peter Webb and Manuel Plaza, and it was GCC who ran out the winners, 7-5, in the 10-goal match.

The event, which was attended by HM The Queen, also supports the Saudi Arabian "Safe Driving...Life Saving" campaign, which raises awareness of responsible driving in an attempt to reduce the number of motor-related deaths in the country.
Photograph: Ten-goaler Adolfo Cambiaso helped GCC to victory

Other top stories
Wed 21st Feb 2018
2018 Arena Gold Cup Update
Regal Warriors, Ojo Caliente, SAPA Docklands Polo & HB Polo through to the Semi Finals
Tue 20th Feb 2018
Valiente, Colorado, Tonkawa and GSA secure Semi Final positions in the Ylvisaker Cup
Update from the International Polo Club
Mon 19th Feb 2018
PTF International Cup
Argentina, USA and England young guns compete in Florida

Fri 16th Feb 2018
Dubai Masters Cup
UAE beat Habtoor Polo to take the win
Wed 14th Feb 2018
Polo Memorabilia Auction
Florida based Leslie Hindman Auctioneers
Thu 8th Feb 2018
The Bryan Morrison Trophy
The teams are announced
Wed 7th Feb 2018
Arena Gold Cup Final
The 2018 schedule is announced
Mon 5th Feb 2018
Cartier Dubai Series
Cartier International Dubai Polo Challenge
Mon 29th Jan 2018
Joe Barry Cup Final
Tonkawa take home gold in Florida
Sun 28th Jan 2018
The Red Shirts of Cartier Win Again!
Three days of thrilling action comes to a head in St. Moritz
Sat 27th Jan 2018
Action from the Cradle of Snow Polo
2017 champions Cartier and Maserati to compete in the Final
Fri 26th Jan 2018
Snow Polo World Cup St. Moritz Starts
Cartier and Maserati champion first matches
Tue 23rd Jan 2018
2018 Thai Polo Open Final
Royal Pahang take home gold