Thu 20th Jun 2013
Cambiaso and co lift GCC Cup at Guards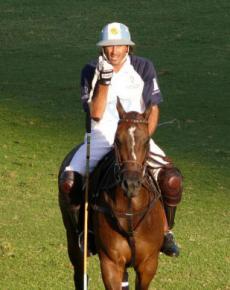 Guards hosted the annual GCC Cup yesterday, with HM The Queen in attendence

ADOLFO CAMBIASO TEAMED up with UAE team patron HH Sheikha Maitha, Habtoor Al Habtoor and Amr Zedan to win the annual Gulf Co-Operation (GCC) Trophy yesterday at Guards Polo Club.

The GCC team faced the Guards team of Clive Reid, Saad Audeh, Peter Webb and Manuel Plaza, and it was GCC who ran out the winners, 7-5, in the 10-goal match.

The event, which was attended by HM The Queen, also supports the Saudi Arabian "Safe Driving...Life Saving" campaign, which raises awareness of responsible driving in an attempt to reduce the number of motor-related deaths in the country.
Photograph: Ten-goaler Adolfo Cambiaso helped GCC to victory

Other top stories

Wed 29th Mar 2017
Dubai Challenge Cup
Finalists Decided

Tue 28th Mar 2017
SUPA Tri-Nations
England Triumph
Mon 27th Mar 2017
Victorious Valiente
USPA Gold Cup Win for Tournament Favourites
Thu 23rd Mar 2017
USPA Gold Cup
Finalists Decided
Wed 22nd Mar 2017
SUPA Ladies
National Schools Ladies Arena Championships
Tue 21st Mar 2017
Polo Times Out This Week!
April issue of Polo Times
Tue 14th Mar 2017
USPA Gold Cup Has Begun
Wins for Valiente and Orchard Hill

Mon 13th Mar 2017
Equine Liquid Biocell Wins Iglehart Cup
La Indiana Narrowly Defeated in Thrilling Final
Fri 10th Mar 2017
Iglehart Cup Finalists decided
La Indiana and Equine Liquid Biocell to face each other on Sunday 12 March in the Final of the Iglehart Cup at International Polo Club, Palm Beach

Tue 7th Mar 2017
Home Office Agreed to Reduce Restrictions
Visa Update from HPA