Thu 13th Jun 2013
England team announced for Beaufort Test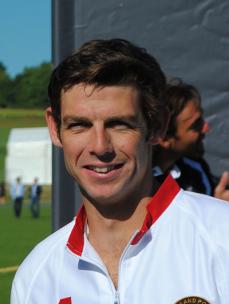 The first Test Match of the Audi International Series will take place on Saturday

THE AUDI ENGLAND team has been confirmed for this Saturday's Test Match against South Africa at Beaufort Polo Club.

The 23-goal England side will comprise George Meyrick (5), Max Charlton (6), captain Malcolm Borwick (6) and Tom Morley (6).

They will face the South Africa team of Brad Mallett (4), Jean Du Plessis (6), captain Tom de Bruin (7) and Gareth Evans (6) in the first Test Match of this year's Audi International Series.

An England Ladies side will also take on an England Under 21 team later that day. Claire Donnelly, Tamara Fox, Emma Tomlinson and Sarah Wiseman will team up to take on the Under 21 side of Max Hutchinson, Freddie Dear, Jack Berner and John Kent.
Photograph: Six-goaler Malcolm Borwick will lead the England side on Saturday

Other top stories

Wed 29th Mar 2017
Dubai Challenge Cup
Finalists Decided

Tue 28th Mar 2017
SUPA Tri-Nations
England Triumph
Mon 27th Mar 2017
Victorious Valiente
USPA Gold Cup Win for Tournament Favourites
Thu 23rd Mar 2017
USPA Gold Cup
Finalists Decided
Wed 22nd Mar 2017
SUPA Ladies
National Schools Ladies Arena Championships
Tue 21st Mar 2017
Polo Times Out This Week!
April issue of Polo Times
Tue 14th Mar 2017
USPA Gold Cup Has Begun
Wins for Valiente and Orchard Hill

Mon 13th Mar 2017
Equine Liquid Biocell Wins Iglehart Cup
La Indiana Narrowly Defeated in Thrilling Final
Fri 10th Mar 2017
Iglehart Cup Finalists decided
La Indiana and Equine Liquid Biocell to face each other on Sunday 12 March in the Final of the Iglehart Cup at International Polo Club, Palm Beach

Tue 7th Mar 2017
Home Office Agreed to Reduce Restrictions
Visa Update from HPA