Thu 13th Jun 2013
England team announced for Beaufort Test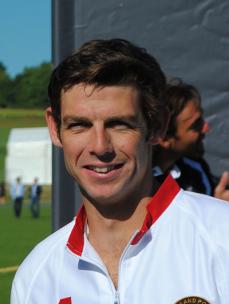 The first Test Match of the Audi International Series will take place on Saturday

THE AUDI ENGLAND team has been confirmed for this Saturday's Test Match against South Africa at Beaufort Polo Club.

The 23-goal England side will comprise George Meyrick (5), Max Charlton (6), captain Malcolm Borwick (6) and Tom Morley (6).

They will face the South Africa team of Brad Mallett (4), Jean Du Plessis (6), captain Tom de Bruin (7) and Gareth Evans (6) in the first Test Match of this year's Audi International Series.

An England Ladies side will also take on an England Under 21 team later that day. Claire Donnelly, Tamara Fox, Emma Tomlinson and Sarah Wiseman will team up to take on the Under 21 side of Max Hutchinson, Freddie Dear, Jack Berner and John Kent.
Photograph: Six-goaler Malcolm Borwick will lead the England side on Saturday

Other top stories
Wed 21st Feb 2018
2018 Arena Gold Cup Update
Regal Warriors, Ojo Caliente, SAPA Docklands Polo & HB Polo through to the Semi Finals
Tue 20th Feb 2018
Valiente, Colorado, Tonkawa and GSA secure Semi Final positions in the Ylvisaker Cup
Update from the International Polo Club
Mon 19th Feb 2018
PTF International Cup
Argentina, USA and England young guns compete in Florida

Fri 16th Feb 2018
Dubai Masters Cup
UAE beat Habtoor Polo to take the win
Wed 14th Feb 2018
Polo Memorabilia Auction
Florida based Leslie Hindman Auctioneers
Thu 8th Feb 2018
The Bryan Morrison Trophy
The teams are announced
Wed 7th Feb 2018
Arena Gold Cup Final
The 2018 schedule is announced
Mon 5th Feb 2018
Cartier Dubai Series
Cartier International Dubai Polo Challenge
Mon 29th Jan 2018
Joe Barry Cup Final
Tonkawa take home gold in Florida
Sun 28th Jan 2018
The Red Shirts of Cartier Win Again!
Three days of thrilling action comes to a head in St. Moritz
Sat 27th Jan 2018
Action from the Cradle of Snow Polo
2017 champions Cartier and Maserati to compete in the Final
Fri 26th Jan 2018
Snow Polo World Cup St. Moritz Starts
Cartier and Maserati champion first matches
Tue 23rd Jan 2018
2018 Thai Polo Open Final
Royal Pahang take home gold