Thu 13th Jun 2013
England team announced for Beaufort Test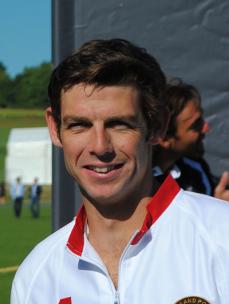 The first Test Match of the Audi International Series will take place on Saturday

THE AUDI ENGLAND team has been confirmed for this Saturday's Test Match against South Africa at Beaufort Polo Club.

The 23-goal England side will comprise George Meyrick (5), Max Charlton (6), captain Malcolm Borwick (6) and Tom Morley (6).

They will face the South Africa team of Brad Mallett (4), Jean Du Plessis (6), captain Tom de Bruin (7) and Gareth Evans (6) in the first Test Match of this year's Audi International Series.

An England Ladies side will also take on an England Under 21 team later that day. Claire Donnelly, Tamara Fox, Emma Tomlinson and Sarah Wiseman will team up to take on the Under 21 side of Max Hutchinson, Freddie Dear, Jack Berner and John Kent.
Photograph: Six-goaler Malcolm Borwick will lead the England side on Saturday

Other top stories
Tue 23rd Aug 2016
Polo for Good
The Guards Ladies' Charity Trophy

Mon 22nd Aug 2016
Polo Times Out This Week
Youth Special for September

Mon 22nd Aug 2016
Sotogrande Excitement Continues
Gold Cups at Santa María Polo Club

Fri 19th Aug 2016
Arena Polo Fixtures
Some Winter Dates for your Diary
Fri 19th Aug 2016
Zones for FIP European Championship Determined
Games Begin in Berlin 28 August
Thu 18th Aug 2016
Scotland Claim Whitbread Trophy
HPA Youth Polo Continues
Tue 16th Aug 2016
Stagshead Trophy
Youth Polo at HPC
Mon 15th Aug 2016
Tally Ho Farm Polo Festival Concludes
Fun in the Sun at RCBPC

Fri 12th Aug 2016
SKY TV coverage of the 2016 Jaeger-LeCoultre Gold Cup
Polo Hits the Screens at Home on Sky Sports
Fri 12th Aug 2016
Sotogrande Action
The latest from Santa María Polo Club
Thu 11th Aug 2016
Staggering Stagshead
Youth action continues at Ham Polo Club
Wed 10th Aug 2016
Trucks and Tribulations
Are all your Licences and Passports Legal?
Mon 8th Aug 2016
Pony Club Polo Championships
188 Players Complete the Tournament
Mon 8th Aug 2016
Sotogrande Weekend Update
45th INDI International Polo Tournament

Fri 5th Aug 2016
Tally Ho Farm Polo Festival Ticket Offer
Plenty of Polo in Berkshire to Watch
Fri 5th Aug 2016
Olympics Set to Start
Dressage & Eventing Update

Thu 4th Aug 2016
Get Our Girls to Zambia
Sponsorship Search is on for England Ladies
Wed 3rd Aug 2016
England Team for Manipur
Fancy a Trip to Play on the Oldest Polo Grounds?
Mon 1st Aug 2016
Polo Times Out Now
Subscribe Now for the August Issue

Mon 1st Aug 2016
A Trio of Triumphs
Harrison, Holden White and Challenge Cup Finals

Fri 29th Jul 2016
The Polo Magazine Out Now!
Subscribe to get your hands on a copy