Thu 13th Jun 2013
England team announced for Beaufort Test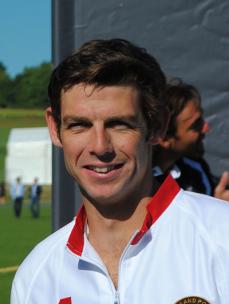 The first Test Match of the Audi International Series will take place on Saturday

THE AUDI ENGLAND team has been confirmed for this Saturday's Test Match against South Africa at Beaufort Polo Club.

The 23-goal England side will comprise George Meyrick (5), Max Charlton (6), captain Malcolm Borwick (6) and Tom Morley (6).

They will face the South Africa team of Brad Mallett (4), Jean Du Plessis (6), captain Tom de Bruin (7) and Gareth Evans (6) in the first Test Match of this year's Audi International Series.

An England Ladies side will also take on an England Under 21 team later that day. Claire Donnelly, Tamara Fox, Emma Tomlinson and Sarah Wiseman will team up to take on the Under 21 side of Max Hutchinson, Freddie Dear, Jack Berner and John Kent.
Photograph: Six-goaler Malcolm Borwick will lead the England side on Saturday

Other top stories

Thu 21st Jun 2018
What's Happening in the British Season
The news from across the country

Mon 18th Jun 2018
Third Time's the Charm for La Indiana
The Cartier Queen's Cup Final
Fri 15th Jun 2018
The King Power Gold Cup for The British Open Polo Championship
The draw is announced
Thu 14th Jun 2018
The Cartier Queen's Cup Semi Finals
Park Place and La Indiana Through to the Final
Tue 12th Jun 2018
Cartier Queen's Cup
Semi Finalists decided following Quarter Finals
Mon 11th Jun 2018
Flannels England Lift the Golden Jubilee Trophy
Gloucestershire Festival of Polo

Fri 8th Jun 2018
What's On This Weekend
The polo season in full swing
Thu 7th Jun 2018
HACKETT Army Welcomes First Female Player for Rundle Cup
Captain Jess Wood to start at Tidworth

Wed 6th Jun 2018
Flannels England International Teams
This weekend's teams announced
Mon 4th Jun 2018
Cartier Queen's Cup Update
Play continues at Guards Polo Club
Fri 1st Jun 2018
APPL Comes to England
Cowdray to welcome 40 goal match
Thu 31st May 2018
Polo Awards 2018
Results from the 13th 'Oscars of Polo'
Fri 25th May 2018
Polo Times Is Out TODAY!
June Issue of Polo Times
Wed 23rd May 2018
The Cartier Queen's Cup Gets Underway
Talandracas, La Indiana, RH Polo and Emlor take the charge