Tue 2nd Apr 2013
US Open now underway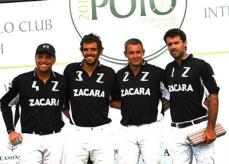 Valiente, Zacara, Lechuza Caracas and Alegria remain unbeaten so far

THE MASERATI US OPEN got underway on Thursday, with all eleven participating teams in action over the weekend.

The 26-goal tournament kicked off with Coca-Cola defeating Audi 12-11 in the opening match, followed by new team Zorzal beating ERG 10-8. Lechuza Caracas and Alegria were the winners on day two, with Valiente, Audi and title-holders Zacara winning their matches yesterday.

The tournament continues on Thursday, with Audi taking on Valiente and Coca-Cola facing ERG.

The US Open, held at International Polo Club Palm Beach (IPCPB) is the final tournament of the US high-goal season. It is due to conclude on Sunday 21 April.
To view teams, matches and results please click here.
Photograph: Defending champions Zacara after their win over Orchard Hill on Sunday. By Alex Pacheco

Other top stories
Fri 23rd Mar 2018
UK High Goal Update
12 teams set to compete
Wed 21st Mar 2018
Polo Times Is Out This Week!
April Issue of Polo Times
Mon 19th Mar 2018
Argentex Habtoor UAE Reign Triumphant in Dubai
Flannels England miss out

Fri 16th Mar 2018
Iglehart Cup Final
Pilot make a strong comeback
Thu 15th Mar 2018
2018 San Eugenio Ladiesí Cup
Six teams are confirmed

Mon 12th Mar 2018
Julius BaŽr Gold Cup 2018
Bin Drai win the title
Thu 8th Mar 2018
Queen's Cup Pink Polo
La Familia take home the glory

Tue 6th Mar 2018
Major Iain Forbes-Cockell
We announce his passing

Mon 5th Mar 2018
Flannels England lifts the trophy high
HPA International Test Match for the Bryan Morrison Trophy
Thu 1st Mar 2018
Hurlingham Polo Association International Test Match for the Bryan Morrison Trophy
Venue and Time Change
Wed 28th Feb 2018
The 13th Annual Polo Awards 2018
Tickets are now on sale

Tue 27th Feb 2018
Ylvisaker Cup Final
Valiente seal the deal
Mon 26th Feb 2018
Arena Gold Cup Final
SAPA MHF Docklands and Glitterati Polo take home the crown