Tue 12th Mar 2013
Eight ponies die in polo club fire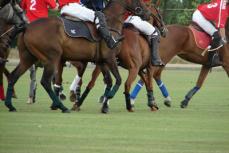 A barn fire at Gulfstream Polo Club in Florida over the weekend ends in tragedy

A FIRE AT a polo club near Wellington, Florida has left at least eight ponies dead, and several more injured.

The barn at Gulfstream Polo Club caught fire around midday on Saturday. The blaze is thought to have been started by an electrical overload in the tack room. Eight thoroughbreds are reported to have died.

US five-goaler John Gobin keeps several ponies at a barn directly opposite the one that caught alight and was exercising some of them in a nearby field when the fire broke out. Gobin was a member of the USA team defeated by England in the Arena Test Match at Hickstead in 2012.

Gulfstream Polo Club was opened in 1923 and will celebrate its 90th anniversary this year. Kris Kampsen, Brandon Phillips and Carlitos Gracida are also among the players on the club's roster.

Other top stories
Wed 27th Aug 2014
Valiente and Ellerston through to Gold Cup Final
Two Finalists are confirmed following this evening's Semi Finals
Wed 27th Aug 2014
Halcyon Gallery and Lechuza Caracas in Subsidiary Final
Both sides victorious in Subsidiary Semi Finals last night
Tue 26th Aug 2014
Equus to defend Gold Cup title
Defending champions face FCT in Friday's Final
Mon 25th Aug 2014
E.I. Sturdza Investment Funds are champions in Gstaad
Hublot Polo Gold Cup comes to an end

Sun 24th Aug 2014
Semi Finals set for Medium Goal Gold Cup
Silver Cup finalists reach last four
Fri 22nd Aug 2014
Valiente maintain their clean streak
Bronze and Silver Cup champions remain unbeaten
Wed 20th Aug 2014
RoR Racing to Polo Challenge
Prize money available for ex-racehorses
Tue 19th Aug 2014
Sotogrande Gold Cup begins
First league matches underway in the high goal
Mon 18th Aug 2014
Blenheim Palace reclaims County Cup
George Sunderland's team win 15 goal tournament at Cirencester
Mon 18th Aug 2014
Valiente win The Silver Cup
Adolfo Cambiaso leads his team to their second high goal victory of the Sotogrande season
Fri 15th Aug 2014
Teams announced for the final Audi International of the season
The Final Test Match of the season is due to be played at Chester Racecourse Polo Club on Saturday 6 September 2014.
Thu 14th Aug 2014
Equus retain Silver Cup title in Sotogrande
James Beim helps his team to a great victory over Seven Sevens in the medium goal at Santa Maria Polo Club
Wed 13th Aug 2014
High Goal Silver Cup Final set at Santa Maria
Valiente and Dos Lunas through to Final of the high goal Silver Cup
Wed 13th Aug 2014
Veuve Clicquot withdraw title sponsorship of Gold Cup
Leading champagne house step down after 20 years as title sponsors
Tue 12th Aug 2014
HPA reveal handicap changes
Many British players raised in handicap as announced by the HPA today
Mon 11th Aug 2014
Future stars highlighted
Young players selected by HPA's Development Committee
Mon 11th Aug 2014
Royal Berkshire Polo Club host their 14th Polo Festival
Finals provide a diverse display of the sport
Mon 11th Aug 2014
Audi Pony Club Polo Championships 2014
Cowdray Park hosts Finals once again
Mon 11th Aug 2014
Black Eagles finish on top in Duke of Cornwall
Jonathan Munro Ford's side defeat Golden Falcons to win the 16-goal title
Mon 11th Aug 2014
Medium Goal Silver Cup Finalists set
Equus will take on Seven Sevens in the Final
Sun 10th Aug 2014
High Goal Semi Finals determined at Santa Maria
Silver Cup semi finals confirmed
Fri 8th Aug 2014
Semi Finals approaching in medium goal Silver Cup
Three of the four Semi Finalists decided
Fri 8th Aug 2014
Silver Leys win Hipwood
First of the British Junior Polo Championships decided
Wed 6th Aug 2014
Teams set for Deauville
Defending champions return to reclaim their titles
Wed 6th Aug 2014
British Junior Polo Championships finalists decided
Cowdray Park hosts finals
Mon 4th Aug 2014
Valiente win top prize in Sotogrande's Bronze Cup
All Bronze Cup winners now decided

Mon 4th Aug 2014
Las Estrellas victorious in Holden White
James Harper dominates in the 8-goal tournament at Cowdray Park
Sat 2nd Aug 2014
Cadenza Juniors lift Harrison Cup
Charlie Pidgley's side defeat the home team
Fri 1st Aug 2014
Leones win medium-goal Bronze Cup
Action continues at Santa Maria Polo Club
Wed 30th Jul 2014
Bronze Cup underway in Sotogrande
The high, medium and low-goal Bronze Cups are currently being contested