Tue 12th Mar 2013
Eight ponies die in polo club fire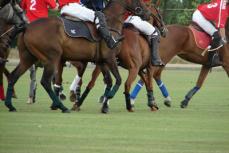 A barn fire at Gulfstream Polo Club in Florida over the weekend ends in tragedy

A FIRE AT a polo club near Wellington, Florida has left at least eight ponies dead, and several more injured.

The barn at Gulfstream Polo Club caught fire around midday on Saturday. The blaze is thought to have been started by an electrical overload in the tack room. Eight thoroughbreds are reported to have died.

US five-goaler John Gobin keeps several ponies at a barn directly opposite the one that caught alight and was exercising some of them in a nearby field when the fire broke out. Gobin was a member of the USA team defeated by England in the Arena Test Match at Hickstead in 2012.

Gulfstream Polo Club was opened in 1923 and will celebrate its 90th anniversary this year. Kris Kampsen, Brandon Phillips and Carlitos Gracida are also among the players on the club's roster.

Other top stories
Mon 19th Mar 2018
Argentex Habtoor UAE Reign Triumphant in Dubai
Flannels England miss out

Fri 16th Mar 2018
Iglehart Cup Final
Pilot make a strong comeback
Thu 15th Mar 2018
2018 San Eugenio Ladiesí Cup
Six teams are confirmed

Mon 12th Mar 2018
Julius BaŽr Gold Cup 2018
Bin Drai win the title
Thu 8th Mar 2018
Queen's Cup Pink Polo
La Familia take home the glory

Tue 6th Mar 2018
Major Iain Forbes-Cockell
We announce his passing

Mon 5th Mar 2018
Flannels England lifts the trophy high
HPA International Test Match for the Bryan Morrison Trophy
Thu 1st Mar 2018
Hurlingham Polo Association International Test Match for the Bryan Morrison Trophy
Venue and Time Change
Wed 28th Feb 2018
The 13th Annual Polo Awards 2018
Tickets are now on sale

Tue 27th Feb 2018
Ylvisaker Cup Final
Valiente seal the deal
Mon 26th Feb 2018
Arena Gold Cup Final
SAPA MHF Docklands and Glitterati Polo take home the crown

Fri 23rd Feb 2018
Polo Times is Out Now!
March issue of Polo Times
Wed 21st Feb 2018
2018 Arena Gold Cup Update
Regal Warriors, Ojo Caliente, SAPA Docklands Polo & HB Polo through to the Semi Finals