Tue 12th Mar 2013
Eight ponies die in polo club fire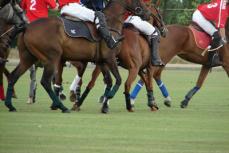 A barn fire at Gulfstream Polo Club in Florida over the weekend ends in tragedy

A FIRE AT a polo club near Wellington, Florida has left at least eight ponies dead, and several more injured.

The barn at Gulfstream Polo Club caught fire around midday on Saturday. The blaze is thought to have been started by an electrical overload in the tack room. Eight thoroughbreds are reported to have died.

US five-goaler John Gobin keeps several ponies at a barn directly opposite the one that caught alight and was exercising some of them in a nearby field when the fire broke out. Gobin was a member of the USA team defeated by England in the Arena Test Match at Hickstead in 2012.

Gulfstream Polo Club was opened in 1923 and will celebrate its 90th anniversary this year. Kris Kampsen, Brandon Phillips and Carlitos Gracida are also among the players on the club's roster.

Other top stories
Wed 23rd May 2018
The Cartier Queen's Cup Gets Underway
Talandracas, La Indiana, RH Polo and Emlor take the charge

Tue 22nd May 2018
Win For HB La Forge
The La Martina Queen Elizabeth The Queen Mother's Centenary Trophy

Mon 21st May 2018
The Hai Air Prince of Wales Trophy
Monterosso steal the crown

Wed 16th May 2018
Prince of Wales Update
Cambiaso, Laprida and Jornayvaz comply

Mon 14th May 2018
HelmetGate
Valiente go against HPA ruling

Fri 11th May 2018
The Royal Windsor Horse Show
2018 Polo Pony Show Classes
Thu 10th May 2018
USA Handicap Changes
The USPA has announced the 2018 April changes

Wed 9th May 2018
Statement from the Hurlingham Polo Association
Visa Situation and Tournament Conditions Addressed

Tue 8th May 2018
The Cartier Queen's Cup Draw
Teams and schedule announced

Mon 7th May 2018
Gloucestershire Festival of Polo
Beaufort Polo Club announces its exhibitors

Sat 5th May 2018
Prince of Wales Teams Announced
Teams and fixtures announced in the UK high goal tournament

Fri 4th May 2018
Arena Handicap Changes
HPA announce the end of season handicap changes
Thu 3rd May 2018
Sixth Annual Arena Polo World Cup Azerbaijan
Polo returns to Baku

Wed 2nd May 2018
Argentine Update
News from South America
Mon 30th Apr 2018
A New Face in the UK High Goal
Cortium returns to the 22 Goal

Fri 27th Apr 2018
Polo Times is Out Next Week!
May Issue of Polo Times
Thu 26th Apr 2018
Copa de las Naciones 2018
Ninth annual tournament is underway

Wed 25th Apr 2018
APPL Takes Brazil by Storm
World Tour Continues in Southern Hemisphere