Tue 12th Mar 2013
Eight ponies die in polo club fire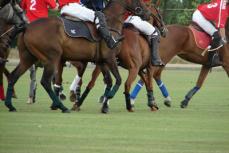 A barn fire at Gulfstream Polo Club in Florida over the weekend ends in tragedy

A FIRE AT a polo club near Wellington, Florida has left at least eight ponies dead, and several more injured.

The barn at Gulfstream Polo Club caught fire around midday on Saturday. The blaze is thought to have been started by an electrical overload in the tack room. Eight thoroughbreds are reported to have died.

US five-goaler John Gobin keeps several ponies at a barn directly opposite the one that caught alight and was exercising some of them in a nearby field when the fire broke out. Gobin was a member of the USA team defeated by England in the Arena Test Match at Hickstead in 2012.

Gulfstream Polo Club was opened in 1923 and will celebrate its 90th anniversary this year. Kris Kampsen, Brandon Phillips and Carlitos Gracida are also among the players on the club's roster.

Other top stories

Thu 5th May 2016
HRH Prince Harry has Cause to Celebrate
Victory and Further Support at The Sentebale Royal Salute Polo Cup
Wed 4th May 2016
Brigadier John Wright CBE
Sad Passing of Former HPA Chairman

Wed 4th May 2016
Cartier Queen's Cup Draw announced
Play to Start in Two Weeks Time
Wed 4th May 2016
Charity Polo in Florida
Sentebale Royal Salute Polo Cup

Fri 29th Apr 2016
High Goal Season Starts
The Prince of Wales Trophy Draw Announced
Fri 29th Apr 2016
New Hat Rule for 2018
HPA Safety Advisory Panel Helmet Rule Update

Fri 29th Apr 2016
Hilario Ulloa Goes up to 10 Goals in the USA
The Goal Maker Scored 35 Times in the US Open 2016

Wed 27th Apr 2016
Polo Awards Voting Now Open
The Nominees Are Announced for the 11th Event
Tue 26th Apr 2016
Arena Handicaps Announced
Ups and Downs for the UK Arena Players

Tue 26th Apr 2016
2016 Cartier Queen's Cup Teams Confirmed
12 Teams Will Compete for This Year's Queen's Cup Title
Mon 25th Apr 2016
Orchard Hill US Open Victors
Orchard Hill Defeats Dubai to Win their First US Open Title
Thu 21st Apr 2016
US Open Final Set
Orchard Hill and Dubai in the Final
Wed 20th Apr 2016
Followers, Followers and More Followers!
Polo Times Reaches 10,000 Twitter Followers and 1,000 Followers on Instagram
Tue 19th Apr 2016
Land of Hope and Glory
Hope & Glory® Become Official Tea Sponsor of the England Polo Team
Mon 18th Apr 2016
And Then There Were Four
Dubai, Orchard Hill, Audi and White Birch the US Open Semi Finalists
Mon 18th Apr 2016
Polo Times Out This Week
News and Views From Barbados to the Midlands
Fri 15th Apr 2016
US Open Update
Dubai and Orchard Hill Earn Semi Final Spots
Wed 13th Apr 2016
The Cartier Queen's Cup Date Change
The Queen's Cup Final to be Played on Saturday 11 June
Mon 11th Apr 2016
Congratulations
Edition Hat Competition Winner Announced

Mon 11th Apr 2016
Action from the US Open Championship
Dubai, White Birch and Orchard Hill Remain Undefeated