Tue 12th Mar 2013
Eight ponies die in polo club fire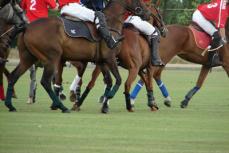 A barn fire at Gulfstream Polo Club in Florida over the weekend ends in tragedy

A FIRE AT a polo club near Wellington, Florida has left at least eight ponies dead, and several more injured.

The barn at Gulfstream Polo Club caught fire around midday on Saturday. The blaze is thought to have been started by an electrical overload in the tack room. Eight thoroughbreds are reported to have died.

US five-goaler John Gobin keeps several ponies at a barn directly opposite the one that caught alight and was exercising some of them in a nearby field when the fire broke out. Gobin was a member of the USA team defeated by England in the Arena Test Match at Hickstead in 2012.

Gulfstream Polo Club was opened in 1923 and will celebrate its 90th anniversary this year. Kris Kampsen, Brandon Phillips and Carlitos Gracida are also among the players on the club's roster.

Other top stories
Mon 25th Jul 2016
The Commonwealth Claim The Royal Salute Coronation Cup
A Trio of Games to Celebrate Coronation Cup Day

Thu 21st Jul 2016
Buckmaster Final Decided
Junior HPA Championships Feature in International Schedule
Tue 19th Jul 2016
Keep it cool
Polo Timesí top tips for hot horses

Tue 19th Jul 2016
High Goal Handicaps
Juan Martin Nero Goes to Ten
Mon 18th Jul 2016
King Power Foxes Retain Jaeger-LeCoultre Gold Cup
British High Goal Season Closes with an Incredible Game
Mon 18th Jul 2016
Cowdray Vikings Conquer Cowdray
Home Team Storm to Victory in the British Ladiesí Championships

Fri 15th Jul 2016
Junior HPA Championships Begin
17 Teams Across Buckmaster, Hipwood & Rocksavage

Thu 14th Jul 2016
King Power Foxes & La Indiana
Who Will Win The Jaeger-LeCoultre Gold Cup?
Tue 12th Jul 2016
Going for Gold Days 15 & 16
Semi Finals Set After a Weekend of Quarter Finals

Mon 11th Jul 2016
Teams Announced for Royal Salute Coronation Cup
England and Commonwealth Line-ups Revealed
Fri 8th Jul 2016
RoRís Ready to Rock
RoRís Silent and Live Auction Now Open for Bidding Appealing Polo Lots are Available

Thu 7th Jul 2016
Going for Gold Days 12, 13 & 14
A Round-Up of the Weekís Jaeger-LeCoultre Gold Cup Action
Wed 6th Jul 2016
Eduardo Moore Semi Finals
Victor Ludorum Tournaments Advance
Mon 4th Jul 2016
Going for Gold Days 10 & 11
A Weekend of Wins for HB Polo, King Power Foxes, Britannia El Remanso & La Indiana
Mon 4th Jul 2016
Kids Polo Tour Concludes
40 Future Stars Hosted by Dubai
Fri 1st Jul 2016
Going for Gold Day 9
Wins for Valiente and Talandracas
Fri 1st Jul 2016
British Beach Polo Championships
The Final Countdown to Sandpolo Begins

Fri 1st Jul 2016
More Matches, More Action
The Argentine Association of Polo (AAP) has Announced Changes in the Format of the Argentine Open
Thu 30th Jun 2016
Going for Gold Day 8
Wins for Apes Hill, Clarke & Green and Britannia El Remanso
Wed 29th Jun 2016
Going for Gold Day 6 & 7
Shock Defeat of Valiente by La Indiana

Wed 29th Jun 2016
Sentebale Charity Concert
Prince Harry and Coldplay Rock the Palace
Mon 27th Jun 2016
The First Norwegian Polo Open
Finding Funds for Norwegian Cancer Research
Mon 27th Jun 2016
Going for Gold Days 4 & 5
Wins for Clarke & Green, Apes Hill, HB Polo and Cowdray Vikings
Mon 27th Jun 2016
Update on Zone Play-Offs
The FIP XI World Championships