Fri 25th Jan 2013
England off to good start in China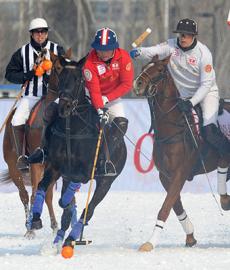 The FIP Snow Polo World Cup is now underway at Tianjin in China

ENGLAND WON THE opening match against the USA at the FIP Snow Polo World Cup.
The England team of George Meyrick, Oli Hipwood and James Harper defeated the USA side of Robert Yackley, Alan Martinez and Mika Azzaro 4-2 in their first group match. England will now face New Zealand in their second group match tomorrow.

Defending champions Hong Kong and South Africa were the other winners on day one of the 16-goal tournament. Hong Kong defeated Brazil 7-4 and South Africa had a comfortable 7-3 win over India.

Twelve teams are contesting the world cup, which is sanctioned by the FIP for the second year and held at Tianjin Goldin Metropolitan Polo Club.

Group matches will continue until Monday 28 January. The final will take place on 3 February.

Photograph: England (in white) and the USA in action today


Other top stories
Thu 26th Apr 2018
Copa de las Naciones 2018
Ninth annual tournament is underway

Wed 25th Apr 2018
APPL Takes Brazil by Storm
World Tour Continues in Southern Hemisphere
Mon 23rd Apr 2018
Daily Racing Form Become American Champions
U.S Polo Open Championship Final
Thu 19th Apr 2018
Valiente and Daily Racing Form into the Final
The US Open Polo Championship

Wed 18th Apr 2018
The International Test Match for The Westchester Cup
USA announce their team

Tue 17th Apr 2018
The 13th Annual Polo Awards
Cast your vote now
Mon 16th Apr 2018
US Open Polo Championship Semi Finals
Flexjet and US Polo Association ride through
Fri 13th Apr 2018
News from Florida
Valiente and Daily Racing Form race through to US Open Polo Championship Semi Finals
Tue 10th Apr 2018
Sunny Hale Legacy WCT Final
Chateau D'Esclans take home the title

Mon 9th Apr 2018
US Open Polo Championship
The pinnacle of the USA high goal series gets underway

Fri 6th Apr 2018
Habtoor Polo Win Dubai Cup Opening
Al Habtoor Polo Resort & Club

Tue 3rd Apr 2018
Valiente Retain USPA Gold Cup
Narrow 12-11 win for the powerhouse team
Sun 1st Apr 2018
U.S. Open Draw Announced
The teams for the final tournament of the USA Triple Crown

Wed 28th Mar 2018
All Pro Polo League
APPL heads to Florida