Fri 25th Jan 2013
England off to good start in China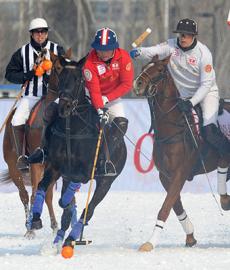 The FIP Snow Polo World Cup is now underway at Tianjin in China

ENGLAND WON THE opening match against the USA at the FIP Snow Polo World Cup.
The England team of George Meyrick, Oli Hipwood and James Harper defeated the USA side of Robert Yackley, Alan Martinez and Mika Azzaro 4-2 in their first group match. England will now face New Zealand in their second group match tomorrow.

Defending champions Hong Kong and South Africa were the other winners on day one of the 16-goal tournament. Hong Kong defeated Brazil 7-4 and South Africa had a comfortable 7-3 win over India.

Twelve teams are contesting the world cup, which is sanctioned by the FIP for the second year and held at Tianjin Goldin Metropolitan Polo Club.

Group matches will continue until Monday 28 January. The final will take place on 3 February.

Photograph: England (in white) and the USA in action today


Other top stories

Sat 23rd Sep 2017
Polo Times Is Out Now!
October issue of Polo Times

Fri 22nd Sep 2017
What's On This Weekend
Polo near you
Wed 20th Sep 2017
The Armis Polo Helmet
The next generation of polo technology
Tue 19th Sep 2017
End of Season Handicaps
HPA announces changes
Mon 18th Sep 2017
Argentine Update
Jockey Club Ends and Tortugas Begins
Fri 15th Sep 2017
What's On This Weekend
Polo near you
Thu 14th Sep 2017
John Tylor and Willie Hancock Memorials
Details of events
Wed 13th Sep 2017
CBC Sport Arena Polo World Cup Azerbaijan
Home team win the Gold
Tue 12th Sep 2017
Polo Legends John Tylor and Willie Hancock have passed away
Mon 11th Sep 2017
East Coast Open Final
Father and son duo secure title
Fri 8th Sep 2017
5th CBC Sport Arena Polo World Cup Azerbaijan
Teams presented to the world's press
Thu 7th Sep 2017
San Jorge Open Final
Valiente La Dolfina beat La Natividad
Tue 5th Sep 2017
National Youth Tournament Series Championship
Reigning champions take home the Cecil Smith Cup
Mon 4th Sep 2017
Have Your Say!
Your views on the big issues
Fri 1st Sep 2017
What's On
Polo near you this weekend
Thu 31st Aug 2017
2018 Helmet Regulations
The HPA releases new information
Tue 29th Aug 2017
Triple Crown About to Begin
Argentine Season Dates
Sat 26th Aug 2017
Polo Times Is Out Now!
September issue of Polo Times
Fri 25th Aug 2017
What's On
Polo this weekend