Fri 25th Jan 2013
England off to good start in China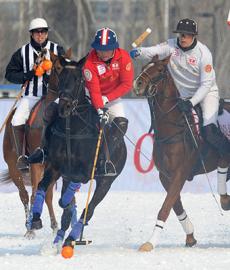 The FIP Snow Polo World Cup is now underway at Tianjin in China

ENGLAND WON THE opening match against the USA at the FIP Snow Polo World Cup.
The England team of George Meyrick, Oli Hipwood and James Harper defeated the USA side of Robert Yackley, Alan Martinez and Mika Azzaro 4-2 in their first group match. England will now face New Zealand in their second group match tomorrow.

Defending champions Hong Kong and South Africa were the other winners on day one of the 16-goal tournament. Hong Kong defeated Brazil 7-4 and South Africa had a comfortable 7-3 win over India.

Twelve teams are contesting the world cup, which is sanctioned by the FIP for the second year and held at Tianjin Goldin Metropolitan Polo Club.

Group matches will continue until Monday 28 January. The final will take place on 3 February.

Photograph: England (in white) and the USA in action today


Other top stories

Thu 21st Jun 2018
What's Happening in the British Season
The news from across the country

Mon 18th Jun 2018
Third Time's the Charm for La Indiana
The Cartier Queen's Cup Final
Fri 15th Jun 2018
The King Power Gold Cup for The British Open Polo Championship
The draw is announced
Thu 14th Jun 2018
The Cartier Queen's Cup Semi Finals
Park Place and La Indiana Through to the Final
Tue 12th Jun 2018
Cartier Queen's Cup
Semi Finalists decided following Quarter Finals
Mon 11th Jun 2018
Flannels England Lift the Golden Jubilee Trophy
Gloucestershire Festival of Polo

Fri 8th Jun 2018
What's On This Weekend
The polo season in full swing
Thu 7th Jun 2018
HACKETT Army Welcomes First Female Player for Rundle Cup
Captain Jess Wood to start at Tidworth

Wed 6th Jun 2018
Flannels England International Teams
This weekend's teams announced
Mon 4th Jun 2018
Cartier Queen's Cup Update
Play continues at Guards Polo Club
Fri 1st Jun 2018
APPL Comes to England
Cowdray to welcome 40 goal match
Thu 31st May 2018
Polo Awards 2018
Results from the 13th 'Oscars of Polo'
Fri 25th May 2018
Polo Times Is Out TODAY!
June Issue of Polo Times
Wed 23rd May 2018
The Cartier Queen's Cup Gets Underway
Talandracas, La Indiana, RH Polo and Emlor take the charge