Thu 17th Jan 2013
Polo Masters Tour now underway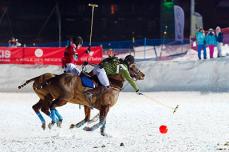 Snow polo action has begun in France

The BMW Polo Masters Tour is now underway in Val d'Isére.
Four teams of three players will contest the 6-8-goal tournament which will conclude on Saturday 19 January. The teams include last year's winner Barmes de l'Ours which features Laurent Dassault, Matthieu Delfosse and Patrick Paillol.

The second leg of the tour, which will be held in Megéve, will begin on 24 January and run until 27 January. Four teams of four players will take part, with Les Fermes de Marie back to defend the 8-10-goal title.

The tour will conclude in Courchevel from 26-30 January, where four 6-8-goal teams of three players will battle it out for the final Polo Masters Tour title.
Photograph: Action between Barmes de l'Ours and Hotel Avenue Lodge in Val d'Isére in 2012

Other top stories
Fri 2nd Oct 2015
Equine Infectious Anaemia Outbreak in Argentina
Disease May Affect Opening Stages of The Triple Crown
Fri 2nd Oct 2015
The Opening Matches Of The Triple Crown Are In Full Swing
The First Games Of The Tortugas Open Get Underway in Argentina
Thu 1st Oct 2015
October Issue of Polo Times Out Now!
Sotogrande Special – Women's Handicap Debate – Victor Ludorum Update
Mon 28th Sep 2015
All Eyes on Argentina
Argentine Season Underway with the Jockey Club Open
Thu 24th Sep 2015
BMW International Polo Series Won by South Africa
New Zealand Left Disappointed Despite a Win
Tue 22nd Sep 2015
British Ladies Victorious in French Tournament
Open de France Polo sees win for Marquard Media
Thu 17th Sep 2015
What's on this winter?
Time to dig out the bobble hats and tweed for the arena season
Tue 15th Sep 2015
Atypical Myopathy awareness this Autumn
Sycamore trees are shedding are now
Mon 14th Sep 2015
Chantilly Open de France Polo is well underway
Brits abroad in both Open De France tournaments

Fri 11th Sep 2015
Non-EEA Players and Grooms immigration talks
The HPA and Polopermits in discussion with the Home Office
Thu 10th Sep 2015
Ponies win prizes
RoR Racing to Polo Challenge winners announced
Wed 9th Sep 2015
Polo Times Falcon Polo Helmet Competition winner announced!
Congratulations to India Hall from Dorset
Wed 9th Sep 2015
England's first ever 10 goal Women's handicap announced
Over 700 lady players' handicaps have been reviewed alongside mixed handicaps
Mon 7th Sep 2015
Zimbabwe U25s take on the Brits
Young players see winning streak during UK tour
Mon 7th Sep 2015
Audi knock White Birch off the top spot
USPA East Coast Open 2015 sees sudden death overtime win