Thu 17th Jan 2013
Polo Masters Tour now underway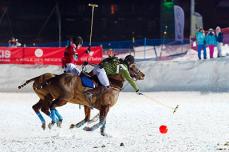 Snow polo action has begun in France

The BMW Polo Masters Tour is now underway in Val d'Isére.
Four teams of three players will contest the 6-8-goal tournament which will conclude on Saturday 19 January. The teams include last year's winner Barmes de l'Ours which features Laurent Dassault, Matthieu Delfosse and Patrick Paillol.

The second leg of the tour, which will be held in Megéve, will begin on 24 January and run until 27 January. Four teams of four players will take part, with Les Fermes de Marie back to defend the 8-10-goal title.

The tour will conclude in Courchevel from 26-30 January, where four 6-8-goal teams of three players will battle it out for the final Polo Masters Tour title.
Photograph: Action between Barmes de l'Ours and Hotel Avenue Lodge in Val d'Isére in 2012

Other top stories
Tue 25th Oct 2016
England Head to America
Townsend Trophy team selection 2017
Mon 24th Oct 2016
Hurlingham Open Begins
Four games in two days
Mon 24th Oct 2016
Polo Times Out This Week
Watch out for the November issue
Fri 21st Oct 2016
Rain Rain Go Away
Hurlingham Opening Games Postponed
Thu 20th Oct 2016
HPA Visa Update
Information from the Home Office
Wed 19th Oct 2016
Ready for Arena?
Entries open and rule changes

Tue 18th Oct 2016
One Down, Two to Go
Hurlingham Open Schedule
Mon 17th Oct 2016
New Arena Victor Ludorum
5-8 Goal Series Dates Announced
Mon 17th Oct 2016
La Dolfina Dominate
Ellerstina Fail to Break the Winning Streak
Fri 14th Oct 2016
Lipocast Biotech UK Heads to Argentina
Capital of Polo to Host Lipogems Veterinary Demonstration
Thu 13th Oct 2016
USA Hall of Fame Inductees Announced
Museum of Polo to Host 2017 Awards Gala
Tue 11th Oct 2016
Cría Yatay & La Irenita Confirmed For Palermo
Final Qualifications for the Hurlingham and Argentine Opens
Mon 10th Oct 2016
Ellerstina & La Dolfina Final
The Tortugas Open Nears Completion

Wed 5th Oct 2016
Hurricane Matthew Halts Polo
East Coast America Braces for Deadly Storm
Tue 4th Oct 2016
Top UK 2017 Summer Dates
Victor Ludorum and High Goal Schedule Released
Tue 4th Oct 2016
Tortugas Update Day Four
Ellerstina Hold Their Ground

Mon 3rd Oct 2016
Tortugas Open Update
Triple Crown Begins
Wed 28th Sep 2016
Day One of The Tortugas Open
Triple Crown Begins
Mon 26th Sep 2016
Polo Times Out This Week
October Overflowing with All Things Polo