Thu 17th Jan 2013
Polo Masters Tour now underway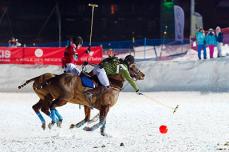 Snow polo action has begun in France

The BMW Polo Masters Tour is now underway in Val d'Isére.
Four teams of three players will contest the 6-8-goal tournament which will conclude on Saturday 19 January. The teams include last year's winner Barmes de l'Ours which features Laurent Dassault, Matthieu Delfosse and Patrick Paillol.

The second leg of the tour, which will be held in Megéve, will begin on 24 January and run until 27 January. Four teams of four players will take part, with Les Fermes de Marie back to defend the 8-10-goal title.

The tour will conclude in Courchevel from 26-30 January, where four 6-8-goal teams of three players will battle it out for the final Polo Masters Tour title.
Photograph: Action between Barmes de l'Ours and Hotel Avenue Lodge in Val d'Isére in 2012

Other top stories
Mon 30th Mar 2015
Polo Under the Stars
Barbados floodlit game at Apes Hill
Mon 30th Mar 2015
FIP World Championships continue in Chile
England to play in the Semi Finals tomorrow
Mon 30th Mar 2015
Pieres Power
High goal family dominate in first weekend of US Open
Wed 25th Mar 2015
FIP games in Chile postponed
Tournament now rescheduled to start on Friday
Mon 23rd Mar 2015
FIP World Polo Championships due to start tomorrow
The 14 goal tournament takes place at Mundial del Polo, Chile
Mon 23rd Mar 2015
Audi take The Piaget USPA Gold Cup
Gillian Johnston's Coca-Cola win Subsidiary Final
Fri 20th Mar 2015
Lawyers take to the polo pitch in Bangkok
Six teams taking part in Lawyers Polo this week

Wed 18th Mar 2015
Writing runs in the family
Rescue Pilot reaches no 17 on the non-fiction best-seller list in the first week
Tue 17th Mar 2015
Polo not part of Audi's 2015 sponsorship plans
Premium car brand to focus on performing arts
Tue 17th Mar 2015
Dh.1.5million cash prize on offer at Ghantoot
Emirates International Open Polo Championship begins Friday
Mon 16th Mar 2015
Semi Finalists determined for USPA Gold Cup
High goal continues at International Polo Club Palm Beach
Mon 16th Mar 2015
England defeated, but SUPA Britain triumphant
America tour to the Empire Polo Club has mixed results
Mon 16th Mar 2015
Zedan wins Julius Baer Gold Cup
Friday's Final marked end of Dubai Gold Cup Series
Fri 13th Mar 2015
HPA announce England team
Three teams to compete in Copa de las Naciones
Thu 12th Mar 2015
USPA Piaget Gold Cup continues
Alegria secure second win of tournament
Tue 10th Mar 2015
Zedan will face Bin Drai Polo in Dubai 18 goal
Finalists confirmed for Julius Baer Gold Cup
Tue 10th Mar 2015
UK veterinary surgeons to use courtesy 'Doctor' title
Royal College of Veterinary Surgeons made announcement last week
Mon 9th Mar 2015
First Finalist confirmed for Julius Baer Gold Cup
Bin Drai Polo & Mahra teams celebrate wins in Dubai
Mon 9th Mar 2015
SUPA tournament won by Harrow School
33 teams compete in annual arena event at Rugby Polo Club
Mon 9th Mar 2015
England triumphant in The Bryan Morrison Test Match
The highest handicapped Arena International to date played between Ireland and England
Mon 9th Mar 2015
Busy weekend in The USPA Piaget Gold Cup
IPC hosts second qualifying round of high goal tournament
Thu 5th Mar 2015
Cheltenham return to defend SUPA Senior Schools Title
Rugby Polo Club host SUPA Senior Schools this weekend
Wed 4th Mar 2015
Piaget USPA Gold Cup kicks off tomorrow
C.V. Whitney Cup winners Orchard Hill will be aiming for second win of their season
Wed 4th Mar 2015
Zedan secure place in Julius Bär Gold Cup Semi Finals
A win against UAE means Zedan will join Julius Bär Team by Habtoor Polo and Brin Drai in final four
Wed 4th Mar 2015
Arena Test Match all set for Saturday
All England Polo Club to host their annual Bryan Morrison Trophy
Tue 3rd Mar 2015
Julius Baer by Habtoor & Bin Drai through to Semi Finals
Dubai Gold Cup Series continues
Tue 3rd Mar 2015
Polo Awards date announced
Save the date for the most prestigious night in the polo calendar
Mon 2nd Mar 2015
Julius Baer Gold Cup Update
The 18 goal tournament continues in Dubai

Mon 2nd Mar 2015
Black Eagles win The Arena Gold Cup
Silex take the Silver Cup at the Royal County of Berkshire Polo Club
Mon 2nd Mar 2015
Orchard Hill win C.V Whitney
Steve Van Andel's team claim victory in highest scoring Final in tournament's history.