Thu 17th Jan 2013
Polo Masters Tour now underway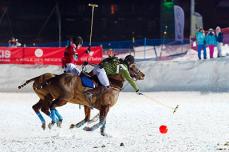 Snow polo action has begun in France

The BMW Polo Masters Tour is now underway in Val d'Isére.
Four teams of three players will contest the 6-8-goal tournament which will conclude on Saturday 19 January. The teams include last year's winner Barmes de l'Ours which features Laurent Dassault, Matthieu Delfosse and Patrick Paillol.

The second leg of the tour, which will be held in Megéve, will begin on 24 January and run until 27 January. Four teams of four players will take part, with Les Fermes de Marie back to defend the 8-10-goal title.

The tour will conclude in Courchevel from 26-30 January, where four 6-8-goal teams of three players will battle it out for the final Polo Masters Tour title.
Photograph: Action between Barmes de l'Ours and Hotel Avenue Lodge in Val d'Isére in 2012

Other top stories

Wed 27th Apr 2016
Polo Awards Voting Now Open
The Nominees Are Announced for the 11th Event
Tue 26th Apr 2016
Arena Handicaps Announced
Ups and Downs for the UK Arena Players

Tue 26th Apr 2016
2016 Cartier Queen's Cup Teams Confirmed
12 Teams Will Compete for This Year's Queen's Cup Title
Mon 25th Apr 2016
Orchard Hill US Open Victors
Orchard Hill Defeats Dubai to Win their First US Open Title
Thu 21st Apr 2016
US Open Final Set
Orchard Hill and Dubai in the Final
Wed 20th Apr 2016
Followers, Followers and More Followers!
Polo Times Reaches 10,000 Twitter Followers and 1,000 Followers on Instagram
Tue 19th Apr 2016
Land of Hope and Glory
Hope & Glory® Become Official Tea Sponsor of the England Polo Team
Mon 18th Apr 2016
And Then There Were Four
Dubai, Orchard Hill, Audi and White Birch the US Open Semi Finalists
Mon 18th Apr 2016
Polo Times Out This Week
News and Views From Barbados to the Midlands
Fri 15th Apr 2016
US Open Update
Dubai and Orchard Hill Earn Semi Final Spots
Wed 13th Apr 2016
The Cartier Queen's Cup Date Change
The Queen's Cup Final to be Played on Saturday 11 June
Mon 11th Apr 2016
Congratulations
Edition Hat Competition Winner Announced

Mon 11th Apr 2016
Action from the US Open Championship
Dubai, White Birch and Orchard Hill Remain Undefeated

Wed 6th Apr 2016
HPA Announce Worldwide Unified Rules
The FIP, AAP, USPA and HPA Have Resolved Rule Differences
Mon 4th Apr 2016
US Open Openers
First Round Wins for Lucchese, Dubai, Orchard Hill and White Birch
Fri 1st Apr 2016
Nic Roldan's Sunset Polo
Good Polo for a Great Cause