Thu 17th Jan 2013
Polo Masters Tour now underway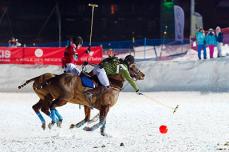 Snow polo action has begun in France

The BMW Polo Masters Tour is now underway in Val d'Isére.
Four teams of three players will contest the 6-8-goal tournament which will conclude on Saturday 19 January. The teams include last year's winner Barmes de l'Ours which features Laurent Dassault, Matthieu Delfosse and Patrick Paillol.

The second leg of the tour, which will be held in Megéve, will begin on 24 January and run until 27 January. Four teams of four players will take part, with Les Fermes de Marie back to defend the 8-10-goal title.

The tour will conclude in Courchevel from 26-30 January, where four 6-8-goal teams of three players will battle it out for the final Polo Masters Tour title.
Photograph: Action between Barmes de l'Ours and Hotel Avenue Lodge in Val d'Isére in 2012

Other top stories
Thu 19th Jul 2018
King Power Gold Cup Finalists
El Remanso & La Bamba de Areco reach the Final

Wed 18th Jul 2018
New Era For SATS
George Amor to take over from Tony Emerson
Mon 16th Jul 2018
Argentine Triple Crown
2018 Dates Announced
Sun 15th Jul 2018
King Power Gold Cup Semi Finals Decided
La Indiana, La Bamba, El Remanso & RH Polo through
Fri 13th Jul 2018
Quarter Finalists Decided
King Power Gold Cup Update
Thu 12th Jul 2018
Junior Westchester England Team Announced
HPA selection confirmed
Mon 9th Jul 2018
Hope for Polo?
Argentine Polo Players Association Meeting

Thu 5th Jul 2018
The Westchester Cup Launches
Polo Times, The Polo Magazine and British Polo Gin to Partner with The Westchester Cup

Sat 30th Jun 2018
Polo Times Out This Week!
July Issue of Polo Times
Fri 29th Jun 2018
Letter Received from The Argentine Association of Polo Players
Meeting scheduled to take place on Friday 6 July
Wed 27th Jun 2018
Flannels England Team Announced
The Westchester Cup

Tue 26th Jun 2018
Flannels England Lift the Trophy at Cirencester
The Kings Head Hotel Ladies International
Mon 25th Jun 2018
The OUT-SOURCING! Inc Royal Windsor Cup
La Dolfina breaks records

Mon 25th Jun 2018
Monterosso Triumph in The Warwickshire Cup
Cirencester Welcomes Thousands