Mon 14th Jan 2013
England beat USA to win the Townsend Cup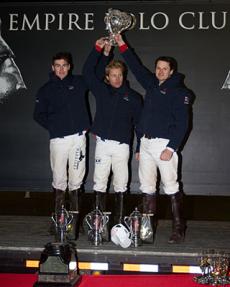 The Townsend Cup changes hands for the first time since 1923 as England win on USA turf

ENGLAND LIFTED THE Townsend Cup for the first time in its history this weekend, after defeating the USA.

The England line-up of Seb Dawnay, Max Charlton and Oli Hipwood beat the USA 11-10 in overtime, at Empire Polo Club, in California.

England took an early lead, but the USA team – Billy Sheldon, Rob Yackey and Tommy Biddle – levelled the scores in the second half. By the end of the fourth chukka the score was 10-10, sending the match into overtime. England scored first to secure the win and the Townsend Cup.

England have now won two consecutive arena Test Matches against the USA, having lifted the Bryan Morrison Trophy in March 2012 at the All England Polo Club, Hickstead.
Photograph: (l-r) Max Charlton, Oli Hipwood and captain Seb Dawnay celebrating their victory. By Lynn and Jim Bremner of PoloZONE.com


Other top stories
Mon 19th Mar 2018
Argentex Habtoor UAE Reign Triumphant in Dubai
Flannels England miss out

Fri 16th Mar 2018
Iglehart Cup Final
Pilot make a strong comeback
Thu 15th Mar 2018
2018 San Eugenio Ladiesí Cup
Six teams are confirmed

Mon 12th Mar 2018
Julius BaŽr Gold Cup 2018
Bin Drai win the title
Thu 8th Mar 2018
Queen's Cup Pink Polo
La Familia take home the glory

Tue 6th Mar 2018
Major Iain Forbes-Cockell
We announce his passing

Mon 5th Mar 2018
Flannels England lifts the trophy high
HPA International Test Match for the Bryan Morrison Trophy
Thu 1st Mar 2018
Hurlingham Polo Association International Test Match for the Bryan Morrison Trophy
Venue and Time Change
Wed 28th Feb 2018
The 13th Annual Polo Awards 2018
Tickets are now on sale

Tue 27th Feb 2018
Ylvisaker Cup Final
Valiente seal the deal
Mon 26th Feb 2018
Arena Gold Cup Final
SAPA MHF Docklands and Glitterati Polo take home the crown

Fri 23rd Feb 2018
Polo Times is Out Now!
March issue of Polo Times
Wed 21st Feb 2018
2018 Arena Gold Cup Update
Regal Warriors, Ojo Caliente, SAPA Docklands Polo & HB Polo through to the Semi Finals