Mon 14th Jan 2013
England beat USA to win the Townsend Cup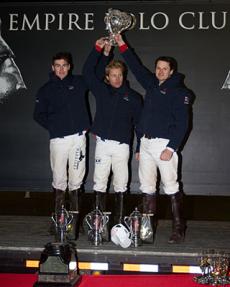 The Townsend Cup changes hands for the first time since 1923 as England win on USA turf

ENGLAND LIFTED THE Townsend Cup for the first time in its history this weekend, after defeating the USA.

The England line-up of Seb Dawnay, Max Charlton and Oli Hipwood beat the USA 11-10 in overtime, at Empire Polo Club, in California.

England took an early lead, but the USA team – Billy Sheldon, Rob Yackey and Tommy Biddle – levelled the scores in the second half. By the end of the fourth chukka the score was 10-10, sending the match into overtime. England scored first to secure the win and the Townsend Cup.

England have now won two consecutive arena Test Matches against the USA, having lifted the Bryan Morrison Trophy in March 2012 at the All England Polo Club, Hickstead.
Photograph: (l-r) Max Charlton, Oli Hipwood and captain Seb Dawnay celebrating their victory. By Lynn and Jim Bremner of PoloZONE.com


Other top stories

Tue 24th Oct 2017
Hurlingham Open Finalists Decided
Unexpected results in the Semi Finals
Mon 23rd Oct 2017
XI FIP World Championships
Argentina, Australia, England and Chile secure their first victories

Fri 20th Oct 2017
What's On This Week and Looking Further Ahead
Polo near you

Thu 19th Oct 2017
VIII Ladies Circuit Championship
Centauros La Aventura and La Varzea claim titles

Wed 18th Oct 2017
The Hurlingham Open Final Gets Closer
La Albertina and La Dolfina Polo Ranch progress through
Tue 17th Oct 2017
VIII Copa Novillitos
14 childrens team gather at La Aguada Polo Club

Mon 16th Oct 2017
Argentine Update
Hurlingham's third day of play

Thu 12th Oct 2017
Polo Times Is Out Next Week!
November issue of Polo Times

Wed 11th Oct 2017
The Hurlingham Action Continues
Strong starts for La Dolfina, Ellerstina, La Aguada Las Monjitas and Alegría

Mon 9th Oct 2017
La Dolfina Win Again
It's five years on the trot the 40 goal giants

Sat 7th Oct 2017
All Pro Polo League Make History
World's eight 10 goalers to compete

Fri 6th Oct 2017
The Hurlingham Open 2017
The tournament begins today

Thu 5th Oct 2017
Tortugas Final
Ellerstina to play La Dolfina at Palermo
Mon 2nd Oct 2017
Visa Update
Letter from AAP to FIP

Fri 29th Sep 2017
FIP XI World Championships
The teams have been announced

Mon 25th Sep 2017
Argentine Update
Tortugas Open & Torneo Remonta y Veterinaria