Mon 14th Jan 2013
England beat USA to win the Townsend Cup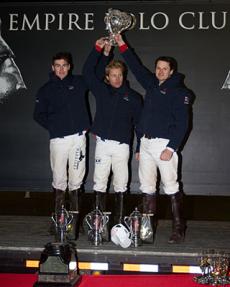 The Townsend Cup changes hands for the first time since 1923 as England win on USA turf

ENGLAND LIFTED THE Townsend Cup for the first time in its history this weekend, after defeating the USA.

The England line-up of Seb Dawnay, Max Charlton and Oli Hipwood beat the USA 11-10 in overtime, at Empire Polo Club, in California.

England took an early lead, but the USA team – Billy Sheldon, Rob Yackey and Tommy Biddle – levelled the scores in the second half. By the end of the fourth chukka the score was 10-10, sending the match into overtime. England scored first to secure the win and the Townsend Cup.

England have now won two consecutive arena Test Matches against the USA, having lifted the Bryan Morrison Trophy in March 2012 at the All England Polo Club, Hickstead.
Photograph: (l-r) Max Charlton, Oli Hipwood and captain Seb Dawnay celebrating their victory. By Lynn and Jim Bremner of PoloZONE.com


Other top stories
Wed 26th Apr 2017
US Open Championship
Valiente take the US crown from Orchard Hill
Tue 25th Apr 2017
St Andrews Charity Tournament
Royal Scots Dragoons Victorious Against St Andrews University
Mon 24th Apr 2017
New Addition to UK Club List
Moor Farm Polo Club Opens
Thu 20th Apr 2017
US Open Finalists Decided
Rematch of 2015 Final
Wed 19th Apr 2017
$100,000 World Cup Final
Palm Beach Illustrated Win at Grand Champions
Wed 12th Apr 2017
Brooke's MyHackathon
Riding for a cause

Tue 11th Apr 2017
US Open Action Hots Up
Orchard Hill, Valiente and Flexjet Secure Wins

Mon 10th Apr 2017
UK High Goal Update
Line-ups for 22 Goal Season
Tue 4th Apr 2017
Travieso Rally to Victory
Molina Cup Runs into Overtime Thriller

Mon 3rd Apr 2017
Butler Handicap Final
Coca Cola Wins as 26 Goal Action Continues Stateside

Wed 29th Mar 2017
Dubai Challenge Cup
Finalists Decided

Tue 28th Mar 2017
SUPA Tri-Nations
England Triumph
Mon 27th Mar 2017
Victorious Valiente
USPA Gold Cup Win for Tournament Favourites